Hannah Brown Admits She Questions If She Should Have Chosen Peter Weber
Peter Weber's season of The Bachelor premieres tonight and Bachelor Nation is more than ready. A few days ago, Access Hollywood released another snippet of Weber's highly anticipated conversation with former bachelorette Hannah Brown and it's juicy.
"I don't know Peter. I question what I should have done. You know, I question a lot. But–" Brown tells Weber through tears.
"Hannah, I feel like, I thought that I was not confused but now I–I don't know. I don't know. What the [expletive] do I do right now? I don't know what I'm doing," he responds.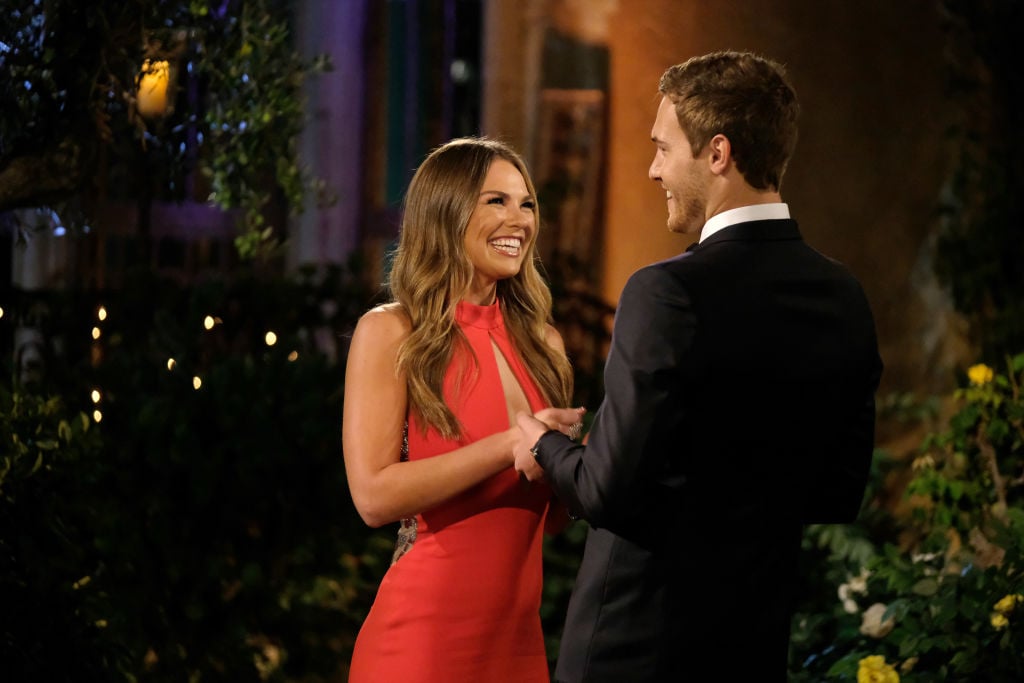 Then, to the camera, Weber says:
"I can't help how my heart feels. I look at her and I just don't want to stop looking at her. And I want to just kiss her and just…"
And the promo ends.
If Hannah Brown didn't pick Jed Wyatt
Brown obviously has thought about how her life would be different today had she chosen someone other than Jed Wyatt.
As a refresher, Brown awarded her final rose to Wyatt only to later discover that he'd come on the show with a girlfriend waiting for him back home. A heartbroken Brown called off their engagement. Then, during "After The Final Rose," Brown asked her season runner-up, Tyler Cameron, out for a drink. Shortly after, Cameron was spotted leaving Brown's place after presumably spending the night. But only a few days after that, Cameron was out in New York City pursuing supermodel Gigi Hadid. Brown's heart has been through the wringer this year.
In Brown's conversation with Weber, she seems to reveal that she's spent a lot of time thinking about how things would be different had she chosen him as her final rose recipient.
In an interview with Good Morning America back in September, Weber said Brown should have picked him or Cameron over Wyatt.
"Tyler and I, we probably would've both said the same answer, that we thought that, you know, she should've picked us," he said. "The relationship I thought Hannah and I had I thought was very strong. You know, I was very confident in it and I thought there was a future there."
Peter Weber is ready to move on from Hannah Brown
But around the same time, Weber told Ellen DeGeneres on her show that he was ready to move on.
"I fell in love with [Hannah] and I've been moving on. I don't know if I'll completely lose all that love in my heart for her, and I kinda hope that I don't, 'cause that'll show me what I had was true, it was real," said the 28-year-old pilot. "But I'm ready to move on and I'm ready to find my girl and I'm very hopeful that this is gonna work out."
Based on the conversation that Brown and Weber have during the premiere, it looks like Weber still has some feelings for Brown, as she does for him. Thankfully we don't have to wait much longer to find out what the former couple concludes.
Read more: 'BIP' Fans Think Katie Morton Is Looking Good and Happy Since Her Split From Chris Bukowski