Hannah Brown Has Officially Left Tyler Cameron and the Quarantine Crew & Fans Are Devastated
All good things must come to an end, but that doesn't mean Bachelor Nation has to be happy about it. Former couple Hannah Brown and Tyler Cameron have been keeping fans of the Bachelor Franchise plenty entertained throughout the last several weeks. As Clare Crawley's season of The Bachelorette was delayed, Peter Weber's season of The Bachelor was a nightmare, and Bachelor in Paradise might not even happen, fans of the franchise had little entertainment to keep their spirits high.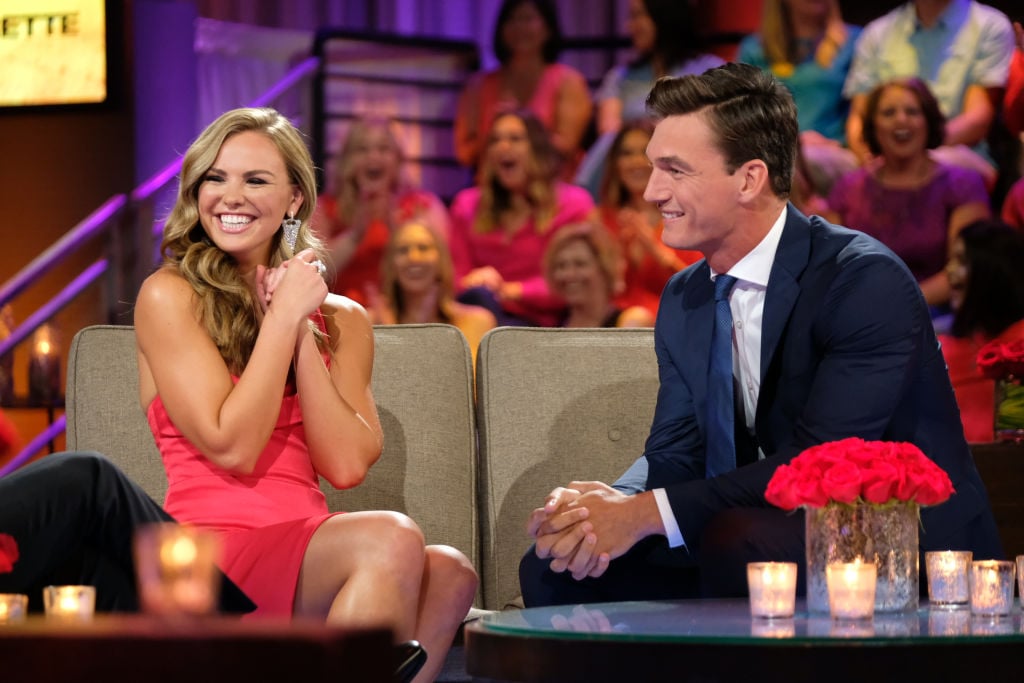 Hannah Brown and Tyler Cameron are still good friends
Fortunately, Brown and Cameron came to the franchise's rescue. A few weeks ago, Brown flew into Cameron's hometown of Jupiter, Florida to spend some quality time with him. Although the pair have not dated for over a year, they have always spoken about each other in a supportive and respectful manner. Though many people speculated that the pair were getting back together, others figured that Brown was simply providing her ex with some moral support.
'The Bachelorette' alums spend quality time together
Just a few weeks ago, Cameron's mother, who had been struggling with health issues, died. Brown took it upon herself to go out to Florida to make sure he was doing okay. Alongside other friends, the pair were spending tons of time together, so when the government stated mandated social-distancing due to the Coronavirus (COVID-19) pandemic, Brown opted to stay in Florida, rather than traveling back to California.
The Quarantine Crew is formed on TikTok and Instagram
In order to keep themselves entertained, Brown, Cameron, and six of their friends formed The Quarantine Crew. The Quarantine Crew has already achieved tons of followers on both Instagram and TikTok and features the friends finding creative ways to keep themselves entertained whilst they are confined to their house. Content includes games, workouts, bets, dances, etc. Fans of The Bachelor have been appreciative of the humor and joy that the crew brings especially in these uncertain times.
Cameron and Brown spark dating rumors
Of course, with Cameron and Brown spending so much time in close proximity, fans began to speculate on the status of their relationship. People on Reddit began sharing evidence that the pair were sleeping in the same bed together. Furthermore, they began analyzing photos and videos to see if there were instances where the pair seemed flirty and/or particularly close. Brown and Cameron seemed to egg on this speculation by trolling fans with games like spin the bottle.
Why Brown left Jupiter, FL
Whether or not the two actually rekindled their romance is still unknown. But, it is confirmed that Brown has left Cameron and The Quarantine Crew. The 25-year-old Dancing with the Stars champion managed to leave Florida just before the statewide stay-at-home mandate was issued. When fans noticed that Brown hadn't been in any videos recently, they began questioning why. Cameron's best friend, Matt James, confirmed, via his Instagram story, that the former beauty queen left to be with her family in Alabama for the rest of the quarantine.
Fans on Instagram are devastated by Brown's departure
Though Brown had a good reason for leaving, and stayed with Cameron and friends for several weeks, fans of The Quarantine Crew are still devastated. "No more Tannah to keep me entertained. Officially out of things to do," one fan wrote. "Ugh I know, so sad," another chimed in. Clearly, we won't be seeing Cameron and Brown together anytime soon regardless of if they're dating or not. Only time will tell if they rekindle their romance once this pandemic has calmed down.