Hannah Brown and Tyler Cameron Shade Jed Wyatt While Watching 'The Bachelor: Listen to Your Heart' and We Can't Stop Thinking About It
Let's be real for a second. We all thought Jed Wyatt from Hannah Brown's season of The Bachelorette inspired The Bachelor Presents: Listen to Your Heart when the spinoff series was announced by ABC. The new show follows a similar format to Bachelor in Paradise, but with aspiring musicians and live performances to prove their love. Of course, after Brown's wild season, many viewers joked Wyatt should have waited one year before making his Bachelor debut. Then when Listen to Your Heart premiered on April 13, Brown and the bachelorette's runner-up, Tyler Cameron, shaded Wyatt in separate Twitter posts. And basically, everyone in the fandom seemed to share the same sentiments.
What happened to Tyler Cameron, Hannah Brown, Jed Wyatt on 'The Bachelorette'?
In case you need a refresher, The Bachelorette Season 16 did not end as expected. Throughout their time together, Brown hit it off with Wyatt, who was an aspiring musician. And with a dog commercial jingle under his belt, Wyatt was always seen playing the guitar. He even wrote a song called "Mr. Right," claiming to be Brown's perfect match. But he couldn't be more wrong.
In The Bachelorette finale, Brown chose Wyatt over Cameron. However, after the ABC reality series wrapped filming, the world learned Wyatt had a girlfriend at home. Meanwhile, Wyatt was open about his music career. So viewers believed the contestant wasn't there for the right reasons.
Then on The Bachelorette finale, Brown ended her engagement with Wyatt. She returned dropped the ring and moved on. "I am not with Jed anymore," Brown told host Chris Harrison at the time. "The engagement's over. We're not together. That's not what I said 'yes' to."
Meanwhile, Brown reunited with her runner-up, Cameron. She also asked him out onstage. Nevertheless, the couple didn't get back together. But now, it seems Brown and Cameron have reconnected and formed a strong friendship. They quarantined together at the start of the coronavirus (COVID-19) pandemic. Then in a Zoom call recorded by a fan, Cameron shared the status of their relationship.
"The tea is we are friends. She's a good friend," he said.
Hannah Brown and Tyler Cameron call out Jed Wyatt while watching 'The Bachelor Presents: Listen to Your Heart'
When The Bachelor: Listen to Your Heart aired on Monday, April 13, Brown let out her frustrations about the new spinoff series by making a subtle reference to Wyatt.
"I'm triggered by this whole thing," Brown wrote on Twitter. She also tagged Harrison and used #TheBachelorLTYH. Now if you weren't totally sure what she was alluding to in the tweet, Brown posted a GIF of herself breaking up with Wyatt on The Bachelorette.
Meanwhile, Cameron made a direct comment about Wyatt while live-tweeting about Listen to Your Heart on Monday night. "They should give Jed producer credits because he is definitely the creative idea for this show," the reality star wrote on Twitter, echoing the thoughts of Bachelor Nation fans at home. 
He also subtly dragged Wyatt's ending on The Bachelorette in another post. "We've seen how this whole look turns out already," Cameron wrote alongside a photo of Trevor Holmes from Listen to Your Heart, who coincidentally wore a jacket that looked a lot like Wyatt's. 
Chris Harrison shares what really inspired 'The Bachelor: Listen to Your Heart'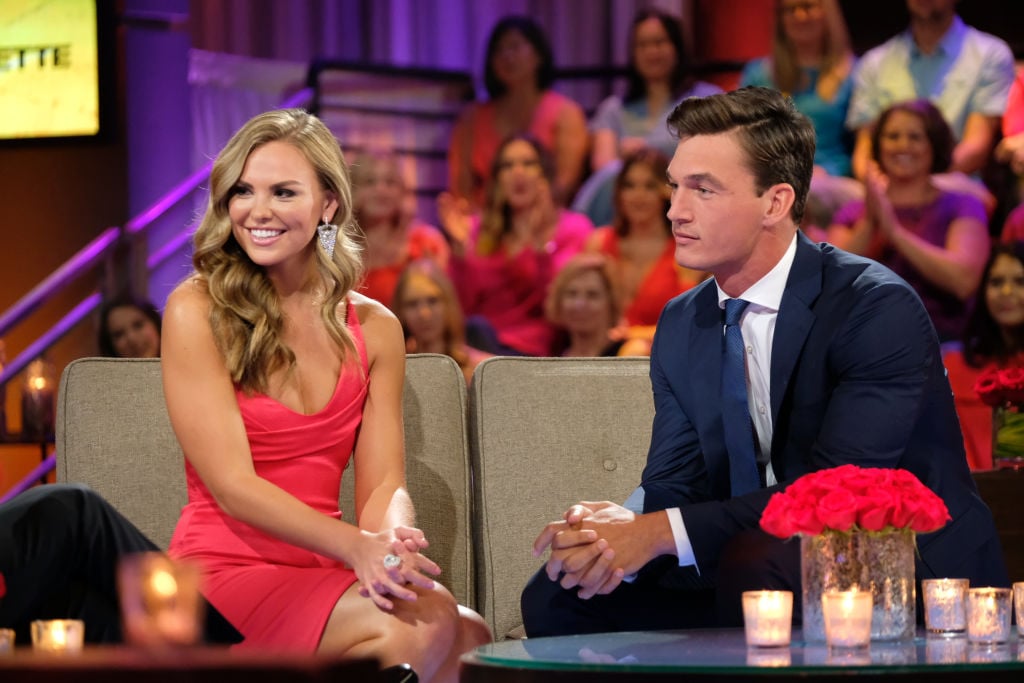 It's pretty clear everyone in Bachelor Nation sees the connection between Wyatt and Listen to Your Heart. But even so, Harrison has opened up about the inspiration behind the spinoff series. 
"It really came out of A Star Is Born meets The Bachelor," Harrison told Good Morning America on April 13. "You know that moment at the Oscars where Bradley Cooper and Lady Gaga perform and we thought, 'Wow, they may make a baby onstage with that chemistry right there?'"
He continued: "Could we sprinkle that Bachelor fairy dust and actually create that in real-life? And that is the premise. Could we create this amazing relationship that's also this incredible love duet?"
Meanwhile, Harrison put out some shade of his own ahead of the Listen to Your Heart premiere. When speaking with Refinery29, Harrison opened up about Wyatt and hinted he wouldn't have fit in with the spinoff's cast, even if he was still single.
"No offense to Jed, but these are legitimate musicians from all across the spectrum," Harrison said. "We have people that came from their church choirs, people that have a Broadway background, people who have been grinding in Nashville for years and have never made it. We have one of the guys who made it pretty far on American Idol."
Whether you choose to believe Harrison or not, fans will probably think back to Brown season of The Bachelorette every time Listen to Your Heart airs on ABC. So hold on tight and let's just hope everyone in the spinoff series makes it out the other end in one piece.
Read more: When Will 'The Bachelor: Listen to Your Heart' Be on Hulu? The Release Date Is Finally Here