Hannah Ferrier from 'Below Deck Med' Dishes About One of the Worst Guests in the History of the Show
For just about any Below Deck Mediterranean fan, conjuring a visual of the "nuts ladies" likely produces a pretty negative visceral reaction.
The women who embarked upon a girls' trip (from hell for the crew) were the first group of charter guests last season and were unjustly demanding and self-righteous out of the gate. Chief stew Hannah Ferrier and crew literally could not do anything to please these guests. It began with a bowl of nuts the guests obsessed over because it was not delivered the minute they boarded the yacht. And it went south from there.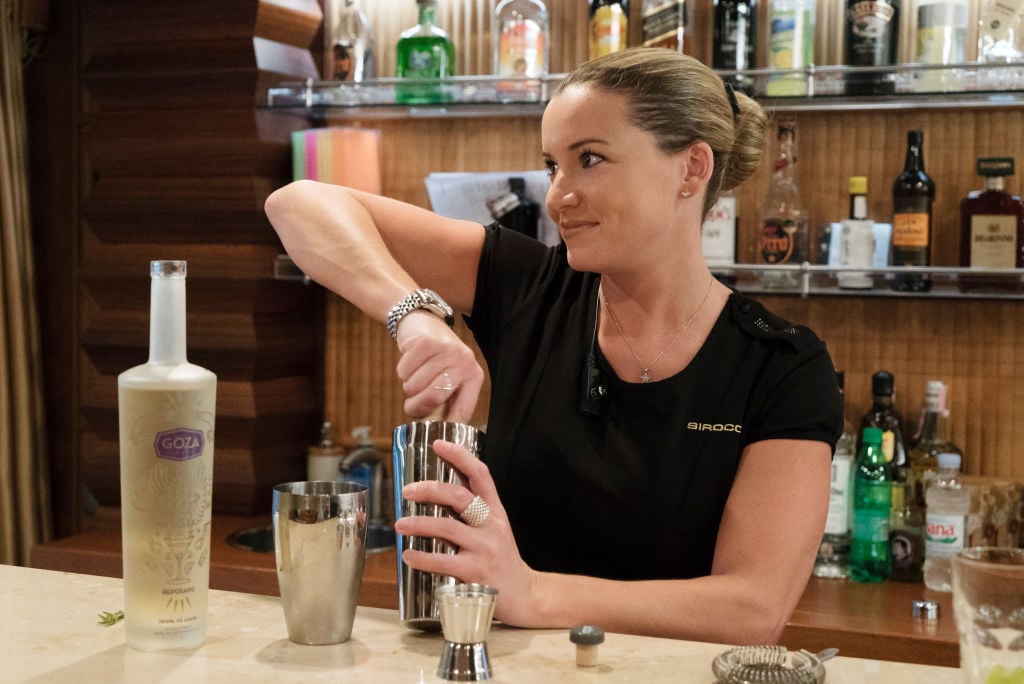 The rough start got worse as the guests angrily changed their minds mid-charter about what they'll eat (and won't eat). They ultimately left a sub-par tip, citing that the crew should pay closer attention to their preference sheet. Oh. My. God.
Does Hannah still hear from any of the guests?
Ferrier and deckhand Colin Macy-O-Toole made on a video appearance on AfterBuzz TV It's Bravo Betch! podcast and were asked if they ever hear from former guests.
First, Ferrier commented that she and the crew have heard from some of the first charter guests from the current season. The entire cast and crew loved having the latest group of guests aboard Sirocco. Even from the footage, it is clear, this group was extremely kind and humble so what's not to love? "The guests were so sweet," Ferrier remarked. She adds that she's messaged with these guests too.
But, what about the infamous "nuts ladies?" The group included a gaggle of women from Atlanta with Nichelle as the primary. Ferrier said that not only has she heard from one of the women, but she's also had to defend herself post charter.
She continued to slam Hannah post-charter
When the "nuts ladies" question was presented, Ferrier had some pretty shocking comments about how one of the guests continued to dog her on social media. "You know what was crazy," Ferrier said. "The woman who was like, 'Oh I don't eat seafood, but why don't I have lobster. But the duck had like, feet sticking out.' That chick?"
Ferrier said she kept posting videos on social media accusing Ferrier of sabotaging her experience. "She kept posting videos saying 'Hannah did it on purpose.' And I'm like, 'I don't choose what the chef cooks!'"
Then Macy-O'Toole adds that the woman's daughter actually apologized to Ferrier for the posts. "I had a D.M. from the daughter," Ferrier recalls. "Going like, 'I'm really sorry,' for that crazy redhead woman."
Worst guest in 'Below Deck' history?
If you ask Captain Sandy Yawn, Nichelle and crew were at least one of the most memorable guests. During an episode of Captain Sandy's Yachtrageous Moments, Yawn cited the group as being the longest charters ever. "The one group of guests I won't forget was Nichelle and her friends," Yawn remarked.
Ferrier said she instantly knew this charter would be horrible. "I knew it within about 35, 40 seconds of her coming on board," she said. "Obviously, they can't show everything. But, I'll never forget. We were lined up on the aft deck, and we were in the middle of Sandy saying 'Hannah is going take you.' And she's like, "What engines are these? What do you run on? What fuel do you use?'"
At that point, Ferrier adds (perfectly)," I thought, f**k my f**king life." When Lian Castillo, host of It's Bravo Betch suggests the guest should have had a drink, Ferrier adds, "She's had 10 drinks and she was even worse." Macy-O'Toole says he would have loved to have been at the viewing party the guests threw. "How awkward," he laughs. To which Ferrier adds, "Oh yeah, 'Come watch, come watch. Oh yeah, I just realized I'm the worst human being in the world!'"