Hannah From 'Below Deck' Recalls a Bad Experience With a Female Captain – Before Captain Sandy (Exclusive)
Hannah Ferrier from Below Deck Mediterranean said she had a negative experience with another female captain, long before she and Captain Sandy Yawn clashed on the show.
She recalled being flown to a yacht in Florida and then suddenly accosted for smoking and having tattoos. "Yeah, I had a very strange experience just before I filmed season 1 of Below Deck with a female captain," she recalled to Showbiz Cheat Sheet.
Hannah from 'Below Deck' recalled how the female captain didn't like her to smoke and to cover her tattoos
Below Deck yachties are often seen smoking during their breaks. And Ferrier also used to smoke, but she quit long before she got pregnant with her daughter Ava. But at the time, smoking was an issue for the captain, she recalled.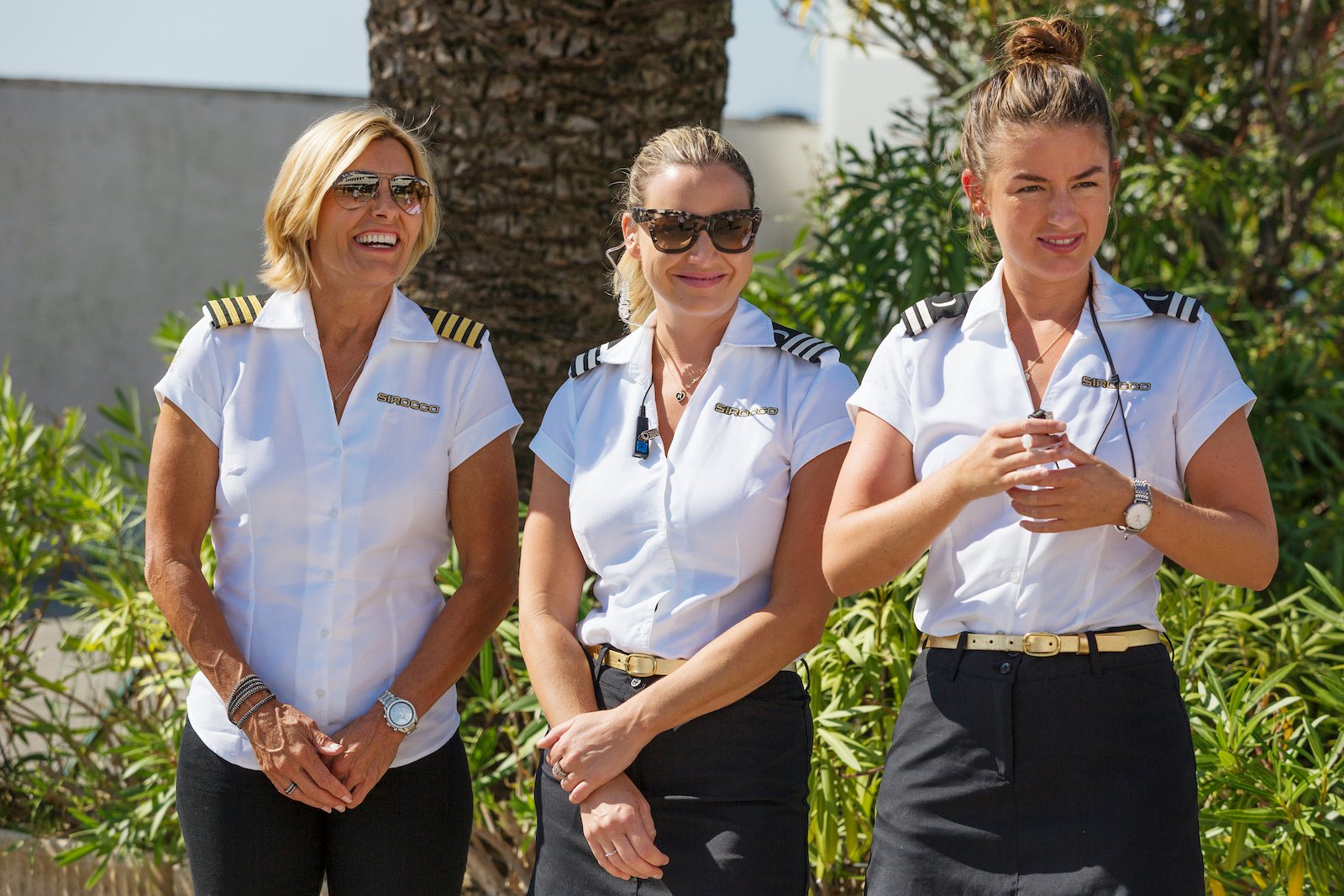 "And it's kind of weird because in this industry, obviously, like, you know, back then I smoked," Ferrier recalled. "So a lot of people, like a lot of yachties smoked. Like a lot of yachties have tattoos and they had hired me from Majorca and flown me to Florida. And then somebody said like, 'Oh my god, she can't see you smoke and like, you have to cover [your tattoos].' They were asking me to put this like pâté stuff over my tattoos. And I was like, 'Why would you like not have this conversation with me on the phone?' Like, it's quite common. If your owners are very particular like that, it's very common to ask that in interviews, you know? So but she didn't and then it was just a clashing of personalities, I guess."
Captain Sandy and Hannah Ferrier also clashed but for different reasons
Ferrier and Yawn's clash is well-publicized and Yawn ultimately fired Ferrier during Below Deck Med Season 5. Ferrier recently recalled how she and Yawn would try to navigate their working relationship before each season. Even production would try to help them figure out if they could even work together again.
"That was one of the issues that Sandy and I had together," Ferrier shared on her Dear Reality, You're Effed podcast. "Because a lot of people were like, 'Why does she bring Hannah back?' And I'm like, it's not her choice, firstly. Like she doesn't get to choose if I come back."
"But I'm obviously not a fan of hers," she continued. "But the one thing that I will say that would be difficult, as a captain, is not having any control over who you bring on as your crew. And the one thing that she was never quite able to wrap her head around is she wanted this perfect crew."
She added, "I remember one time we were sitting in Los Angeles with people in production. And we tried to work out if we could work together again."
Why did she get in trouble on 'Below Deck Med' Season 4?
One of the reasons why Yawn came down on Ferrier is that she didn't think her heart was in her job. But Ferrier told Showbiz Cheat Sheet that even when she was happy on the boat and working well with her stews, Yawn was never satisfied.
Ferrier became close friends with her stews, Aesha Scott and Anastasia Surmava. But she recalled that Yawn didn't appreciate their friendship. "When I had season 4 with Aesha and Anastasia and we just had like so much [fun]," she said. "And what didn't air from that season, which is interesting, is that I kept getting kind of in trouble."
"Like Sandy would come down and if Aesha was hugging me or something, she was like, 'This is a professional environment. Stay professional.' And I was like, 'Wait, three girls on a reality show, working together and living together and going out together. Like, you're kind of mad at us because we really like each other? And we're getting along? And we're not not looking after the guests – we did," she remarked.