'BIP': Hannah Godwin and Dylan Barbour Just Went Full Kardashian
As one of Bachelor in Paradise's last remaining couples from the previous season, Hannah Godwin and Dylan Barbour are one of the most beloved couples in Bachelor Nation right now. Though the pair had a bit of a rocky start to their relationship, they seemed to really hit it off after Godwin decided she was all in on Barbour. Now, the engaged couple couldn't be happier and are making plans to marry in the near future.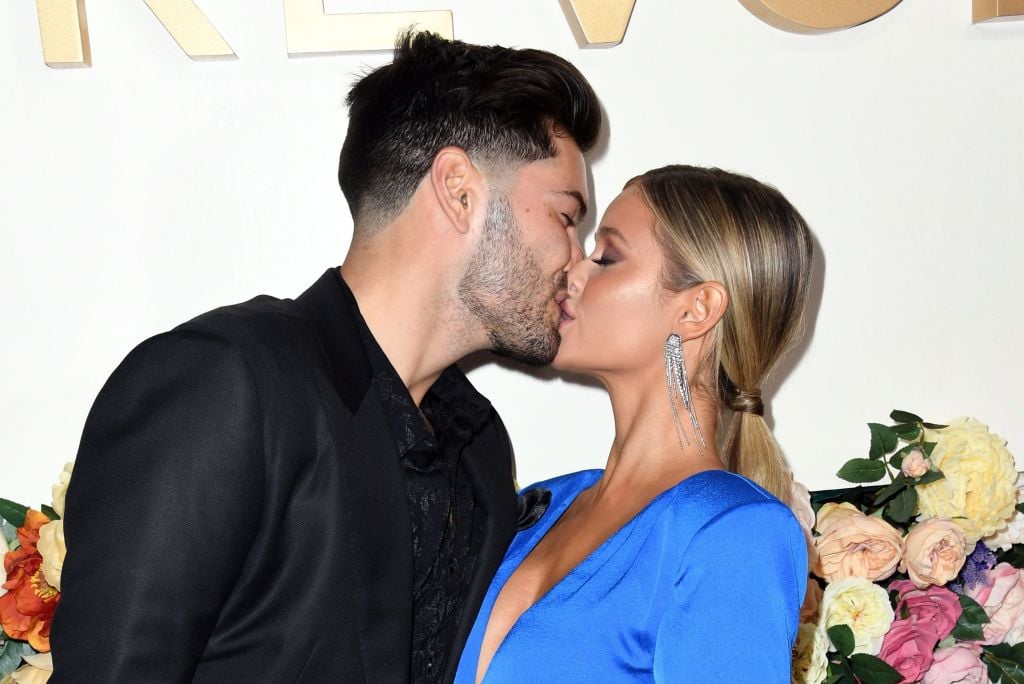 Where are Hannah Godwin and Dylan Barbour after 'Bachelor in Paradise'?
Though Barbour and Godwin don't officially live together just yet, they do spend a great deal of time together. The pair is looking to buy a home in San Diego, but at the moment Barbour resides in San Diego and Godwin is based in Los Angeles because of her job. However, the happy couple commutes back and forth and does sleepovers to spend as much time together as possible.
The engaged couple is quarantining together
In fact, the Bachelor in Paradise alums are practically living together at the moment. Due to the Coronavirus (COVID-19) pandemic, Barbour and Godwin (like other members of Bachelor Nation) have chosen to quarantine together. Like many people, they are trying to find ways to keep themselves thoroughly entertained so as not to get cabin fever. The couple has done everything from taking funny photos together to doing intense workouts. They also love making TikTok videos together.
On March 26, 2020, Godwin shared one of her most recent TikTok videos to her Instagram page. In the video, she and Barbour are interacting, but they have dubbed a conversation between Kim Kardashian West and Khloé Kardashian over themselves. The infamous conversation is Kardashian West telling her younger sister that her eldest child, North West, has a zero-tolerance policy for boys.
Godwin posts a TikTok video to Instagram
"Idk man just out here locked up and channeling @kimkardashian & @khloekardashian what are y'all doing," Godwin captioned the video of her and her fiancé. The video was likely made out of boredom, but Godwin's fans seem to really enjoy her and Barbour's sense of humor. Many of the couple's fans thanked them for continuing to post content that kept them thoroughly entertained during a time where most of the country is being encouraged to stay inside their homes.
"This is the quality content our bored selves keep refreshing our feed's hoping to find," one of Godwin and Barbour's loyal fans commented. Others found the content to be incredibly humorous and likable. "I like this so much, I tried to "❤️" it twice 😂😂😂🤷🏻‍♀️," another Instagram user chimed in. Other fans of the couple complimented them on their ability to match up their mouths so well to the words. In fact, plenty of people had to watch twice before realizing Godwin and Barbour weren't actually speaking.
'Bachelor' fans love the couple
"Haha I'm such an old person I didn't realize this was a tik tok at first and thought da*n she does a really good Kim voice, 🤦‍♀️😂" one person commented. Clearly Barbour and Godwin are finding fun ways to get through this strange time. If nothing else, they're getting the ultimate test about whether or not they'll be able to live together long-term.