Billy Ray Cyrus Confirms 'Hannah Montana' Prequel; 'I Would Do That in a Heartbeat'
Billy Ray Cyrus may have taken home two Grammy's a few weeks ago, but millions of people know the country singer best for his role on Hannah Montana. The hit Disney Channel show dominated airways from 2006 to 2011. The show followed Miley Stewart, a typical girl who lived a double life as international superstar, Hannah Montana. Cyrus starred alongside his real-life daughter, Miley Cyrus, and played Robby Ray Stewart, a former rockstar helping his daughter live out her dreams.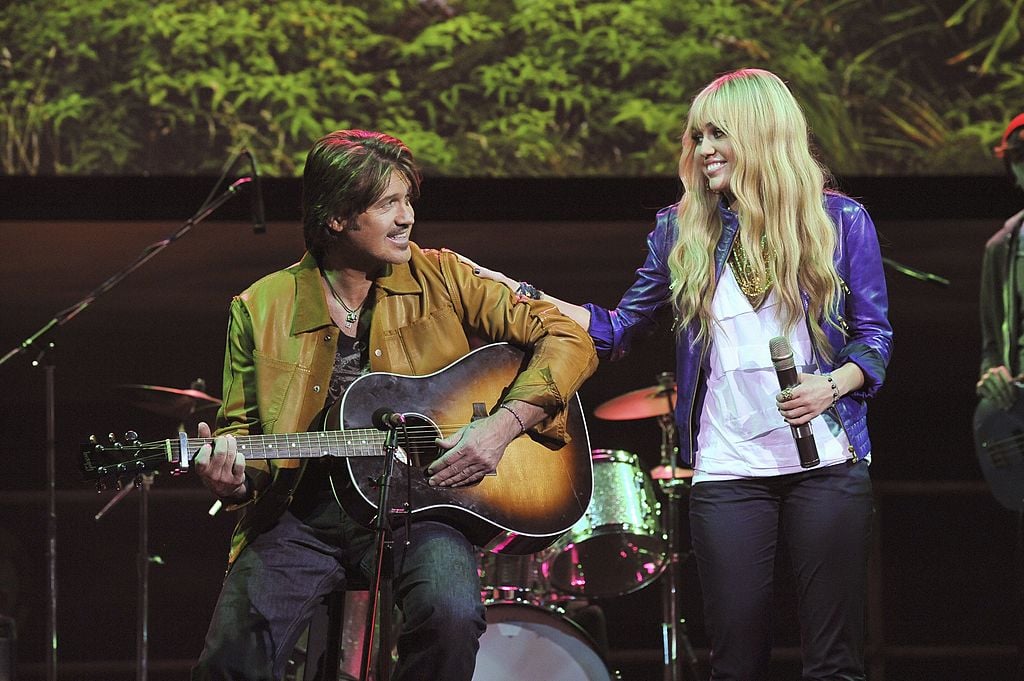 Hannah Montana obviously catapulted Miley Cyrus into a global superstar and a household name, but it also reinvigorated Cyrus' career. The country singer got to perform songs on the show quite a few times. Furthermore, he was cast on the reality show Dancing with the Stars because of Hannah Montana's popularity. Because the show was such a success, it's no wonder that Disney is in talks to bring it back in some capacity In the age of reboots i.e. Raven's Home, Girl Meets World, and Lizzie McGuire, it was only a matter of time before reimagining Hannah Montana was brought up.
Billy Ray Cyrus would do a Hannah Montana prequel to get his mullet back
In a recent interview with Hollywood Life, Cyrus revealed that a prequel of Hannah Montana was in the works. Furthermore, he revealed that he'd love the opportunity to be a part of the prequel. "They're talking about doing a prequel, which to me, I would do that in a heartbeat. Because that means I get to get my mullet back," the 58-year-old stated proudly. This is certainly a far cry from how Cyrus viewed Hannah Montana in the past. Back in 2011, Cyrus had a very different opinion about his tenure on the show and how Hannah Montana negatively affected his family. "It destroyed my family. I'll tell you right now—the da*n show destroyed my family," Cyrus shared with GQ.
Cyrus once claimed the show ruined his kids' lives
The "Achy Breaky Heart" singer continued on to confess that he wished Hannah Montana never happened."I hate to say it, but yes, I do. Yeah. I'd take it back in a second. For my family to be here and just be everybody okay, safe and sound and happy and normal, would have been fantastic. Heck, yeah. I'd erase it all in a second if I could," he revealed. This is certainly leaps and bounds away from how Cryus feels today. But what caused this change of heart? Time and distance likely played a role in helping Cyrus feel differently about Hannah Montana. However, his highly successful collaboration with Lil Nas X also likely plays a huge role in his change of heart.
How Hannah Montana led to Old Town Road
In a recent interview with Insider, Cyrus revealed that Lil Nas X only knew who he was because of his role on the Disney Channel show. "At a certain point, I said, 'Man, did I trade in my best years of music to become an actor?' And then along comes Lil Nas X, and he told me the reason he reached out to me was because he said I was the only country dude that he knew because of Hannah Montana. So really if I hadn't done Hannah Montana, I'd have never met Lil Nas X. He would have never known I was on the planet. So you really can't question God's plan," Cyrus shared. It certainly has been an interesting journey for Cyrus thus far. Only time will tell if the Disney execs are on board with him reprising his role in the Hannah Montana prequel.