Hannah Waddingham Says That It Is a Struggle to Keep a Straight Face on the Set of 'Ted Lasso'
Ted Lasso was an unexpected hit for Apple TV+. The relentlessly positive Ted (played by Jason Sudeikis) is a classic fish-out-of-water character, and fans all over have come to love his refreshing optimism. Of course, that sunny disposition wouldn't have the same impact if it weren't for the baffled people around him.
One of these people in Ted's world is Rebecca, played by Hannah Waddingham. And for Waddingham, playing opposite Sudeikis presents some unique problems. 
The improbable 'Ted Lasso'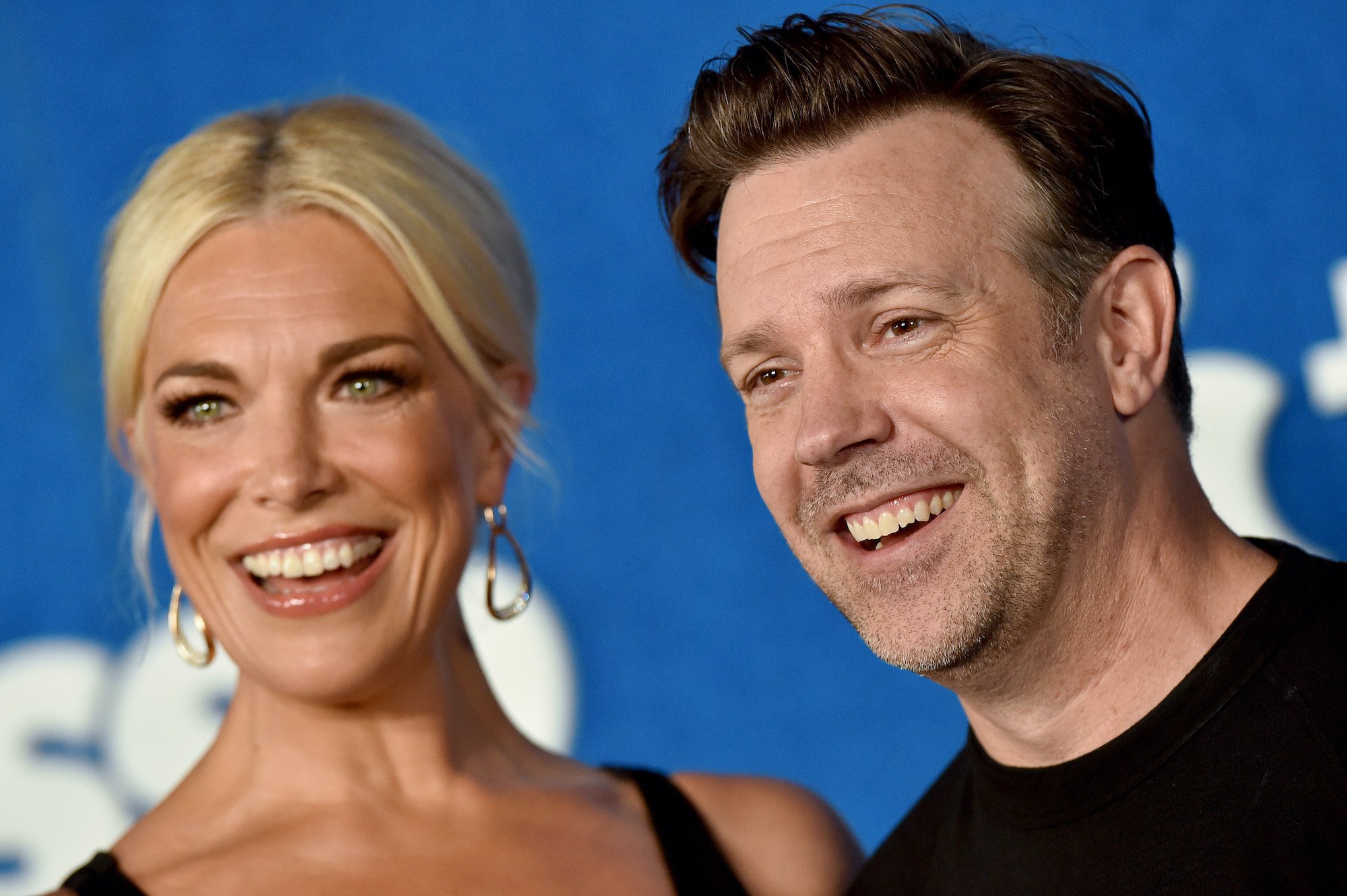 Ted Lasso is based on an unusual premise. Ted is a football coach from Kansas who was hired to coach an English soccer team. Although soccer is called football in most of the world, the two games are distinctly different, and Ted only knows about one of them.
Waddingham plays Rebecca Welton, the owner of the team. She's responsible for the unusual hiring choice, and there's a reason she chose someone with no knowledge of the game. The team had belonged to her ex-husband, and it was his pride and joy, so she was determined to torpedo it. 
According to TV Insider, the first season showed Rebecca struggling to navigate a painful, public divorce. In the second season, she was facing a new challenge.
"It opens with her dating somebody," she explained, "but immediately going to Ted [and saying], 'I don't know what I'm doing, I don't know how to do this anymore, someone tell me.'"
Her struggle to keep a straight face on 'Ted Lasso'
In the show, Rebecca is a much more serious person than Ted. And according to People, her talented co-star makes it difficult to keep from laughing when she's not supposed to. 
"Imagine playing Rebecca, where I'm meant to be this stoic ice queen. Imagine doing scenes when Jason has got the cheeky little pixie going on in his eyes," she said. "He's a nightmare!"
Waddingham has developed some techniques to help her keep a straight face during Ted Lasso scenes with Sudeikis and the other cast members. She says she sometimes looks a little bit to the side of her fellow actor's face, so she can avoid their eyes and stay in character. But mostly she just has to "really dig in and keep focus."
Staying serious while working with a comedic actor who is as good as Sudeikis would be a challenge for anyone. Fortunately, Waddingham's resume shows that she has plenty of professional experience to prepare her for the role. 
Hannah Waddingham's career
Waddingham has been in show business for most of her life. According to IMDb, she was born to a family of performers, with a mother and two grandparents who were opera singers. Waddingham got involved in musical theater in London after graduating from the Academy of Live and Recorded Arts. She also dabbled in music, releasing a single in 2000 at the age of 26. 
In 2008, she transitioned into movies with a role in How to Lose Friends and Alienate People. After appearing in a handful of movies, including Into the Woods and Hustle, she made the leap to TV. 
In 2015, Waddingham joined the cast of the wildly popular HBO series Game of Thrones in its fifth season. She followed that success with Ted Lasso, which earned her a Critic's Choice Award for Best Supporting Actress in a Comedy Series.
Waddingham's role in Ted Lasso seems to come with some unusual challenges. But she's clearly up to the task, and fans are happy to see her looking so serious.