What Happened Between Ethan Hawke and Robin Williams On Set of 'Dead Poets Society'?
Fans of the late Robin Williams remember him for his energetic comedic presence, voicing the Genie in Aladdin, and his dramatic movie roles. His most famous movies include Good Morning Vietnam, Good Will Hunting, and Dead Poets Society. The 1989 flick also starred Robert Sean Leonard and Ethan Hawke.
Although critics and audiences still praise the film, Hawke confessed that his experience with Williams on set wasn't perfect.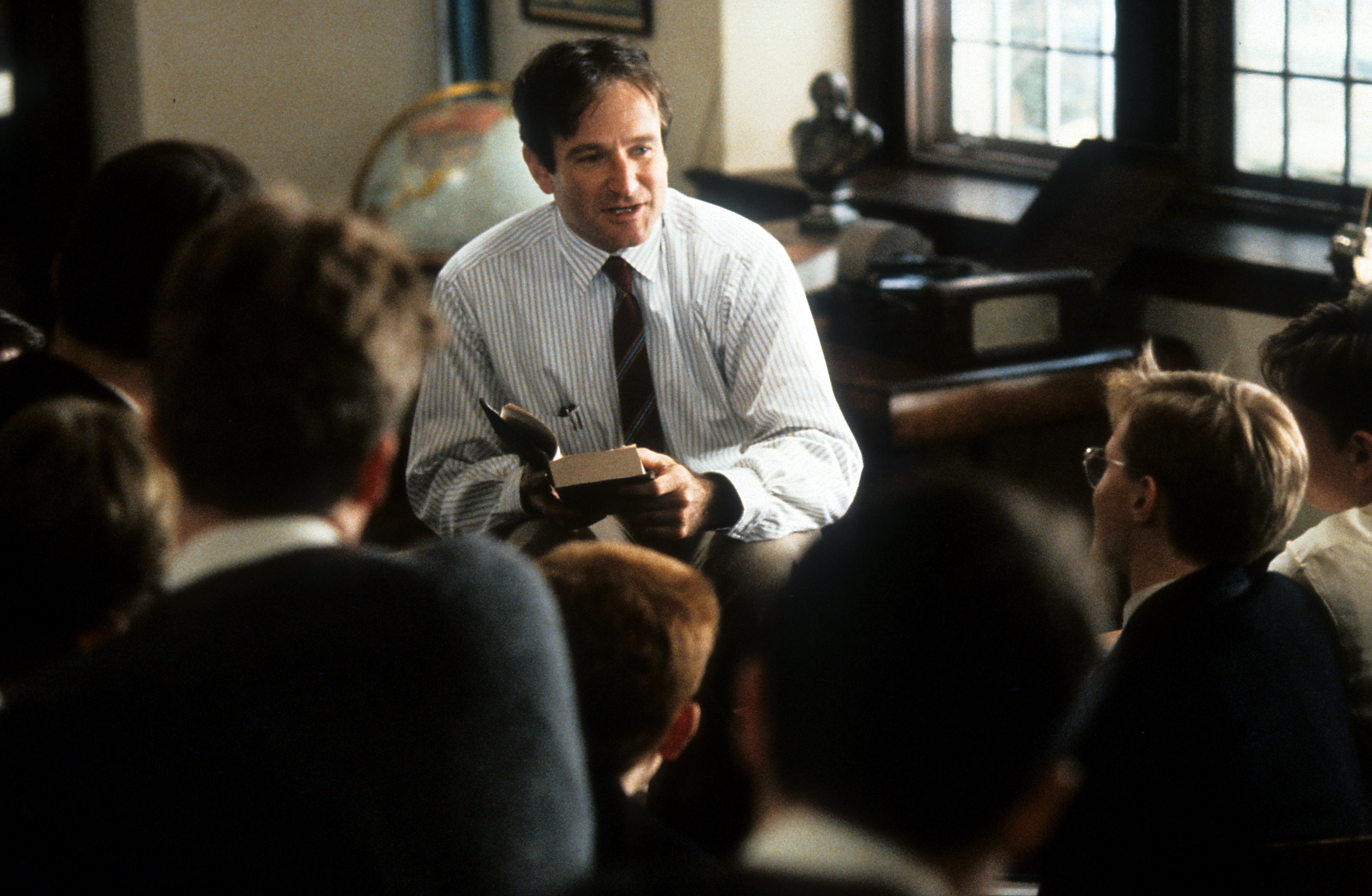 Robin Williams played the inspirational teacher in 'Dead Poets Society'
John Keating (Williams) is an English teacher at Vermont's conservative, all-male Welton Academy boarding school. He uses unique teaching practices to inspire his students. Focusing on Walt Whitman's poetry, Mr. Keating's classroom lessons motivate the young men to restart the Dead Poets Society.
The students sneak away to an off-campus location and recite poetry. Soon, they feel empowered to make decisions in their personal lives.
Complications arise when the headmaster dislikes Keating's methods. After a tragic event, a family and the headmaster investigate the resurrected Dead Poets Society. The investigation could lead to trouble for Keating's career.
Ethan Hawke didn't love Williams' jokes on set
According to Variety, Hawke discussed a possible upcoming project and his time on the set of Dead Poets Society. The Boyhood star recalled how Williams "had a habit of making jokes on set," which Hawke thought was "incredibly irritating."
"He wouldn't stop [joking], and I wouldn't laugh at anything he did," Hawke admitted and, as a result, thought Williams "hated" him.
Nevertheless, Williams was impressed with Hawke and found him his first talent agent. "[The agent] called and said, 'Robin Williams says you are going to do really well.'"
Williams, in turn, called Hawke "intimidating" after they filmed a scene together: "There was this scene in the film when he makes me spontaneously make up a poem in front of the class. He made this joke at the end of it, saying that he found me intimidating. I thought it was a joke. As I get older, I realize there is something intimidating about young people's earnestness, their intensity. It is intimidating—to be the person they think you are. Robin was that for me.
'Dead Poets Society' was Hawke's breakout role
Hawke became a huge name in the industry after he reached his breakthrough with Dead Poets Society. His portrayal of the shy Todd Anderson won audiences over.
From Mr. Keating's inspirational teaching, Todd grows from his initial reticence and ends the film with the most iconic moment: inspiring the whole class to stand on a desk and recite Whitman's "O Captain, my captain" as Keating is forced out of the classroom.
After the 1989 film garnered critical acclaim, Hawke was cast in noteworthy films such as Reality Bites and the Before trilogy. Later, the actor branched out to multiple genres, including horror and sci-fi dramas. He starred in the 1997 flick Gattaca alongside Uma Thurman and Jude Law and the 2012 horror flick Sinister.
Hawke also starred in the 2020 biopic, Tesla, playing the titular role of Nikola Tesla and appears with Jake Gyllenhaal in the upcoming 2021 thriller The Guilty.
Although the Total Recall actor did not appear in the 2019 mystery film Knives Out, he will star in the upcoming untitled sequel.