Here's What Happened When Shawn Mendes and Camila Cabello Ran Into Each Other at Wango Tango After Their Breakup
Shawn Mendes and Camila Cabello announced their breakup months ago, but the singers can't stop running into each other. Here's what happened when the former couple had an encounter at Wango Tango, and how they reportedly felt about seeing each other.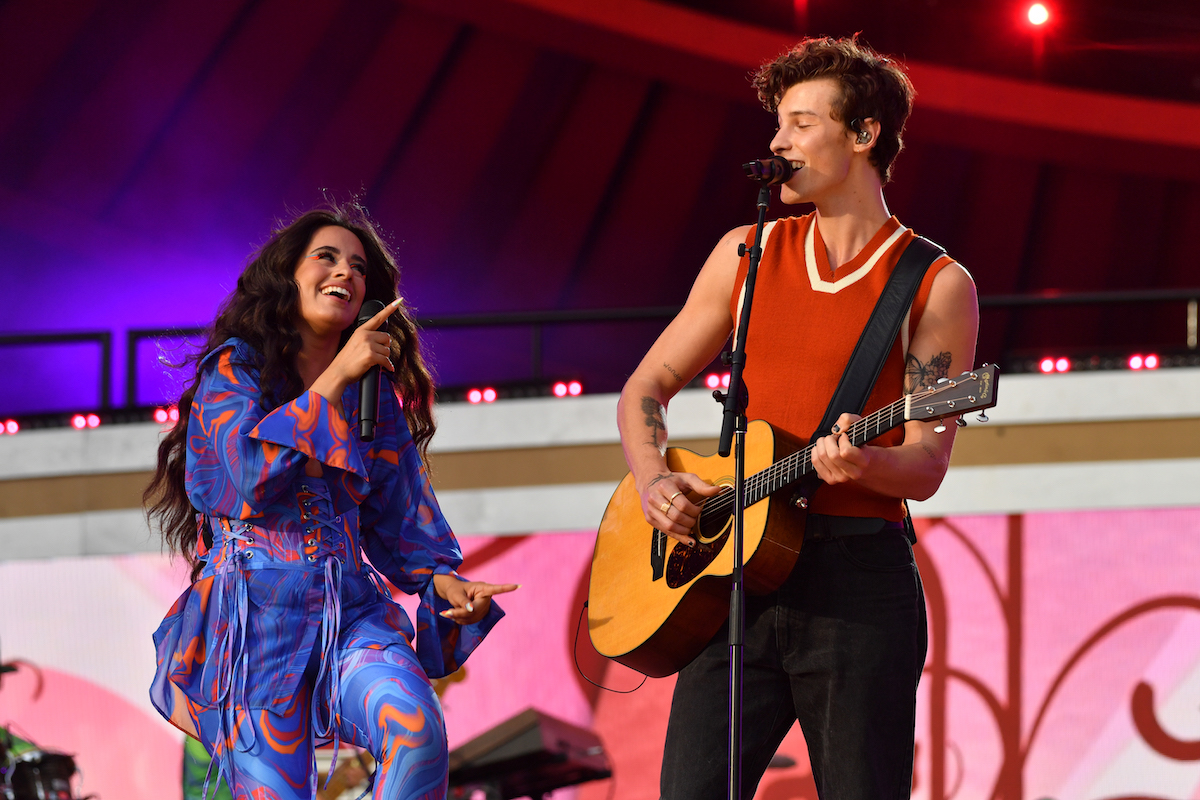 Shawn Mendes and Camila Cabello have moved on since their breakup
After dating for two years, Shawn Mendes and Camila Cabello announced their breakup in November 2021.
In January, the former couple sparked reconciliation rumors when they were photographed walking their shared dog together in Miami. But they have insisted in interviews that they are just friends and working on being single and independent.
Cabello opened up about the breakup to Zane Lowe on Apple Music 1's New Music Daily. "My focus really has shifted," the "Bam Bam" singer explained. "… And I feel like that was that way for both of us." She added, "Because we both started so young too, we're really learning how to be healthy adults." 
On Mar. 18, Mendes posted a vulnerable video on Instagram to share his feelings about the split. "You don't realize … when you're breaking up with someone and you like, think it's the right thing, you don't realize all the s*** that comes after it," Mendes said while playing the piano. "Which is like, who do I call when I'm like in a panic attack, who do I call when I'm like f***ing on the edge."
The "Stitches" singer confided that he hates being alone, but he has to accept it. "And I think that's the reality that kind of hit me, I was like, oh, I'm on my own now," Mendes said. "Now I feel like, finally I'm actually on my own and I hate that. That's my reality, you know?"
Mendes has released two singles about his breakup with Cabello, "It'll Be Okay" and "When You're Gone."
Camila Cabello and Shawn Mendes ran into each other at Wango Tango
Shawn Mendes and Camila Cabello work in the same industry, so the occasional run-in is inevitable. Their most recent encounter was at the Wango Tango concert, where they both performed on June 4 at the Dignity Health Sports Park in Los Angeles.
An inside source told Hollywood Life that Mendes and Cabello spoke to each other at the event. "Of course, Shawn and Camila talked and had a conversation at Wango Tango. Although one would expect it to be awkward, it is not for them," the insider revealed. "It would be even more awkward for them to avoid each other and not say anything. This isn't the first time that they have run into each other and, from an outside perspective, their interactions with each other are always kind of flirty, but not in a lusty sorta way. They are more like flirty best friends who have a lot of love and respect for each other."
The source added that the singers will likely continue to run into each other, so it's important for them to maintain a friendly relationship. "They have the same management, and this was part of what brought them together in the first place," said the insider. "They were always booked at the same places at the same times and still are. Unless one of them decided to leave, which is doubtful considering how well their careers are going, they know that they will be booked at the same gigs."
The former couple previously saw each other at the 2022 Met Gala
Wango Tango wasn't the first time Camila Cabello and Shawn Mendes bumped into each other at an event. They also came face to face at the 2022 Met Gala on May 2.
An inside source told Hollywood Life that their encounter was "anything but dramatic," that the two singers spoke "briefly" to each other, and the "interaction was friendly and authentic."
"Camila and Shawn have remained cordial to each other since their breakup and have spoken, and gotten together, on several different occasions," the insider claimed. "Camila and Shawn will always have a special place in each other's hearts, and they will continue to remain friends. They were genuinely glad to see one another at the Met Gala. They have had so much fun attending past ones, and this was no different."
RELATED: Camila Cabello's Friend Anitta Says She Didn't Have a 'Hard Time' With Breakup from Shawn Mendes: 'She's Just Happy'