'Happiness': K-drama Combines Blood Thirsty Monsters With Coronavirus Pandemic
'Happiness' entails a story of survival as the public face anew rabid virus that turns people into blood thirsty monsters in the wake of the coronavirus (COVID-19) pandemic. The drama is Park Hyun-sik's return to acting after the military.
TvN's newest Korean drama, Happiness, has a unique twist to a thriller storyline grounded in reality. Starring actors Han Hyo-joo and Park Hyun-sik, the K-drama centers around a viral outbreak in the aftermath of the coronavirus (COVID-19) pandemic. The leading characters soon face another dangerous and ravaging disease that borderlines between blood-thirsty monsters and zombies.
Happiness is one of the many newest K-drama additions to the November lineup that shows incredible promise. Fans can look foward to the underlying fear of an already existing pandemic, the rise of a virus, and look for answers on how to stop it.
[Spoiler alert: This article contains mild spoilers about Happiness.]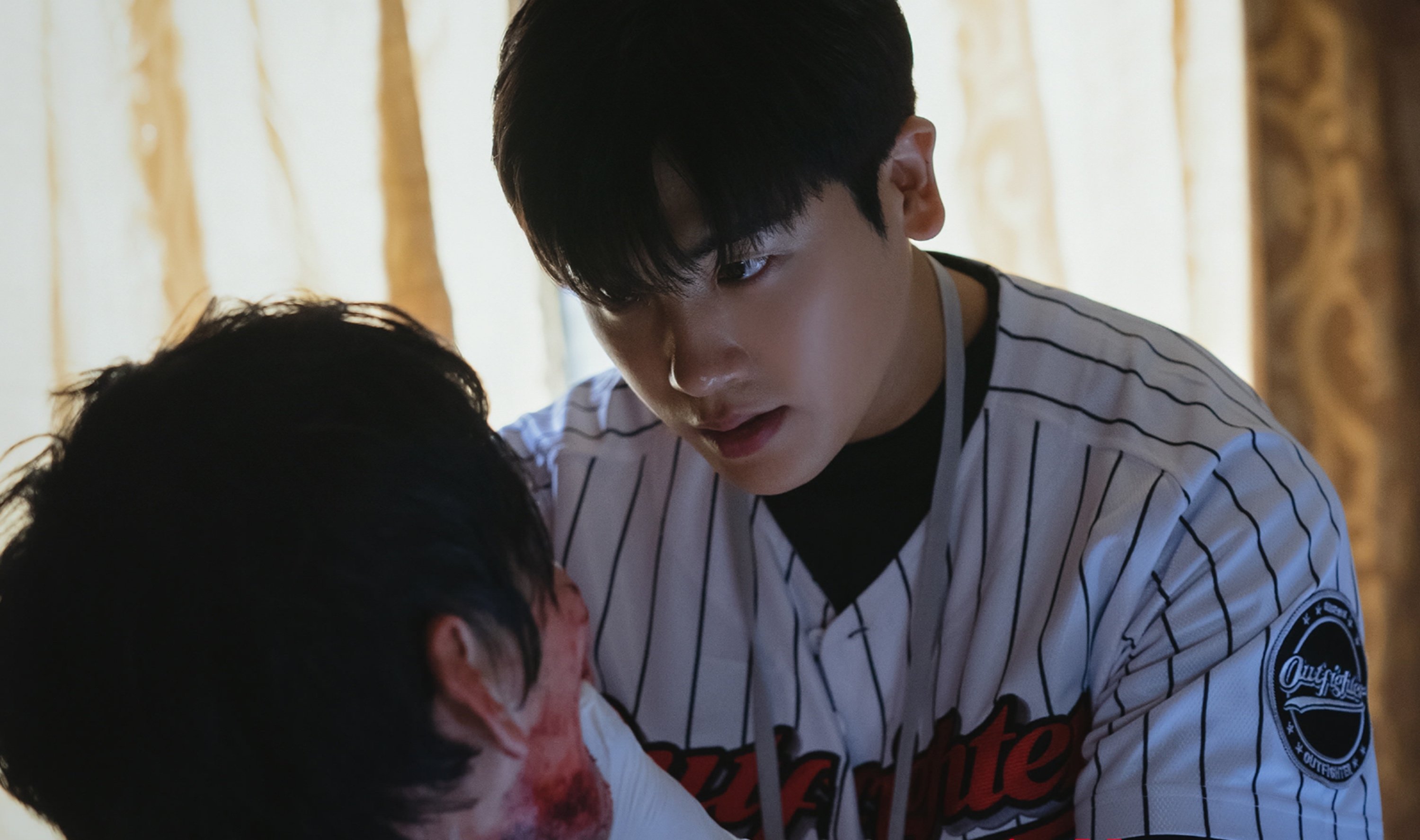 'Happiness' revolves around a new viral outbreak
The Happiness K-drama begins like any other, introducing its main characters in a flashback before shifting to the present day. It all starts with Yoon Sae-bom (Han), a member of a special task force, and her partner taking part in a routine simulation event. On the other hand, Jung Yi-hyun (Park) is a police detective called to a bizarre murder case. The victim is found with his neck torn and a majority of his blood missing. Yi-hyun just so happens to find the suspect hiding under the bed and claims he felt an unbearable thirst.
Sae-bom gets a tip-off from Yi-hyun. An officer in training on her team gave his suspect pneumonia medicine with side effects. Sae-bom and her partner go to question the officer. They find him in a monster-like state and biting into the neck of another officer. After detaining the subject, Sae-bom meets Han Tae-seok (Jo Woo-jin).
Tae-seok is a lieutenant colonel and belongs to the health service command. He is in charge of detaining people with the possible infection and finding its cause. The people infected experience unbreakable thirst, rabid anger, and cloudy monster eyes. According to Soompi, "At the start of the drama, everyone's ordinary lives collapses in an instant with the emergence of an unimaginable infectious disease. People are swept up in panic and anxiety, and normal societal values fall to pieces in the face of an extreme situation."
'Happiness' K-drama uses the aftermath of the pandemic to add a unique twist
Happiness uses the coronavirus pandemic as an underlying storyline for its K-drama. The K-drama never explicitly reveals the type of pandemic that took place until episode 2. In Happiness episode 1, Yi-hyun tells Tae-seok that Sae-bom is classified as an essential worker. Therefore, she received the necessary vaccines.
There is an aura of uncertainty and panic as Yi-hyun is curious what virus Tae-seok is referring to. The K-drama uses the underlying fear of already going through a pandemic to good use. Certain characters even mention quarantining, the rate of possible infection, and more. In the following episodes, side characters also mention wearing face masks for protection and washing your hands when coming home.
At one point in the K-drama, Sea-bom's mother calls her to say she has taken the coronavirus test over five times. News of the possible new outbreak is already circulating amongst the public. Fans of the Happiness can assume the latest outbreak will only lead to another round of panic the public has already seen before in the K-drama.
Actor Park Hyung-sik returns to acting after his military service with 'Happiness' K-drama
November includes two K-dramas starring male actors who now serve in the military or have just finished their mandatory duty. Actor Park recently finished his mandatory military enlistment. He entered the military on Jan.10, 2019, as an active-duty officer. Park gained notoriety in one of the pivotal dramas news fans need to watch. In 2017, he starred in the lead as Ahn Min-hyuk in Strong Girl Bong-soon.
Happiness is Park's first K-drama after his return from the military. According to Soompi, Park could not turn down the opportunity to star in the K-drama. The storyline and characters "felt different from other drama." But Park admits being on set was difficult. "It was the first time in a while that I'd filmed, so I was awkward around the camera. Everyone around me teased that I was awkward and hadn't gotten used to things yet. But being on set was so fun, and everyone took such care of me that I was able to get used to it fast," said Park.