Happy Birthday Trina Braxton: Who's Her Fiance', Von Scales?
The Braxton clan's resident party girl is celebrating her birthday today! Trina Braxton is the most "turnt up" of her sisters, known for her love of cocktails and a night out. As she celebrates turning the big 45 today, fans are anticipating social media posts of a birthday extravaganza.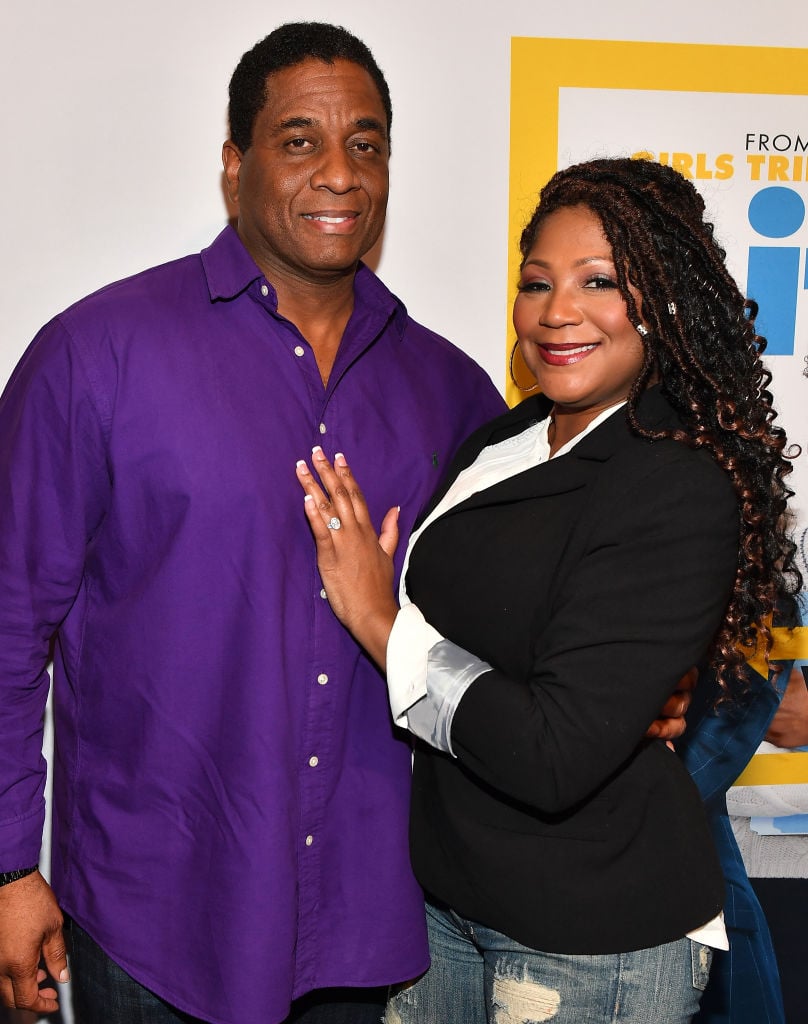 The Braxton Family Values star has a lot to celebrate this year. In addition to a successful year as a co-host of the daytime talk show, Sister Circle, she's newly engaged to businessman, Von Scales. Though she's been married twice before, the third time may be the charm for the self-proclaimed hopeless romantic. 
Trina Braxton's marriage to Gabe Solis
Braxton and Solis wed in 2003. He helped to rais her two sons, Eric and Caleb, from her previous marriage from the moment they became a unit. Solis was a software developer and worked from home, often caring for their sons while Braxton performed on the road as a background singer for her big sister, Toni.
Their marriage was wracked with infidelity. When the reality show first premiered, they were having marital issues due to Solis' cyber cheating. At the start of the show, they were married for seven years, with Braxton claiming that Solis was unfaithful for five.
They sought counseling to work on repairing trust but it didn't help. Braxton's family was in strong opposition to their relationship and left her to feel as if she constantly had to choose between her marriage and her sisters.
Solis and Braxton split several times throughout the show but always found their way back to one another, even renewing their vows at one point, which the sisters did not approve of.
In 2015, Braxton ended the relationship for good. After a brutal divorce that included Solis attempting to take half of her business and their marital home, they developed a close friendship. 
Who is Trina Braxton's new fiancé, Von Scales
After her split with Solis, Braxton dated the contractor of her tapas bar, Bar Chix, for about a year. The two split before she began seeing Von Scales. 
Braxton has said how different Scales is from her previous relationships. The Missouri native is the owner of Pro Iv Chronic Pain Center in St. Louis. When viewers were first introduced to Scales, he and Braxton were in a long-distance relationship and split their time between St. Louis and Atlanta where Braxton lived. 
Like Braxton, Scales has been married before and has three sons. He and Braxton have worked to blend their families and have shared Kodak moments on their Instagram pages of Scales sons at their sporting events. 
Scales took Braxton to his hometown to meet his mother and aunts to get their approval once he decided to take things with her to the next level. After giving Braxton the third degree, his mother and aunt gave Scales the seal of approval.
Their relationship hit a rough patch when Braxton's ex-husband, Solis, passed unexpectedly, leaving Braxton devastated. Scales was an upstanding guy and supported her as she mourned his loss.
A few months later, Scales proved his love with a surprise proposal during her sister Tamar's birthday. Cameras were there to capture the beautiful moment.
Scales has relocated to Atlanta full-time in preparation for his new life with Braxton and opened a new business, Bio-Health and Wellness. According to his LinkedIn page, the company specializes in infusion, PRP, Exosome, Stem Cell therapies.
Wedding planning is in full swing as Braxton already has picked out her dress and set a wedding date. Hopefully, they'll share their nuptials on the upcoming season!