'Happy Days' Gave Robin Williams His First Big Break
Robin Williams got his first major break in 'Happy Days.'
It's been quite some time since the world tragically lost actor Robin Williams, but the memory of his work still shines brighter than ever. Williams spent years delighting audiences in a number of ways, first on stage and then on-screen.
While the legendary comic actor became known for his movie roles, it was television where he first became a household name on the set of Happy Days. Let's take a closer look at Williams' first big break on the revolutionary sitcom Happy Days.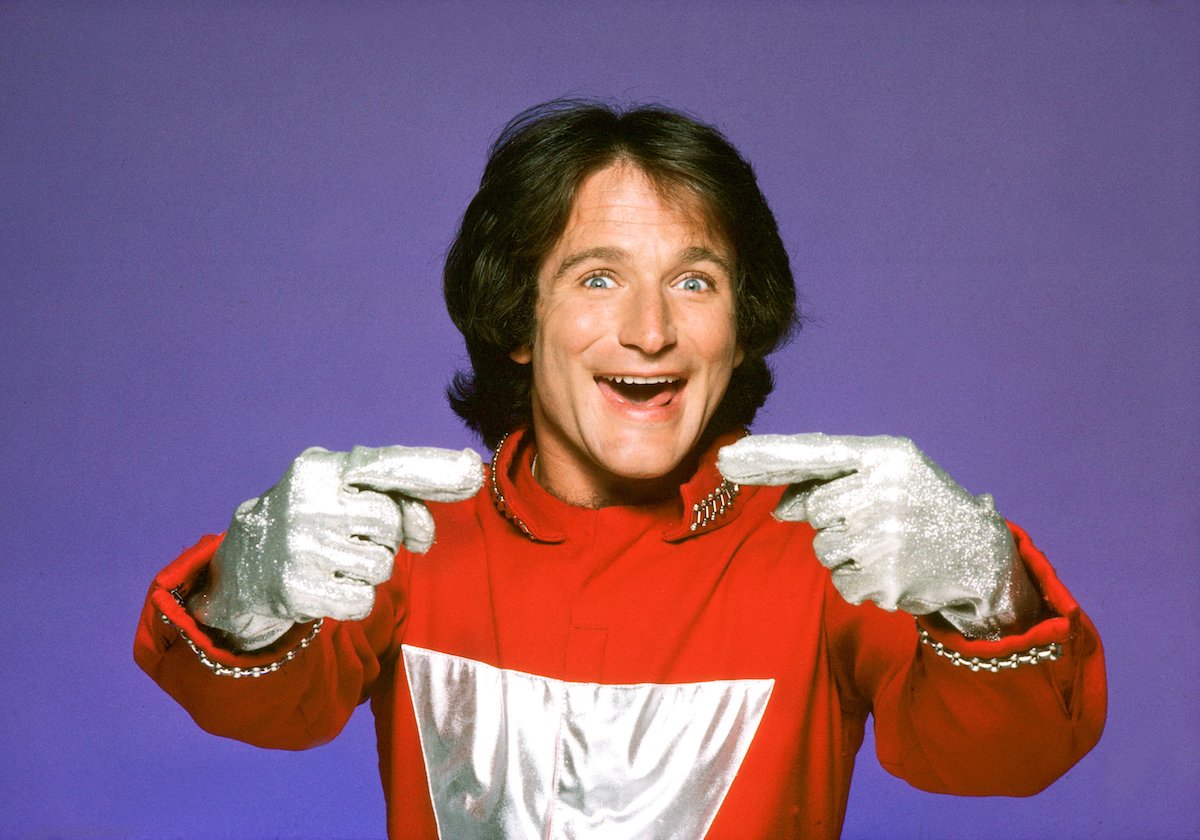 What was the premise of 'Happy Days?' 
Happy Days was a sitcom that followed the exploits of 50s teenager Richie Cunningham, played by Ron Howard. Other characters included Richie's family: Howard, Marion, and Joanie Cunningham (his Dad, Mom, and sister respectively).
Constantly flanking Richie were his best friends, Potsie and Ralph. They often hung out at Arnold's, a local malt shop. The show's other major character was the somewhat mysterious James Dean-like Arthur Fonzarelli, known as "The Fonz" or Fonzie. 
In the early years of the show, Fonzie had a dangerous edge to him that led some other characters to react to him with a mixture of fear and respect. Eventually, he became a welcome member of the Cunningham family. Howard left the show at one point, leading to the show focusing more on Fonz, Joanie, and Scott Baio's character, Fonzie's cousin Chachi. 
Throughout the show's run, it had several guest stars. One of those guest stars was Williams. 
The legendary career of Robin Williams
According to Biography.com, Williams got his start as a stand-up comedian in Los Angeles. He'd go on to become a global star as both a comedian and an actor. While Williams was always known for being hilarious and starring in comic roles, he had plenty of turns in dramatic ones as well. 
Some of Williams' funniest onscreen films included Mrs. Doubtfire, Good Morning Vietnam, The Birdcage, and as the voice of the Genie in Aladdin. Some of his better known dramatic films included Dead Poets Society, Good Will Hunting, Awakenings, and The Fisher King. 
Williams showed tremendous range as a performer, proving he was equally adept in multiple genres. Williams would also intermittently return to his stand up roots over the years. 
How 'Happy Days' gave Robin Williams his big break
Williams had a long, illustrious career in show business, but the role that really put him on the map was starring in Happy Days. According to Mental Floss, series creator Garry Marshall gave Williams his "big break" by casting him on the show in a guest starring role. Marshall's sister, Ronny, discovered Williams and urged Marshall to cast the comedian. 
Marshall's son was a fan of Star Wars and encouraged his father to incorporate aliens into his sitcom. Marshall came up with an alien character known as "Mork from Ork." While many notable comedians turned down the role, Ronny told Garry about a comedian she had seen performing on the street.
Marshall cast Williams in the role from there. According to Henry Winkler, who played the Fonz, it was a challenge to keep a straight face on the set when Williams was acting. 
Williams parlayed his guest starring spot into his own series: Mork and Mindy, an entire sitcom based on his alien character. From there, Williams' undeniable talent took him to the big screen and even an eventual Academy Award victory. It took Williams quite a while to break into the mainstream, but once he did there was no turning back. Without a doubt, the first break that got him on his way was starring on Happy Days.