Harley Quinn Smith's Roles Outside of 'Cruel Summer'
Harley Quinn Smith is the daughter of movie producer, actor, comedian, and self-proclaimed comic book nerd Kevin Smith. Many people might recognize Harley Quinn's name from the Batman comics. Others might know her face from the Freeform series Cruel Summer. But Harley Quinn has an extensive background in acting that dates back to her childhood.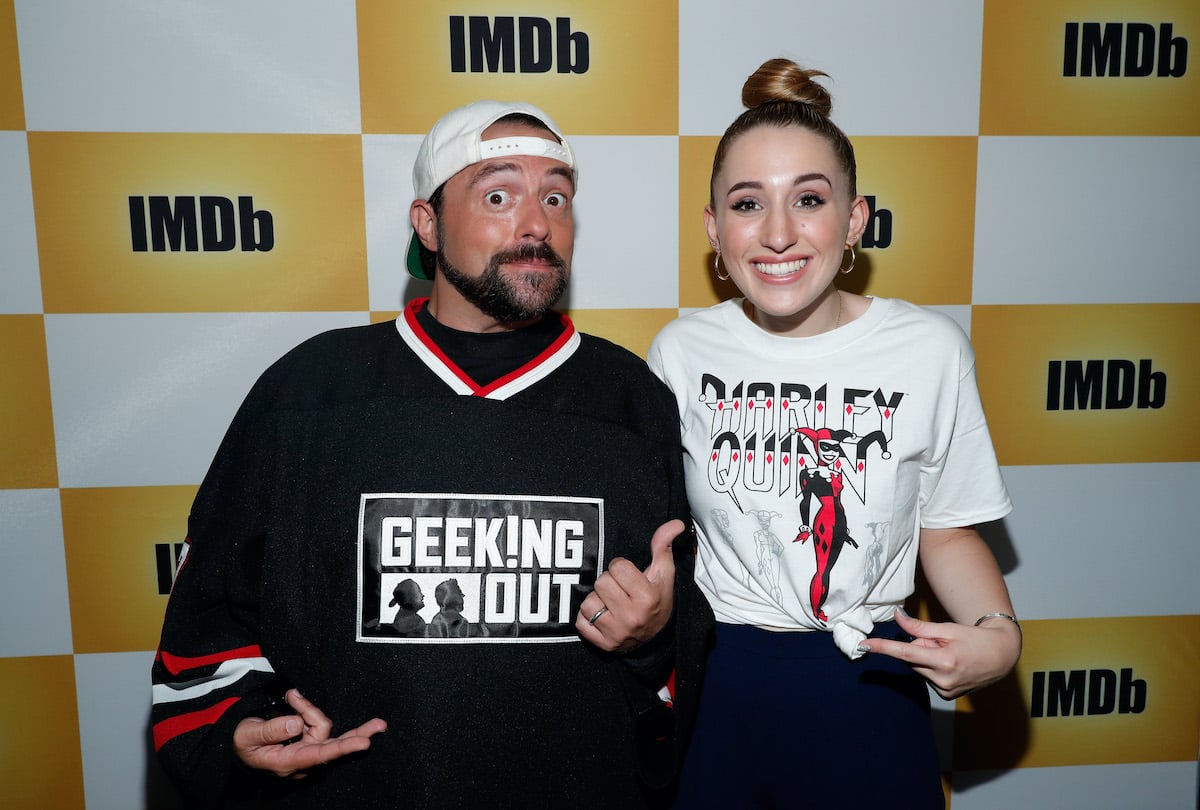 'Cruel Summer' cast features Kevin Smith's daughter
The Jessica Biel-produced Freeform series is extremely popular. The fictional story is set in the '90s and takes place over three summers. Told from the perspective of two teen girls — Kate Wallis (Olivia Holt) and Jeanette Turner (Chiara Aurelia) — this twisty and unconventional drama has many fans thinking the story might be true. 
Harley Quinn Smith plays Jeanette-turned-Kate's best friend Mallory Higgins. After discovering what she believes to be the truth about Kate's disappearance — fans still don't know what really happened or which girl is telling the real story.
The uber-popular Kate Wallis is held captive by the new assistant principal, Martin Harris, for one year. During that time, Jeanette Turner assumes Kate's life, her popularity, and her boyfriend.
The year following Kate's rescue is hard on both girls. A legal battle ensues when Kate tells police that Jeanette saw her in the basement but didn't tell anyone. After Kate's escape, she and Mallory, who previously considered her an enemy, become friends.
Harley Quinn Smith movies include 'Jay and Silent Bob Reboot' and 'Once Upon a Time in Hollywood'
Before her role in Cruel Summer, Harley Quinn first appeared in Jay and Silent Bob Strike Back as a Baby Silent Bob. Harley has been in several of her dad's movies, including Clerks II, Tusk, Yoga Hosers, and the Jay and Silent Bob Reboot. Harley Quinn Smith also appeared in Once Upon a Time in Hollywood. She played "Froggie," one of the Mason Family members, in Quentin Tarantino's film. 
Outside of movies, Harley Quinn has also been in many television series. All Night, Day by Day, and Swiss and Lali Hijack Hollywood all feature Harley Quinn. At the time of publication, her most talked about and current work is her role in Cruel Summer. 
Harley Quinn Smith age
Harley Quinn is 21-years-old currently. She was born on June 26, 1999 in Red Bank, New Jersey. Her star sign is Cancer. The Cruel Summer actor's parents, Kevin and Jennifer Schwalbach Smith, are both 50-years-old.
Kevin Smith's daughter is named after the 'Batman' villain Harley Quinn
Kevin Smith is a notable DC nerd, making sense that his only daughter would be named after a comic book character. In 2016, the filmmaker, actor, and comedian gifted his daughter with Harley Quinn's weapon from the Suicide Squad movie. 
RELATED: 'Harley Quinn' Fixed This 1 Frustrating Aspect of Harley Quinn and Poison Ivy's Relationship
"You know what a totem is?" Kevin asked Harley Quinn before giving her the iconic bat. "It's a powerful, mystical object that wards off evil and gives the bearer strength and power. Before you begin your journey where I started my adventure 22 years ago, I wanted to present you with this powerful totem." 
Harley started crying "tears of joy" upon opening the gift. "Like her old man, the kid goes to pieces over this comic book stuff," Kevin concluded. "It's not just in her name, it's in her DNA."