Harrison Ford Made a Rookie Mistake When Proposing to Calista Flockhart
Harrison Ford is a Hollywood legend. The talented actor has played iconic roles, from the sarcastic smuggler Han Solo to the adventuresome archaeologist Indiana Jones. And throughout his impressive career, Ford has won several prestigious awards and appeared in numerous blockbuster films.
The leading man also enjoys a successful marriage with actress Calista Flockhart. The two celebrities have been married for more than a decade. However, when Ford popped the question all those years ago, he made a major faux pas.
They said Harrison Ford would never make it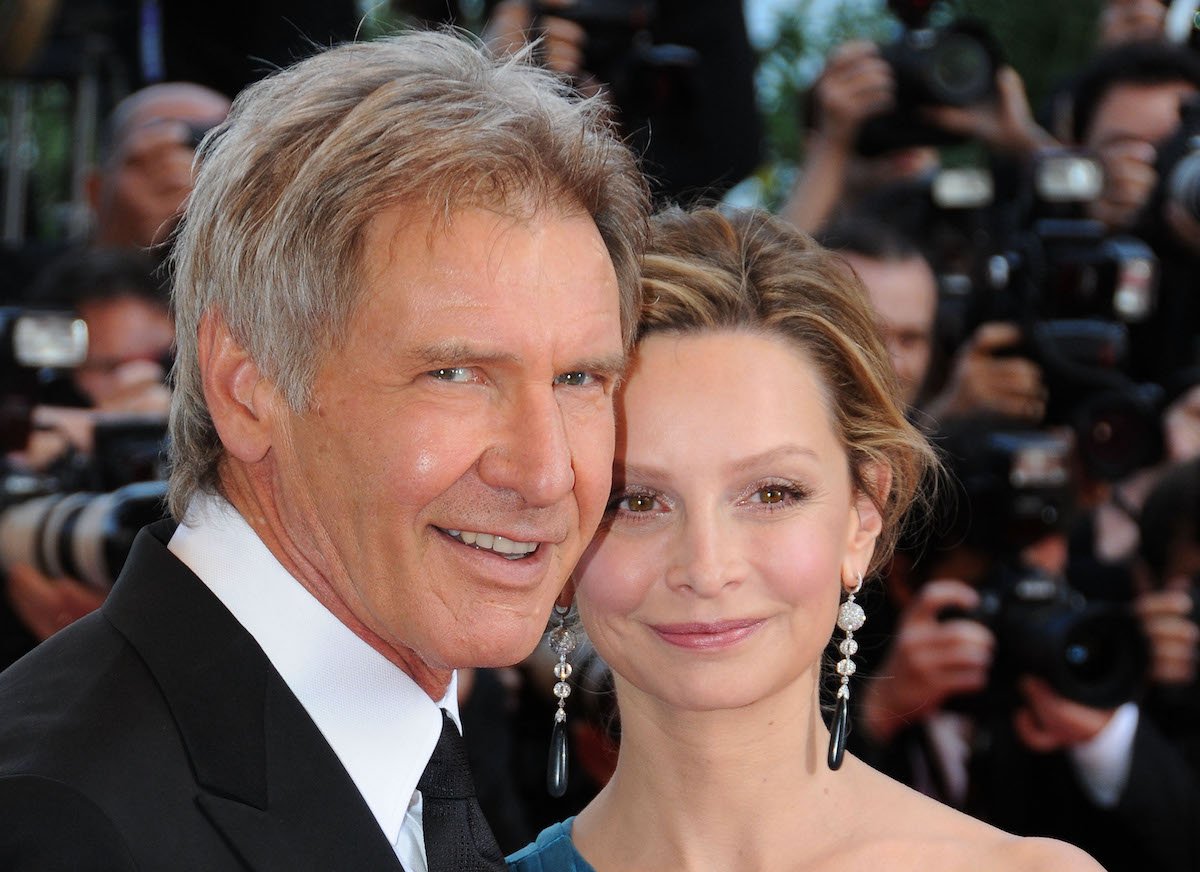 Harrison Ford was born in 1942 and grew up in a suburb outside Chicago, Biography reports. His dad was an advertising executive, and his mother stayed at home with him and his younger brother. Ford studied English and philosophy at Ripon College. He wasn't even interested in acting until he signed up for a drama course because he thought he's get an easy A.
But once Ford began the class, he discovered he loved the art. He enjoyed performing but didn't like school so much. So he eventually dropped out of college and moved to Hollywood. He began working as a contract player for Columbia Pictures, making $150 a week. Ford made his film debut in 1966's Dead Heat on a Merry-Go-Round.
Studio executives didn't like Ford's performance. They actually told him he'd never make it in the business. It's interesting to think about what went through those studio execs' minds when he became one of the most famous actors of all time.
Boy, were they were wrong
RELATED: 'Raiders of the Lost Ark': The Hilarious Tricks Steven Spielberg Used to Film the Infamous Snake Scene
Ford's lack of Hollywood success discouraged him, and he began working as a carpenter to pay the bills. In 1973, George Lucas gave him a role in American Graffiti with Ron Howard and Richard Dreyfuss. The 30-year-old Ford still failed to impress. But he delivered a solid performance.
Ford returned to carpentry and also snagged a small role in Francis Ford Coppola's The Conversation. But in 1977, Lucas gave Ford another shot at stardom. The director cast Ford as the lovable smuggler Han Solo in the space opera Star Wars. Ford brought the character to life with a phenomenal portrayal of Solo's cocky, arrogant attitude and big heart.
Ford reprised the role in the 1980 hit sequel The Empire Strikes Back. His portrayal of Han Solo skyrocketed the actor into the spotlight. Soon he accepted his next iconic role: Indiana Jones. George Lucas collaborated with Steven Spielberg on the action-packed adventure and brought Ford in for the lead role.
He didn't disappoint audiences. Raiders of the Lost Ark won a slew of awards and shattered box office records. Ford went on to play the charismatic adventure-hunter in several sequels, all of which performed well.
Now that Ford had Han Solo and Indiana Jones under his belt, Hollywood really began to love him. In 1982, Ford starred in Ridley Scott's science-fiction hit, Blade Runner. His career was in full swing, and he went on to star in several hit films, including Witness, The Fugitive, and Air Force One. He played his most famous roles once again in The Force Awakens and Indiana Jones and the Kingdom of the Crystal Skull.
A legendary career and a happy marriage
For the past decade, Harrison Ford has been enjoying wedded bliss with Calista Flockhart, OK! reports. Flockhart is an accomplished actress known for portraying the quirky title character in Ally McBeal. She also played Kitty in the family drama Brothers and Sisters, where she acted alongside the legendary Sally Fields.
Ford and Flockhart's marriage appears to be happy, but their relationship wasn't always easy. They began dating when he was in the midst of his second divorce, and it was a challenge. Ford was known for his fierce independence, but his love for Flockhart prevailed. He helped raise her adopted son Liam since he was just a toddler.
According to OK!, Ford and Flockhart plan to renew their vows soon. The actor has been working hard to organize the perfect ceremony. It's scheduled to happen on Valentine's Day, exactly 12 years to the day when Ford popped the question.
But one thing the iconic actor might not have known is that proposing on Valentine's Day is a major faux pas, The Plunge reports. Etiquette experts generally agree that popping the question on a holiday or birthday is "cheesy" and forces the couple to share their special day with another important event.
However, it doesn't seem like Flockhart minded. She said yes and is set to renew her vows with the Hollywood veteran next month.