'Harry Potter and the Deathly Hallows: Part 2' Hug Scene Was Awkward for Even Tom Felton
When it comes to the best Harry Potter movies, Harry Potter and the Deathly Hallows: Part 2 ranks at the top. The final chapter in the eight-film series headed by Daniel Radcliffe, the film follows the young wizard in his mission to defeat Voldemort. It's the battle that all of the previous movies hinted at, and it left everyone on the edge of their seats until the end.
One of the most memorable moments, however, isn't about the action. Instead, it's when the Dark Lord, in a moment of celebration, decides to hug Draco Malfoy. Many Harry Potter fans have described it as downright awkward, but they're not the only ones who feel that way.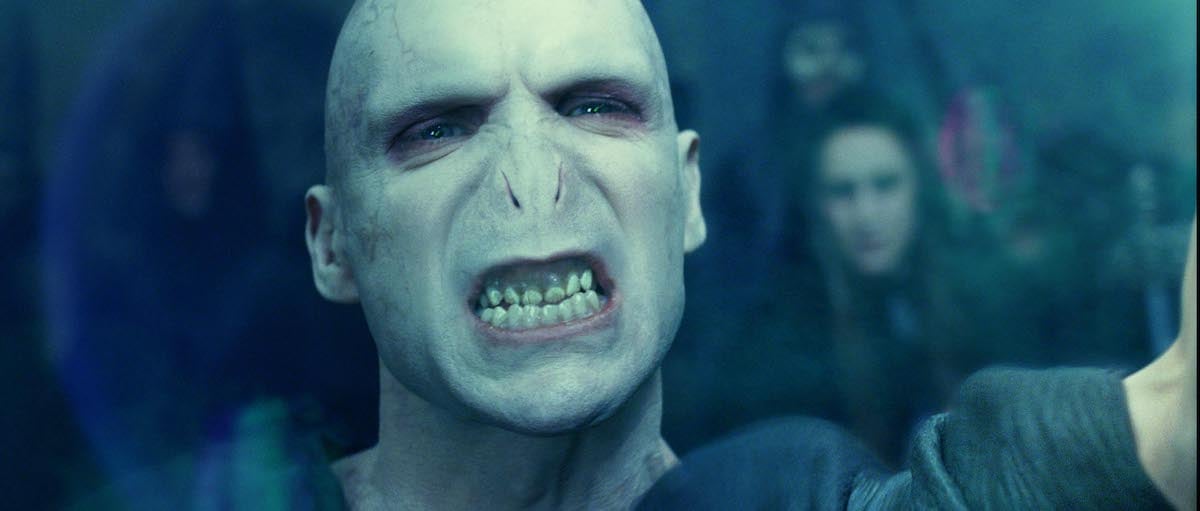 Voldemort's hug in 'Harry Potter and the Deathly Hallows: Part 2' is being criticized online
It's been almost 10 years since the release of Harry Potter and the Deathly Hallows: Part 2, but it became a talking point on social media in June, when BuzzFeed asked its readers to name a movie scene they found "hard to watch."
"The scene in Harry Potter and the Deathly Hallows: Part 2 where Draco and Voldemort hug," one person wrote. "That whole thing is so awkward!"
For reference, the moment comes at the end of the movie when Voldemort thinks he's killed Harry and takes his body back to Hogwarts to intimidate the others against him. He demands they join him in exchange for their lives, but no one moves. At his father's urging, Malfoy comes down to join the Death Eaters. But as he's walking across the courtyard, Voldemort stops him in his tracks. Throwing his arms around Malfoy, he goes, "Oh, well done, Draco! Well done."
Voldemort hugging Draco was improvised
As Tom Felton (Draco Malfoy) explained during a panel discussion at Dragon Con in 2011, that hug was never in the script, and it was Ralph Fiennes' (Voldemort) idea to do it.
"That wasn't in the script," he said. "We did that take like 25 times. He only hugged me once. It was like a one-off thing that he just threw at me, and I'm standing there going, 'What the hell is he doing? Why is he hugging me in this weird fashion?'"
"So it was very strange," Felton continued. "It was a surprise for me, and I can assure you when [Ralph] is doing it in full makeup … it's pretty menacing. It's pretty terrifying stuff because he kind of held it for about 10 seconds. And I thought, 'Is this gonna end?' I was baffled. I mean more baffled that that was the take they used. It's really interesting."
But not everyone found the scene awkward
Going on, Felton pointed out that the scene was actually received differently by certain audiences around the world. While some found it creepy and weird, others found it funny.
"In England, it's considered a very chilling moment," Felton added. "The whole audience kind of goes dead quiet and nobody knows what to say or do, but over here [in the U.S.] it's hilarious. Literally the audience bursts into laughter, which is great. I love that. I love how you guys seem to find humor in all sorts of places."
While he can also look back on it and smile, it seems like it certainly wasn't a laughing matter in the moment.
RELATED: 'Harry Potter': A Jaw-Dropping Secret About Voldemort's Horcruxes Has Been Revealed