'Harry Potter': Emma Watson Spent Days 'in Tears' During 1 of the Movies
Being cast in the Harry Potter movies was akin to winning the lottery. This was especially true for the actors who portrayed the golden trio. Daniel Radcliffe, Rupert Grint, and Emma Watson earned millions of dollars thanks to their performances in the eight films. Furthermore, the actors became household names and are easily some of the most recognizable celebrities on the planet.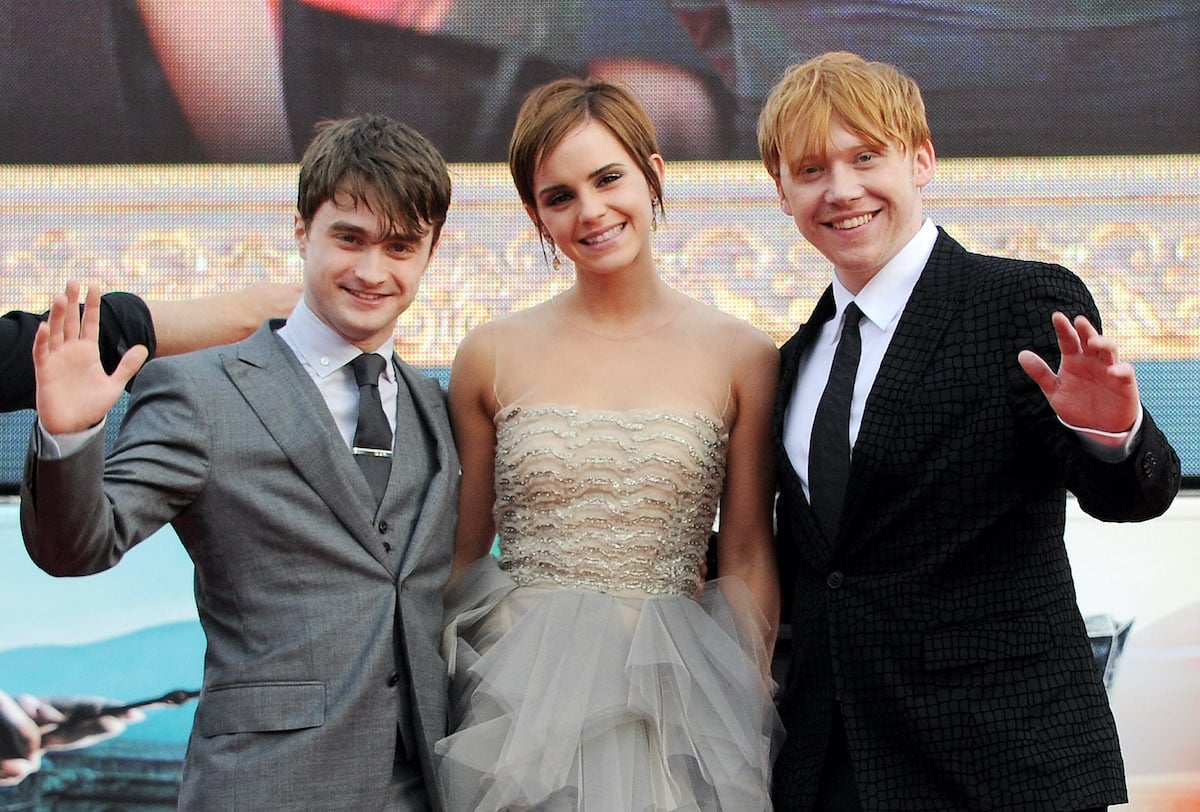 Of course, being a part of the Harry Potter cast wasn't always easy. Watson, Grint, and Radcliffe practically gave up their privacy for a full decade and were often hounded by the paparazzi. Furthermore, the intense schedules that the films required meant the actors lost a lot of their childhood. Watson even considered quitting the franchise altogether because she was longing for more freedom in her life.
Filming 'Harry Potter and the Deathly Hallows – Part 2' was particularly challenging for the cast
Life on set could be pretty arduous also. Long hours and less-than-ideal weather conditions were pretty commonplace in the later movies. This, of course, made it physically and emotionally challenging for the cast. In an interview with Collider, Watson revealed that filming Harry Potter and the Deathly Hallows – Part 2 was especially difficult for her because she spent so much of the movie being cold and damp.
RELATED: Emma Watson 'Always Knew' That Hermione Belonged to Her
Emma Watson spent days in tears while filming the final movie
"There were days when I was in tears to David [Yates, who directed the final three Harry Potter movies]," Watson confessed. "Cause more than anything being cold and wet all the time just takes so much energy out of you, it's so draining. And trying to give a good performance when you just are miserable and want to go to sleep."
Watson took a lot of naps on set of the 'Harry Potter' films
Continuing on, Watson shared that Yates felt that her exhaustion helped serve the story of the film. "I was begging with him some days and he just said 'It just looks so much better that you guys look so much more vulnerable and that it's so much realer that you guys, you are heroes but at the same time you kind of just look like these…'" the Harry Potter alum continued. "And he's right, it looks great on screen. We look like these bedraggled, kind of unlikely, heroes. So it works, but God there were days where I just wanted to kill him."
Filming Harry Potter and the Deathly Hallows – Part 2 was so taxing that Watson could often be found trying to catch some much-needed sleep in various spots on set. "I was so tired, I would fall asleep anywhere," the Little Women star shared. "They'll never be released, but the onset photographer has pictures of me falling asleep everywhere. Like on chairs, on the floor, in the middle of a set, all curled up."
Clearly, being a part of the Harry Potter cast wasn't always easy. But we'd have to agree with Yates that the actors' exhaustion certainly lent itself to the story of the movies.