'Harry Potter': What Fans Really Think of Harry and Ginny's Relationship
Throughout the Harry Potter series, there are many things on Harry's mind. Of course, there's his fights with Voldemort, his Hogwarts classes, and eventually relationships. One important relationship in the Harry Potter series is the one between Harry and Ginny Weasley.
However, what do fans think of this relationship? Do they feel it fits both characters? Find out, ahead.
What J.K. Rowling thinks of Harry and Ginny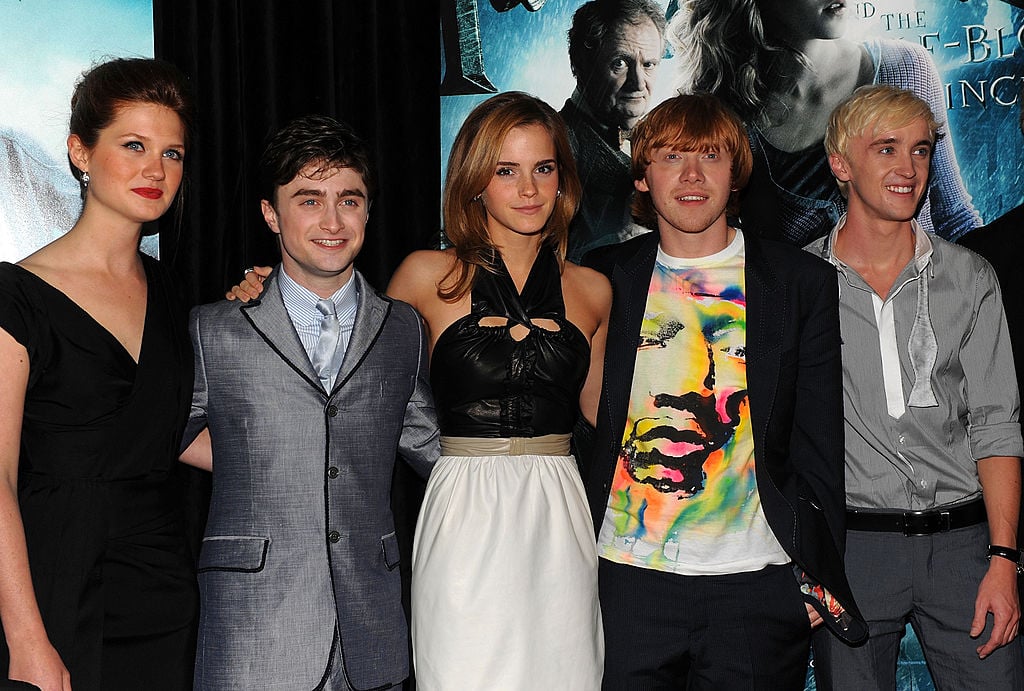 Harry and Ginny's relationship in Harry Potter starts as many relationships do, with a one-sided crush. Ginny had a crush on Harry from the moment she met him while seeing her brothers off to Hogwarts. However, according to J.K. Rowling herself, in an interview with fansites The Leaky Cauldron and MuggleNet, Ginny was "terrified by [Harry's] image" when they first met.
She couldn't even speak when in the same room with him. However, Ginny, as time went on, became more confident. As WizardingWorld.com puts it, "she became fierce." In Harry Potter and the Order of the Phoenix, she joined Dumbledore's Army, "even coming up with the name of [the group.]"
Also in Order of the Phoenix, she fought Death Eaters alongside Harry himself at the Department of Mysteries. During Harry Potter and the Deathly Hallows, Ginny kept Dumbledore's Army alive, along with Neville Longbottom and Luna Lovegood. As Rowling herself says in the Leaky Cauldron and MuggleNet interview, "Ginny [is] pretty much the ideal girl for Harry." Ginny is, according to Rowling, "gutsy….she's funny and [Rowling thinks Ginny is] very warm and compassionate."
What do 'Harry Potter' fans think of Harry and Ginny's relationship?
Having been written by J.K. Rowling as "pretty much the ideal girl for Harry," it would seem there can be no other options but to love Ginny and to love her relationship with Harry in Harry Potter. However, it is important to keep the movies in mind as well. A fan on Twitter talks about how Ginny "really is an amazing woman." According to this fan, "in [all the] movies [she] always looks like an awkward girl."
The fan goes on to say, having only seen the Harry Potter movies, Ginny's awkwardness in the movies "makes her relationship with Harry seem not right." Another fan wonders why so many fans dislike Harry and Ginny's relationship, which this fan abbreviates as "Hinny." "Why do you all hate Hinny so much", this fan asks. The fan goes on to say that even though "Harry wasn't raised with physical affection…he kissed Ginny in front of 50…people cause he liked her."
Erased personalities and nonsensical relationships
Another fan also mentions the differences between the books and the movies. According to this fan, they "did not care about Hinny in the movies…but after reading the books [they are] obsessed with them." The same fan goes on to say that in the movies, "Ginny's whole personality was erased."
Another fan says that "The only romance in the whole series that made sense was Ron and Hermione. Where did Harry and Ginny come from like we never even saw them spend time together?" Another fan says that the Harry Potter movies ruined "Harry and Ginny's relationship." Another fan believes that "Hinny was one of the worst things about the Harry Potter series."