Harry Styles Channels Pink Floyd With His 'Harry's House' Concert Schedule
Harry Styles will channel Pink Floyd when he turns a handful of North American venues into Harry's House during his 'Love on Tour' stops.
Harry Styles is in demand. The former One Direction performer has successfully transitioned to being a solo artist who can draw more than 100,000 fans for his headlining Coachella performance. And oh, by the way, he's also a movie star with notable roles to his name. 2022 promises to be a busy year for Styles. His latest album, Harry's House, drops on May 20, and his Love on Tour concert series starts the same day. After 26 stops before the end of July, Styles will channel Pink Floyd when he turns a handful of North American venues into Harry's House.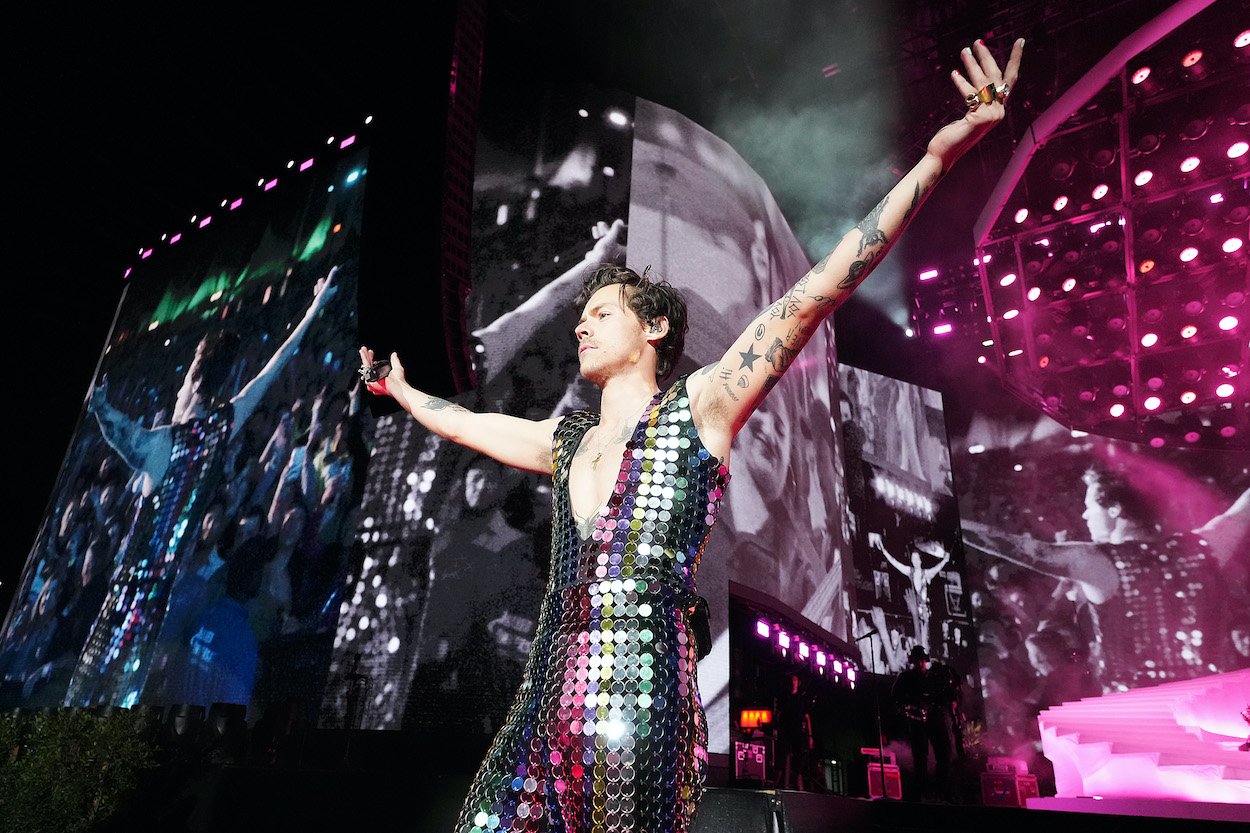 Styles brings 'Harry's House' to the stage in 2022
Harry's House, the album, is the follow-up to 2019's Fine Line, and if the streaming numbers and Coachella crowds are any indication, it will be a worldwide phenomenon. 
The tour to support it starts in Belmont, New York, on May 20, but Styles then will criss-cross Europe for 25 dates in May, June, and July, according to his website.
The tour returns to North America on Aug. 15. Fans hoping for tickets need to register for the Ticketmaster verified presale by May 19. American Express cardholders have early access to tickets.
Catching Styles on tour will take some planning, and not just for buying tickets. Fans might need to book plane tickets and hotel rooms, too, because Styles will channel Pink Floyd when he comes to North America.
Styles channels Pink Floyd with his 'Harry's House' 2022 concert schedule
Styles plans to perform 32 concerts in the United States and Canada from Aug. 15 to Nov. 15, but he's not making 32 stops to perform songs from Harry's House. Instead, Styles will mimic Pink Floyd and perform all those shows in just five cities: Toronto, New York, Chicago, Los Angeles, and Austin, Texas,.
Styles' music will never be confused with Pink Floyd, the legendary classic rock band, but he's taking a page from its The Wall tour playbook.
Pink Floyd performed The Wall in concert 32 times in just four cities in 1980 and 1981, per the band's website. It staged The Wall seven times in LA, five in New York, did six dates in London, and rocked Dortmund, Germany, eight times before a London return for six more nights.
The live performances of The Wall were legendarily complex and made nightly stops in various cities impossible. The show included props, extensive lighting rigs, pyrotechnics, and a physical wall built on stage to separate the musicians and fans, per Ultimate Classic Rock.
There might not be fireballs nor a wall on stage, but Styles will channel Pink Floyd when he turns a handful of North American venues into Harry's House.
The multi-talented musician will be everywhere
There's still a long way to go until 2023, but 2022 is shaping up to be the year of Styles.
In addition to his long-awaited new album, Styles returns to the big screen in a pair of movies. He stars in the highly-anticipated Don't Worry Darling alongside Florence Pugh, Chris Pine, and Olivia Wilde. Styles also appears in My Policeman, which is scheduled for a 2022 release, per IMDb.
After hitting the U.S. and Canada, Styles will head to Mexico, South America, Australia, and New Zealand for more tour stops.
If fans don't get a chance to see Styles channel Pink Floyd with his North American Love on Tour stops, there will still be plenty of opportunities to see him in action.