Why Harry Styles Chose Mick Fleetwood to Front His New Lifestyle Brand: 'He's a Magical Man'
Stevie Nicks once said that Harry Styles could very well be her and Fleetwood Mac bandmate, Mick Fleetwood's "love child." It's not far from the truth. Since coming into his own in his solo career, Styles has channeled his musical godparents many times.
Now, Styles is working directly with Fleetwood on his new lifestyle brand, Pleasing, and it's everything fans could ever hope for.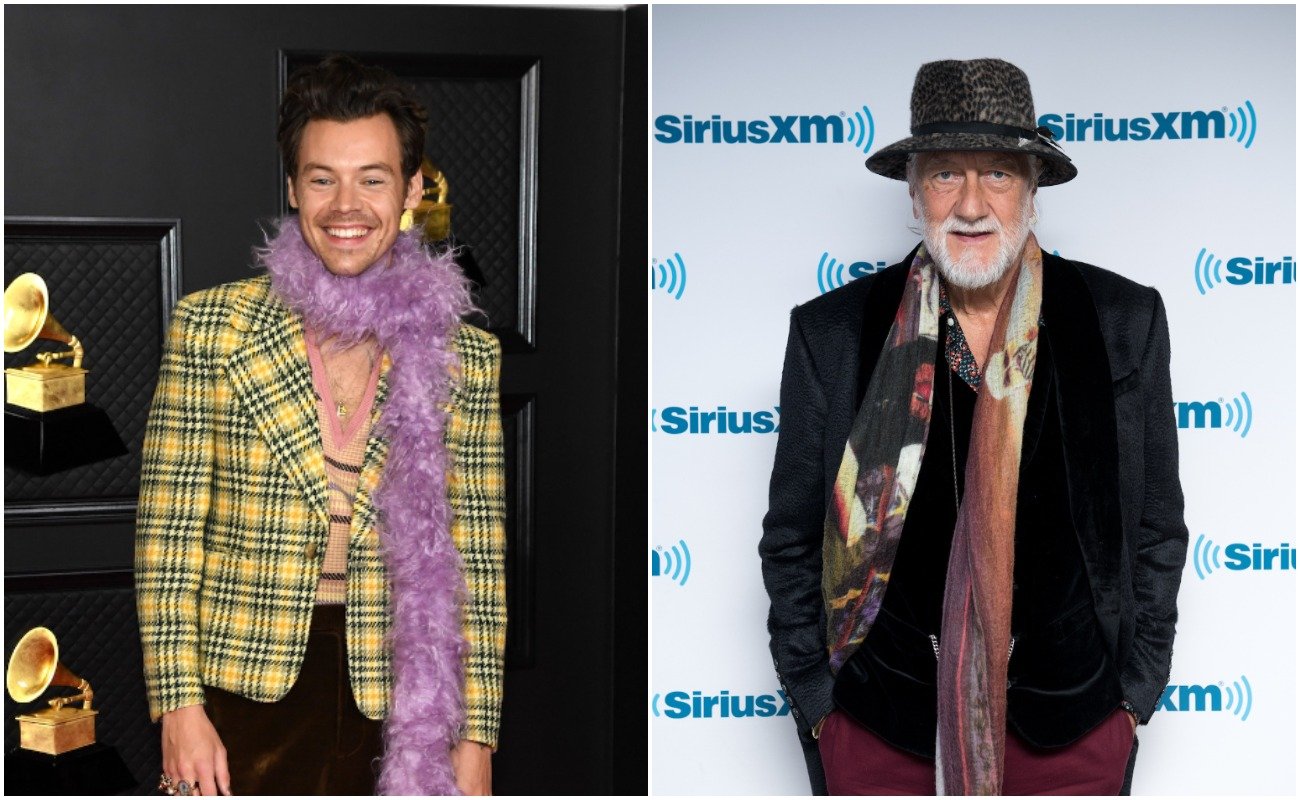 Harry Styles met Mick Fleetwood at a One Direction concert
Although Nicks and Styles have a tight relationship, she wasn't the first Fleetwood Mac member Styles met. In 2014, Styles met Fleetwood at a One Direction concert. Fleetwood's twin daughters begged him to go.
"My 12-year-old daughters said, 'Dad we want to go and see Harry Styles!'" Fleetwood said in a recent interview with Vogue. So, Fleetwood took his twins Ruby and Tessa to see One Direction at the Rose Bowl in Pasadena, California.
Having been a Fleetwood Mac fan since childhood, Styles came right up to Fleetwood and introduced himself at the meet-and-greet.
"Two factions from completely different worlds came together," Fleetwood said. "Without my girls wanting to see One Direction, we–Stevie [Nicks] and I–never would have met Harry."
A year later, Styles met Nicks, and all three musicians stayed close. "And so on and off for years we've had this passing-in-the-night relationship, which has included him doing Fleetwood Mac songs and doing countless little and big things with Stevie," Fleetwood said.
RELATED: Harry Styles Said 'Adore You' Is Like Van Morrison's 'Brown Eyed Girl' or David Bowie's 'Let's Dance'
Why Styles chose Fleetwood as the face of his new lifestyle brand
Some fans were probably shocked to see Fleetwood in Pleasing's new ads for its second drop, Shroom Bloom, wearing nail polish and posing against a psychedelic background. Still, it all seems to fit. This was the same man who started Fleetwood Mac in the 1960s. He was a psychedelic poster boy.
Plus, Fleetwood had already established that he could blend the generational lines. He recreated Nathan Apodaca's "Dreams" Tik Tok, skateboarding, and drinking cranberry juice, after all.
Styles explained why he chose Fleetwood to front his new brand. "He's a magical man," Styles said. "Mick is someone who brings me–and countless others–great joy. I felt there couldn't be a better embodiment of Pleasing, or a person who could so naturally capture the wizardry that we love."
Shroom Bloom features face and nail products, Acid Drops Lucid Overnight face serum, hand and nail balm, and four polish shades. There's also psychedelic limited-edition apparel that Styles says is meant to give "an intoxicating escape-evoking curiosity."
Fleetwood has always had a great sense of style. He loves hates, crisply tailored suits, and wacky scarves. However, his keen fashion sense wasn't all that drew him to Pleasing.
RELATED: What Stevie Nicks Envies About Harry Styles' Career: 'As a Woman, I'm Not Free to Do All That'
Fleetwood likes Pleasing's message
The ads for Shroom Bloom were shot at Fleetwood's home in Maui. His pet pig Tilly even made an appearance. The brand's vibe is all about being carefree, trying new things, and blurring gender. Fleetwood realized that. It's why he joined the brand.
"Pleasing is this experience of, 'Why not?' or 'I've never thought of that'—and that's why I'm part of it," he explained. "It says, here's something, either literally or figuratively, to hold your hand while we're all on this journey. That's what it means to me."
Fleetwood loves how the genderless style of the 1960s has evolved into brands like Pleasing. "In our time, if someone went to a concert with blue paint all over their face, you go, 'How cool is that?' You wouldn't say one thing or the other. That's how I've always felt. Don't be judgmental and have fun with it. That's what Pleasing represents," he said.
Another reason why Fleetwood signed on to Pleasing is because of his music-driven connection with Styles. He appreciates Styles' lack of ego and sense of creaivity.
"As a person, he was incredibly kind and thoughtful right from the beginning," Fleetwood said. "Having come from such a tidal wave of attention, and to still remain that normal… I really gravitated towards his lack of ego."
Nicks has shared similar sentiments about Styles. She told Vogue that she loved Styles because he's just like her; "old school but still modern."
The legendary drummer loved every moment of shooting the ads for Pleasing. "It was a hoot!" he said. Let's hope Styles and Fleetwood continue to collaborate. However, it would be great if they did something in the studio or on the stage.
RELATED: Stevie Nicks Said She Wants to Perform With Harry Styles at the Met Gala — if They Ever Invite Her