Harry Styles Once Described Stevie Nicks as Everything You'd Want 'in a Lover'
Over the years, Harry Styles and Stevie Nicks have become close friends. The musicians admire each other's personalities and support one another's careers. He once referred to their friendship in even more intimate terms, saying that Nicks is everything someone could want in a lover.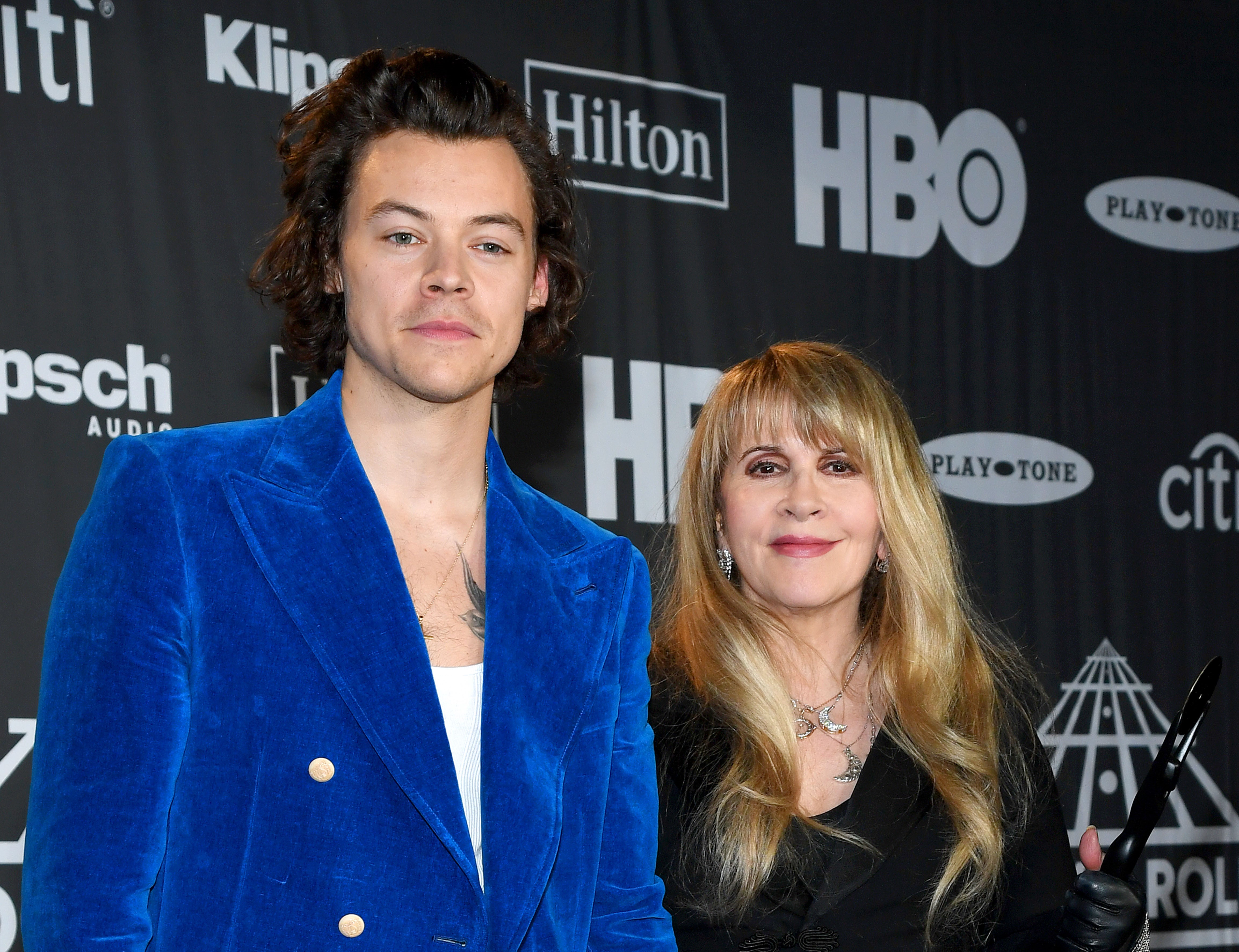 Harry Styles met Mick Fleetwood before Stevie Nicks
Though Styles and Nicks have a strong bond, the former One Direction singer met a different member of Fleetwood Mac first. Mick Fleetwood took his daughters to a One Direction concert and was able to meet the band.
"I took my two 13-year-old daughters and their mates to see One Direction," Fleetwood told the Mirror. "And that point, the girls are going, 'Dad, just don't embarrass us! No dad-dancing!'"
Despite his daughters' embarrassment, Fleetwood was a hit at the meet-and-greet. 
"They all wanted to meet me! My ante got upped! All their songwriting team wanted to meet me," he explained. "That's when I met Harry and he's come to three of our shows. He writes to me from weird places."
Nicks noted the burgeoning friendship between Styles and Fleetwood.
"Mick has kind of adopted him," she told RTE. "There are just women in Mick's family and Harry is that tall, lanky musical son he always wanted, so they keep in touch."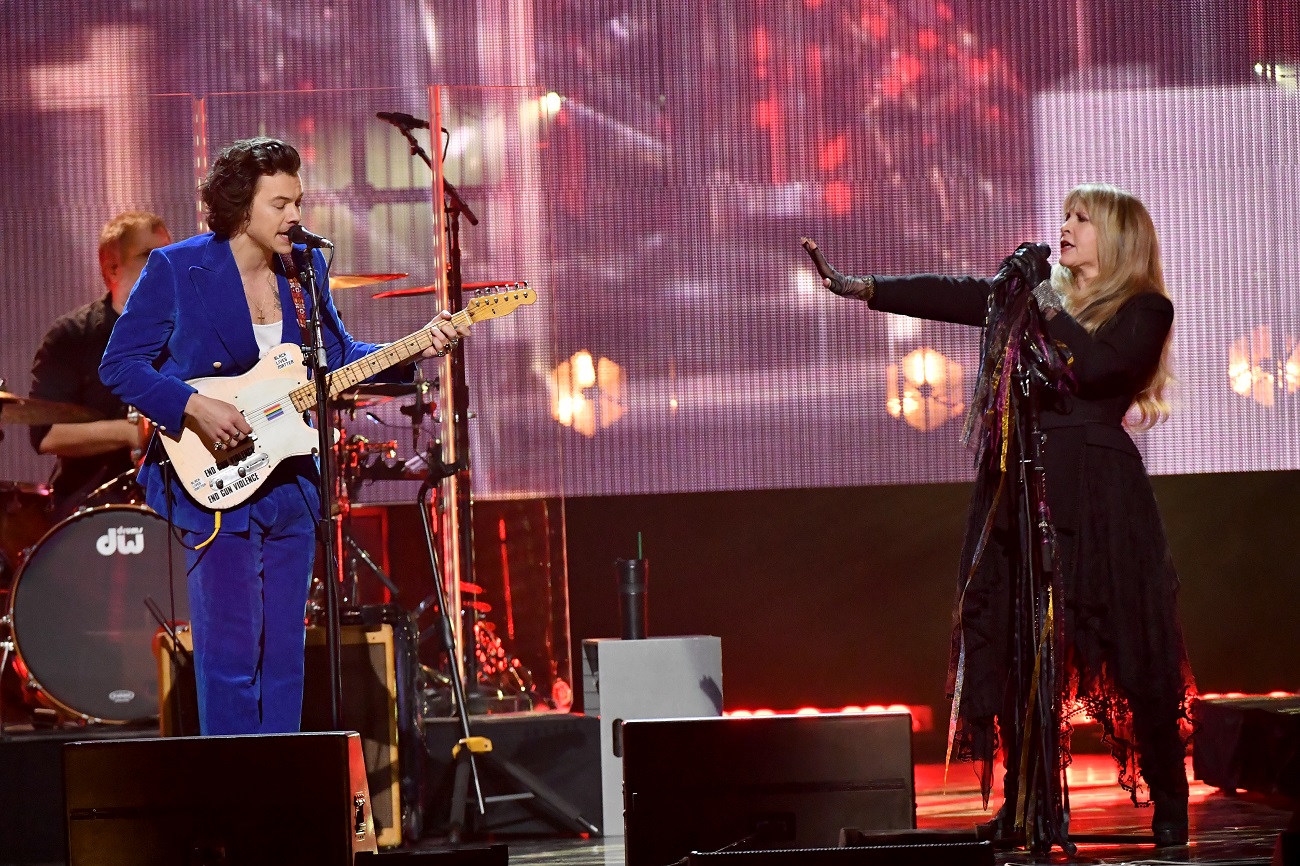 Harry Styles and Stevie Nicks have formed a close friendship
Soon after this, Nicks and Styles began a friendship of their own. He brought her a cake for her birthday after a concert. He's also invited her onstage at his shows to play music together. After several years of friendship, Nicks told Rolling Stone that Styles was her "love child" with Mick Fleetwood.
In 2019, Styles publicly announced his love for Nicks when he inducted her into the Rock and Roll Hall of Fame. In his speech, he gushed about the artist, clearly demonstrating the closeness of their relationship.
"She is more than a role model — she's a beacon to all of us," Vulture reported Styles said. "Whenever you hear her voice, life gets a little bit better. When she sings, the world is hers, and it is yours."
He took his glowing comments a step further.
"She is everything you've ever wanted in a lady, in a lover, in a friend," Styles said. "Stephanie Nicks, I love you. We all do. And that is true, Stevie."
From everything they've both said, it seems that their relationship has never been anything but platonic. Still, Styles thinks that any romantic partner of Nicks would be exceedingly lucky.
Nicks says she wants Styles to star in her mini-series
To take their relationship a step further, Nicks wants to be creative partners with Styles. Per IndieWire, Nicks spent much of her pandemic isolation planning a mini-series that explores the folklore behind the Fleetwood Mac song "Rhiannon." She signed with a production company and a writer and is already planning out a role for Styles. 
"There's an amazing part for Harry," she told Vogue. "My favorite character in the series is the only man who goes through all four books. He's a magician who doesn't wanna be king, and I think Harry would just be so perfect."
RELATED: Harry Styles Calls Friend Stevie Nicks a 'Witch' in Latest Interview