Harry Styles' $1 Million Donation to a Gun Safety Group Isn't the First Time He'll Give Away His Money
It's going to be a busy 2022 for Harry Styles. Between his starring role in Don't Worry Darling and his globe-trotting Love on Tour event (which includes Pink Floyd-style residencies in the U.S.) promoting his album Harry's House, Styles will be everywhere. It's not a stretch to think he'll add to his substantial net worth, but he's not going to stash all his money in the bank. He gifted $1 million to a gun safety group, which wasn't the first time Styles selflessly donated his money to charity.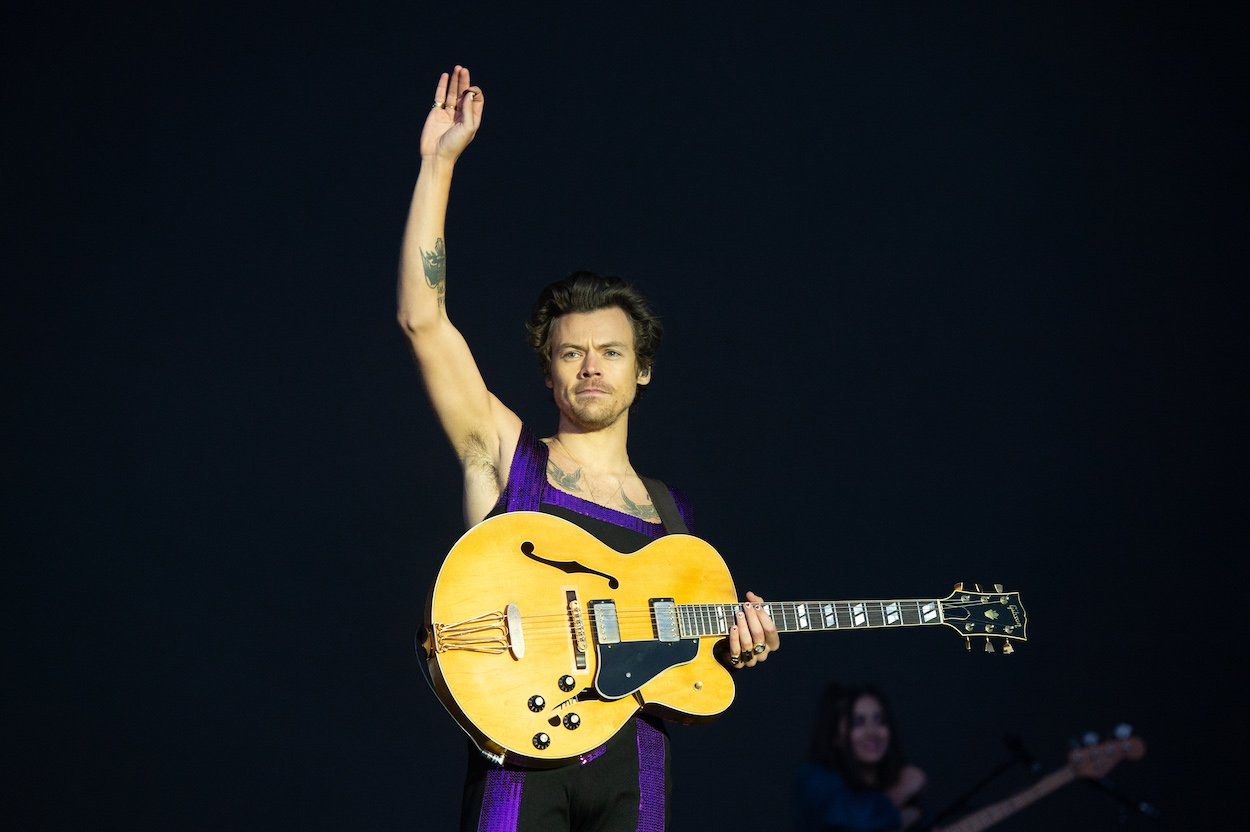 Harry Styles donates $1 million to gun safety group Everytown
The devastating school shooting in Uvalde, Texas, happened on May 24, 2022. Nineteen students and two teachers died in the tragic mass shooting, and Styles plans to do something about gun control.
Styles tweeted on May 27 that he will partner with gun safety group Everytown during his 2022 North American tour. He will donate proceeds from the tour to the group and share its action items for gun safety with concert-goers. The Independent reports Styles pledged to give $1 million to Everytown and that Live Nation matched his pledge.
His pledge to give to Everytown is the latest instance where Styles promised to donate his money to a good cause.
RELATED: Harry Styles Stops Concert To Help a Fan Come Out
Styles donated $1.2 million during his first solo tour
During his first tour as a solo artist, which started in 2017 and finished in 2018, Styles donated $1.2 million to several charities. Ticket sales, Live Nation contributions, and local matches helped Styles reach the $1.2 million mark.
Part of Styles' charitable contributions during the tour came from selling Pride-themed t-shirts that read "Treat People With Kindness." Styles donated proceeds to the GLSEN Pride campaign, as Billboard reported.
That tour also saw Styles promote voter registration efforts. He also promoted water conservation efforts by eliminating the use of more than 13,000 single-use plastic water bottles during the tour.
RELATED: How Harry Styles, Colin Kaepernick, John Legend, John Cusack and Other Celebs Are Supporting George Floyd Protests
Styles sold socks for a cause
The t-shirt raising money for GLSEN wasn't the only time Styles employed the "Treat People With Kindness" slogan for a good cause.
In November 2020, Styles' website had a one-day sale on socks, with donations made at checkout going to refugee charity Choose Love. The socks read "Treat People With Love" on the side. The online merchant matched donations from the sale.
Styles' donation to Choose Love went beyond socks. He used his fame to encourage people to support the organization directly by shopping in its store for the 2020 holiday season, as Choose Love tweeted.
RELATED: Harry Styles Reveals His Musical Superpower and It's Not What You Think
He helped fight COVID-19 with t-shirt sales
In 2022, Styles donated $1 million to Everytown. In 2018, he used his world tour to raise $1.2 million that he distribcuted to charity. Sock sales helped Styles give to a refugee charity in late 2020. Earlier that year, he sold t-shirts to help fight the coronavirus (COVID-19) pandemic.
Styles sold plain white shirts that read "Stay home. Stay safe. Protect each other" on the front. The back read "This T-shirt fights COVID-19 treat people with kindness." Styles donated 100% of the profits sales to the World Health Organization's Solidarity Response Fund, the Independent reported.
When Styles donates the $1 million to Everytown, it will be yet another instance where he used his fame and fortune to support a charitable cause.
For more on the entertainment world and exclusive interviews, subscribe to Showbiz Cheat Sheet's YouTube channel.
RELATED: Harry Styles Once Said He Was Missing 'Human Connection' While He Was Part of One Direction