Harry Styles Once Fell Down Such a Big Joni Mitchell 'Hole' That It Ended in a Pilgrimage
Harry Styles said he once fell down a huge Joni Mitchell 'hole.' He loved the singer so much that he made a trip to get closer to her.
Harry Styles has a lot of influences, including Joni Mitchell. However, Styles couldn't just listen to Mitchell to be influenced by her. He had to make a pilgrimage of sorts to incorporate her distinct sounds into his own music.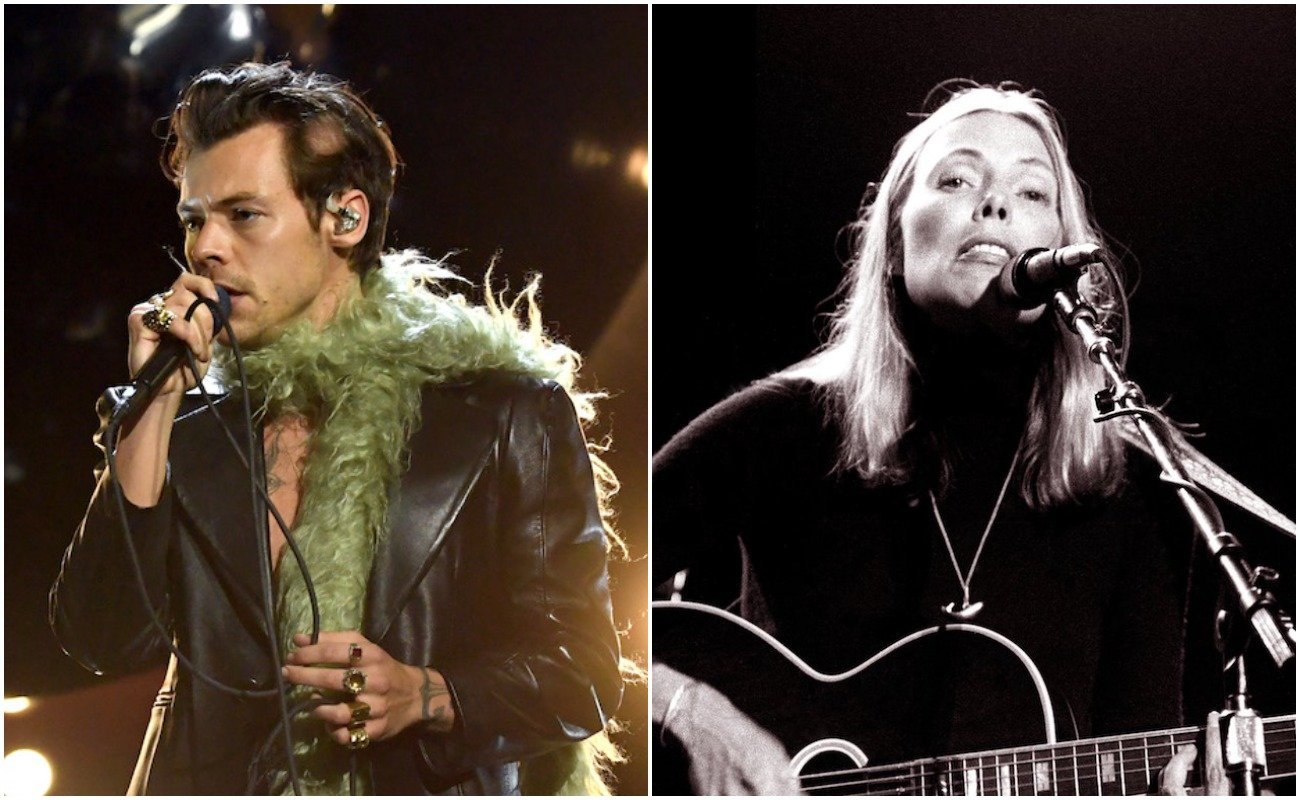 Harry Styles fell down a big Joni Mitchell 'hole' that ended in a pilgrimage
In a 2019 interview with Rolling Stone, Styles explained the secrets behind his second studio album, Fine Line. While explaining his song "Canyon Moon," Styles told an interesting story about the time he fell down a huge Joni Mitchell "hole."
"I was in a pretty big Joni hole," Style said. Rolling Stone added, "Inspired by his Southern California surroundings — and his obsession with Joni Mitchell's 1971 classic Blue — he tracked down Joellen Lapidus, the woman who built the dulcimer Mitchell plays throughout that album."
In the 1970s, Lapidus introduced Mitchell to the mountain dulcimer. Mitchell wound up backpacking around Europe and writing some of her most classic songs on the instrument.
Styles and Tom Hull, who Rolling Stone wrote is Styles' "musical wingman," asked Lapidus for a lesson in the instrument when they tracked her down in Culver City.
The ex-One Direction singer loved the instrument's sound so much that Lapidus built him his own. He used it on "Canyon Moon."
Styles also modeled 'Canyon Moon' on another soft-rock artist
Listening to "Canyon Moon," you can tell that Mitchell is a heavy influence. However, she isn't the only influence on the song.
Styles also proudly calls the song "Crosby, Stills, and Nash on steroids." That could be because of the dulcimer. However, another song on Fine Line sounds like the classic rock trio. The harmonies in "Golden" are similar to those in Crosby, Stills & Nash's "Suite: Judy Blue Eyes."
Speaking of classic rock queens, though, Styles' friend and mentor, Stevie Nicks (who was also incredibly inspired by Mitchell too), said "Canyon Moon" is her favorite on Fine Line.
Styles thinks Mitchell's 'Blue' is one of the best albums in terms of songwriting
In another interview with Rolling Stone, Styles said Mitchell's Blue and Van Morrison's Astral Weeks are some of the best albums, in his opinion. At least in terms of songwriting.
"Blue and Astral Weeks, that's just the ultimate in terms of songwriting," Styles said. "Melody-wise, they're in their own lane. Joni and Van, their freedom with melodies — it's never quite what you thought was coming, yet it's always so great."
Nicks has said similar things about Mitchell's singing. The "Case of You" singer taught Nicks how to stretch and phrase her lyrics.
Whoever inspired Styles on Fine Line, you can hear them all. There's a perfect blend of artists that come through in every song. It'll be exciting to see what Styles does next. We hope he continues to listen to his influences.