Harry Styles and Olivia Wilde Take Love on Tour
Olivia Wilde and Harry Styles are on tour and taking bold steps with his fandom.
Their relationship was questioned, at first. Some general outrage emerged due to the perceived impact on Ted Lasso star Jason Sudeikis, Wilde's ex-fiancé and co-parent. Of course, some Styles fans were in an uproar because – long story short – even "parasocial" heartbreak hurts.    
Now, Wilde and Styles (WildStyles?) are stepping out together in a big way. To coincide with the release of a steamy preview for "Don't Worry, Darling," which Wilde directed Styles in, she was seen at a few of his tour stops. A few lucky fans were even close enough to catch Wilde enjoying her boyfriend's show.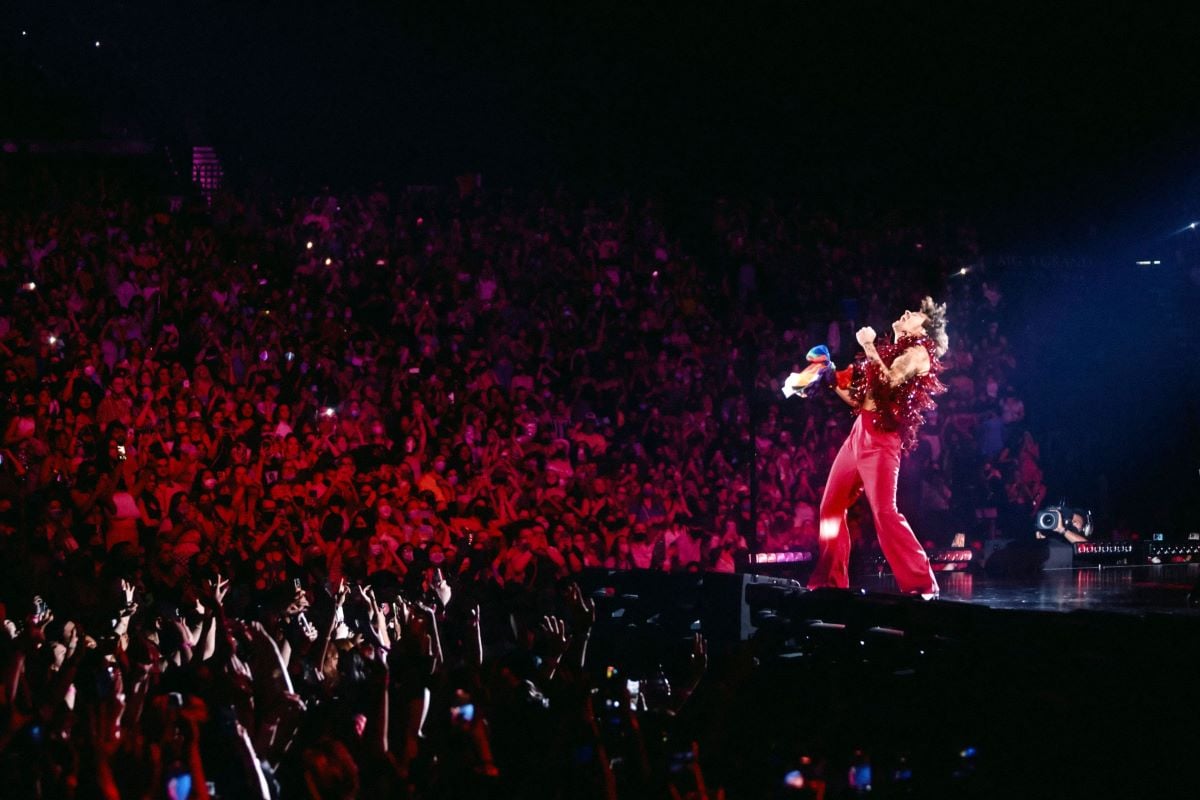 Olivia Wilde and Harry Styles Timeline
Rumors of their relationship began in fall of 2020 after Styles was cast in Wilde's movie. She gushed about the singer and how his style was perfect for her vision of the film – but that's clearly not all she saw in him!
Reports broke in Nov. 2020 that Wilde and Sudeikis ended their relationship after nearly a decade together. The statement claimed the couple split much earlier in the year but fans suspected it was a red herring to distract from any possible fallout. Rumors of flirtations with Styles being some part of the reason for their breakup inevitably began to surface.
Wilde and Styles stepped out together and were caught in a stylish reveal in Jan. 2021. They were both decked out in Gucci and holding hands for a friend's wedding. Neither released a statement to confirm their relationship, but it was generally assumed.   
Sudeikis eventually spoke publicly to say that his split from Wilde happened in Nov. 2020, seemingly confirming fans' theories that the initial press statement from her representative manipulated the timeline. Still, he claimed responsibility for his part in whatever deterioration of their relationship occurred prior to the breakup. And he has repeatedly wished her the best.
Sightings of them together have been rare compared to other power couples, like Jennifer Lopez and Ben Affleck. But now that fans have had time to warm up to them, Wilde standing out at his concerts sends the clear message they are in each other's lives for a while.  
Olivia Wilde and Harry Styles on tour
At the Las Vegas concert, a masked Wilde was sectioned off so that other concertgoers could not freely walk up to her. But she remained in the crowd with other Styles fans, as opposed to watching from a post backstage.     
Attendees spotted her dancing wildly – pun intended – with a small group of people. She wore a pale blue, loose-fitting pantsuit that called to her boyfriend's famous taste in fashion. In the Vegas video, she bounces back and forth excitedly as Styles performs his song, "Treat People With Kindness."
Fans also caught videos of Wilde at concerts in D.C. and Philadelphia, so this clearly wasn't just a one-stop show of their love.   
'Don't Worry, Darling' will be in theaters only
The project that started it all – "Don't Worry, Darling" – will hit theaters on Sept. 23.
Fans have been waiting with feverish anticipation, but some will have to wait longer than others. Wilde revealed that the movie will be exclusive to cinemas, meaning it will not be simultaneously released to home streaming services.
The highly anticipated film also stars Florence Pugh, Chris Pine, and Nick Kroll.
(Quick tip for concert and moviegoers: Per current CDC recommendations, wearing masks and maintaining six feet of distance from non-household members is still considered the best way to avoid the spread of Covid-19 – regardless of vaccination status.)