Harry Styles' Pleasing Beauty Brand Connects the 'Fine Line' Singer With Fans in a New Way
Harry Styles proves he is a man of many talents. The 27-year-old's vocal range and acting skills have cemented him as a force in the entertainment industry. Styles makes headlines due to his gender-bending fashion. But the singer wants to explore the gender-fluid world further with his recent business venture. Styles' new beauty and wellness brand, Pleasing, connects the "Watermelon Sugar" singer with fans in a new way.
Harry Styles founded Pleasing to make people feel beautiful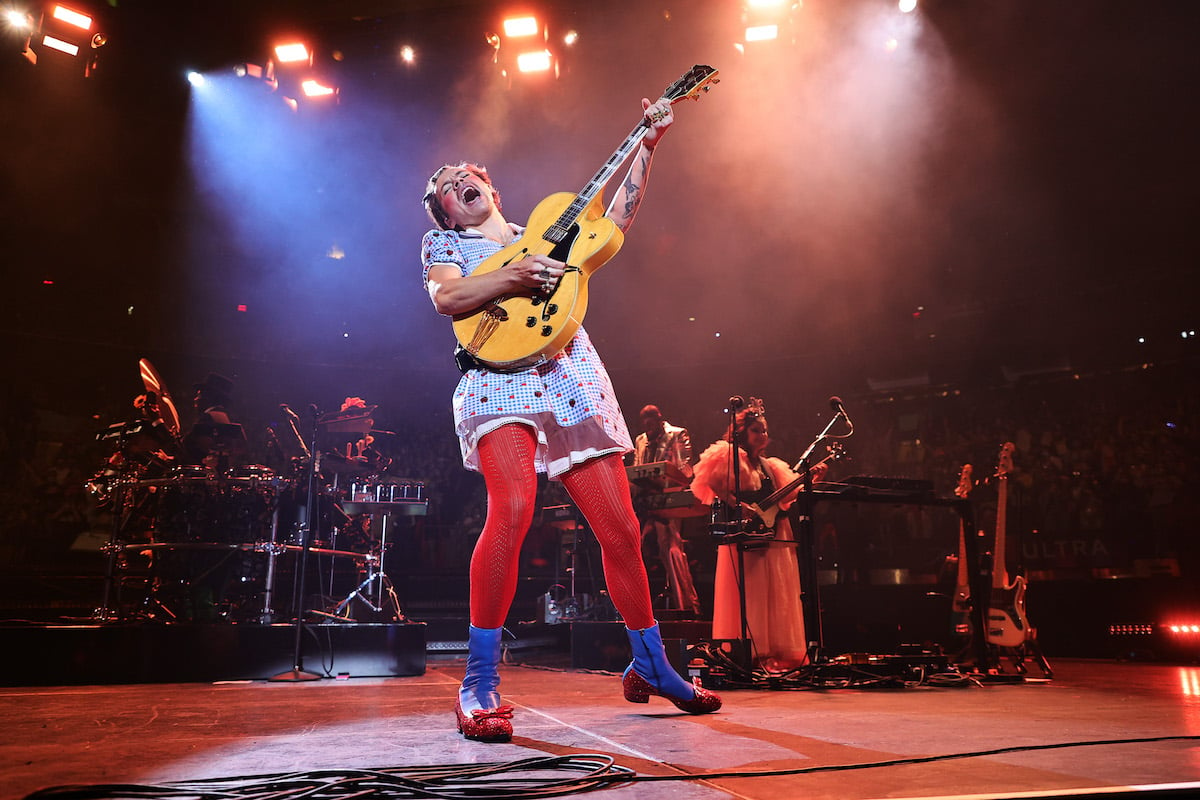 Styles' fans had speculated about the star's possible involvement in a beauty brand for a while. In May 2021, his fans took to Twitter to theorize that he might venture into avenues outside the music industry. One fan account brought to light Styles' involvement as the director under a company called Pleased As Holdings Limited.
Shortly afterward, Us Weekly confirmed that the singer had filed for a beauty and cosmetics line trademark. The publication listed Styles as director alongside his assistant Emma Spring who has worked with the singer for years.
In an interview with Dazed, Styles came clean about his product line, Pleasing, and the birth of the brand. He gave fans an in-depth look at how it came to be. The singer said, "It's starting with nail polish because that was kind of the birth of what it was for."
Styles mentioned he would see a beautiful color on paintings or wallpapers and imagine the color on his nails. "It was a fun little project, but during the pandemic and when we eventually named it Pleasing, it felt like it was so much more than nail polish."
Styles likened his nail polish brand to the "little moments of joy" in life. He said Pleasing is meant to show those moments to people. In a separate press release, the former One Direction member said when he decided to create beauty products, he "wanted to be sure they were something I would use. I didn't want to make products to mask people. I wanted to highlight them and make them feel beautiful."
Styles calls Pleasing a 'life brand'
Although Pleasing is more of a beauty and cosmetics brand, its first drop consists of a set of four nail polish colors inspired by the essence of pearls, with the star calling the collection "an ode to the beauty found in a simple shell." The shades include Perfect Pearl, Pearly Tops, Inky Pearl, and Granny's Pink Pearls.
The set goes for $65 and contains alphabetized nail stickers that allow users to spell any message on their nails. Styles' brand also dropped two skincare items, the Pearlescent Illuminating Serum and the Pleasing Pen. The Serum can be used as a primer for makeup; the Pen is a double-sided eye and lip serum which the style icon says is excellent for tired eyes.
The line is vegan and environmentally friendly. The singer told Dazed that he and his team created Pleasing "with the lightest possible footprint in mind, using post-consumer plastics and compostable paper printed with bio-sourced inks." The brand dropped on November 28, 2021.
Styles joins many other celebrities who've launched beauty lines recently
The beauty industry seems lucrative, as many celebrities are slowly making their way into it. With Pleasing, Styles joins the many other A-listers who have launched product lines recently. We're the Millers actor Jennifer Aniston recently came out with a hair care line called Lola Vie, which she says is meant to make hair feel and look healthy.
Blackish star Tracee Ellis Ross also came out with a hair care line called Pattern Beauty. Pattern Beauty has become popular, especially among curly-haired women who swear by the products, which include three different types of conditioners.