Has Anyone On 'The Real Housewives' Died?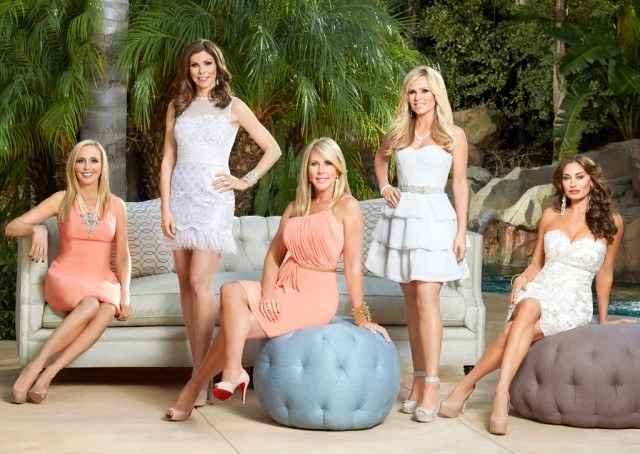 While most of the drama on The Real Housewives franchise typically revolves around petty catfights, some is very serious. The show spotlights weighty topics like addiction and divorce and sometimes, unfortunately, death.
For instance, Lisa Vanderpump from The Real Housewives of Beverly Hills just faced her brother Mark's death, Bravo's The Daily Dish reports.  Another RHOBH cast member, Eileen Davidson dealt with the deaths of her sister and niece while on the show. While these deaths clearly rocked cast members to their core, viewers also got to know some of the people who not only had a guest appearance but appeared frequently on the series.
Donna Alexander
Although she only appeared in one episode of The Real Housewives of Dallas, Donna Alexander's death had a significant impact on the cast. "You remember people like that in your life. When I found out what happened to her I had no idea, which is quite often the story," cast member D'Andra Simmons told Fox4, People reports.
Alexander owned the Anger Room, which is a place where people can break things as a stress reliever.  She advocated for domestic violence and she was attacked and murdered in her own home by an estranged boyfriend.
Bobby Zarin
The love of The Real Housewives of New York City alum, Jill Zarin's life, Bobby Zarin died from complications due to cancer, CNN reports. He was 71.
Zarin beat thyroid cancer in 2009 but it returned four years later.  He seemed optimistic when he talked to People in 2015. "Now they are treating cancer in a whole different way. It's not where you have it but what kind of cancer you have – targeted therapy. I have thyroid cancer, and it could be anywhere. In my case, it moved to my lungs. But it is still thyroid cancer. They treat thyroid cancer differently than lung cancer. That's why this is so important."
He continued treatment for a number of years and was hospitalized in 2017 when his cancer, "took an unexpected turn," People reports.
Dennis Shields
While somewhat elusive, Bethenny Frankel's on again, off again boyfriend made several appearances on The Real Housewives of New York City. Shields died at age 51 of a suspected drug overdose, People reports. Although Frankel seemed casual about her relationship with Shields on the show, she was clearly devastated by his passing.
Weeks following his death, Frankel tweeted, "It's hard to breathe & I appreciate you giving me the space & support to try to do so. It's excruciating-sudden death is no closure & constant ?s & memories. Our relationship is current so it's painfully raw. Trying to stay healthy & move through it w tears & close friends. Xo"
Joanne Steinmetz
Many fans won't forget the heartwrenching call Vicki Gunvalson received that her mother had died. The Real Housewives of Orange County OG's mother, Joanne appeared in the series from the beginning so fans were familiar with her no-nonsense view of life. Gunvalson's mother died suddenly in 2015, which took Gunvalson by surprise.
Bravo producer asked Gunvalson if she regrets being filmed while getting the terrible call. "It's part of my reality," she said, E News reports. "I lost my mother. I signed up for all areas of my life to exposed—the good and the bad. There's been a lot of great moments that have been aired and there's a lot of moments that I wish I wasn't on a reality show."
Jeff Beitzel
The Real Housewives of Orange County alum Gretchen Rossi joined the cast as her fiance Jeff Beitzel battled cancer. During the season, Beitzel became sicker and some of the ladies shamed Rossi for taking vacations or going out. Beitzel died in 2008. Rossi inherited $2.5 million from his estate, TMZ reports.
Russell Armstrong
Russell Armstrong's death was one of the more shocking of the series. The Real Housewives of Beverly Hills alum, Taylor Armstrong made it clear that she had a rocky (and sometimes violent) marriage to Russell. However, debts in the millions of dollars, a pending legal case and divorce were too much. Russell committed suicide in 2011.
Another potential contributing factor was the Real Housewives show. "Anytime you have one spouse become famous and the other one stays the same, it creates problems," Russell's longtime attorney, Ronald Richards, told E! News.  Also, "He was always depressed," says Richards. "He was always disappointed about the divorce and financial issues."
Monty Brinson
The Real Housewives of Beverly Hills also mourned the death of Kim Richards' ex-husband Monty Brinson. Brinson and Richards remained close, and share a daughter. So when he was diagnosed with cancer, Richards cared for Brinson, which was filmed on the show.
Brinson died in 2016 and Richards was reportedly devastated, according to People. Former RHOBH Brandi Glanville and Richards' friend said Richards was Brinson's"ride or die."
Annabelle Neilson
Annabell Neilson from The Ladies of London may not "technically" be a housewife but the series plays along the same lines. Plus her untimely death rocked the Bravo network. Neilson was found dead in July 2018 of an apparent heart attack,  US Weekly reports.
Neilson was 49 years old."I want to get started with some sad news. We found out that Annabelle from Ladies of London passed away. We just found out today," Bravo's Andy Cohen said on Watch What Happens Live. "Don't have a lot of details; we just want to send our love to her family. She was unique and spirited and really wonderful to watch and to know. We're just torn up about it here."
Check out The Cheat Sheet on Facebook!