Has Everyone Forgotten That Deadpool And Black Widow Were Once Married?
Ryan Reynolds is happily married to his Green Lantern co-star Blake Lively and Scarlett Johansson is engaged to Saturday Night Live star Colin Jost, but many fans seem to forget that there was a time not too long ago when Reynolds and Johansson were husband and wife. Yes, Deadpool and Black Widow were married for two years before calling it quits, and it all happened just as Johansson was joining the Marvel Cinematic Universe.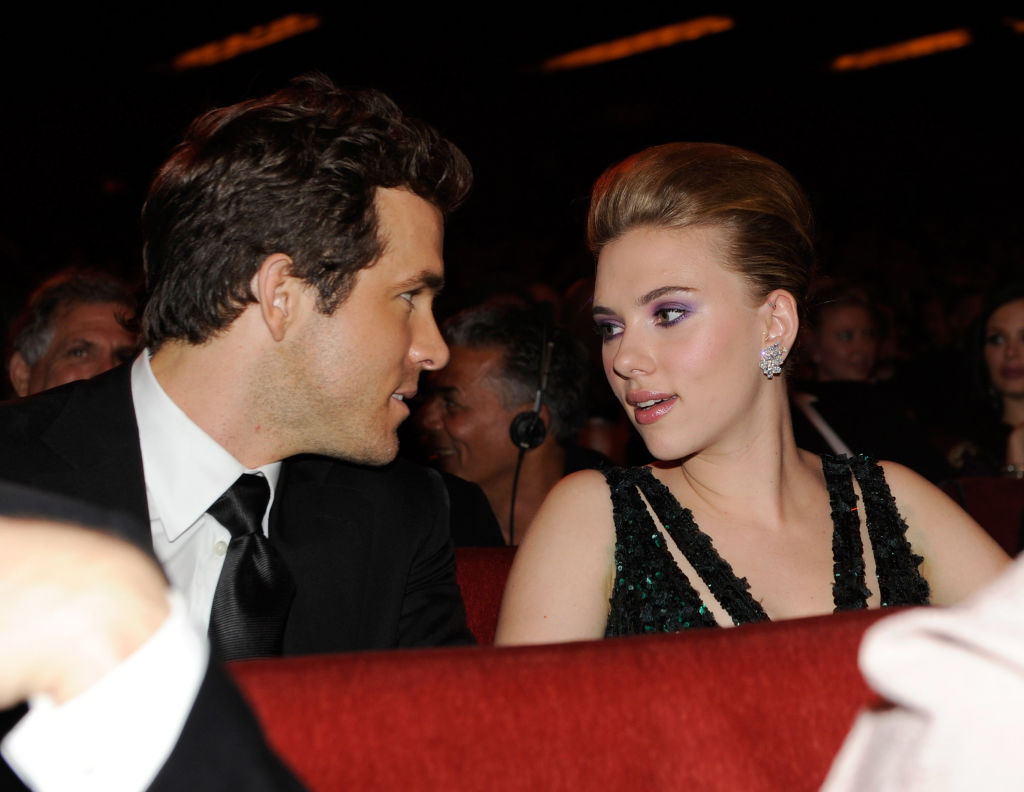 Deadpool and Black Widow tied the knot in 2008
Reynolds and Johansson started dating in April 2007, but they kept their relationship extremely private. This was right before social media infiltrated everyone's lives, so it was relatively easy to keep their romance a secret, but rumors still swirled for months that they were together. Neither actor confirmed the rumor, but three days after Iron Man premiered in theaters, Reynolds and Johansson didn't just admit they were an item, they confirmed their engagement.
The couple ended up getting married just four months later – on September 28, 2008 – in a private ceremony at a wilderness retreat near Vancouver, B.C. Reynolds and Johansson's wedding day was a huge secret. No one leaked photos of the event to magazines, and they never sat down for an interview together.
Reynolds did reveal during an appearance on The Late Show with David Letterman that married life with Johansson didn't include "a lot of work talk around the house." And, he also claimed that Samuel L. Jackson sent him 10,000 bees as a wedding gift.
Scarlett Johansson didn't feel comfortable talking about her marriage
In a Glamour interview released close to the couple's first anniversary, Johansson talked about her husband's appearance on the late-night talk show, and she said it made her uncomfortable.
"I would never ask somebody about their marriage if I didn't know them. I don't profess to know anything about marriage that anybody else doesn't know, or how to make it right. I don't want to read about somebody who's giving me relationship advice," said Johansson. "So, I try to keep some things for myself, to have a private life. Because that's kind of all you have, really, isn't it? When it comes down to what separates you from the next person. You don't go to work and talk about your marriage. Why should I?"
A few months after the interview, Johansson joined the MCU as Black Widow in Iron Man 2, and she admitted that her and Reynolds' work schedules were so crazy, it was becoming a challenge for the couple to spend time together and invest in their family.
By 2010, Johansson and Reynolds were living apart, and they put their $4.5 million Los Angeles home on the market.
It wasn't over yet
In May 2010, Johansson was on the cover of InStyle, and she revealed that there was comfort in being married, and she enjoyed cooking for her husband. A month later, when she won the Tony award for her work in A View From the Bridge, Reynolds was in the audience cheering for his wife. But, just a few months later, on December 14, 2010, Johansson and Reynolds announced that they were separating.
"After long and careful consideration on both our parts, we've decided to end our marriage," their joint statement read. "We entered our relationship with love and it's with love and kindness we leave it. While privacy isn't expected, it's certainly appreciated."
Since their divorce, both Reynolds and Johansson have talked about their marriage more than they did when they were together. The Deadpool star said they didn't invite the media into the marriage, so they didn't invite them to the divorce. He added that his face was on the cover of magazines he had worked very hard to prevent being in.
"We always kept our story private—how we met, our wedding, everything," Johansson told Vogue. "It was about us."
Are Ryan Reynolds and Scarlett Johansson reuniting next summer?
Ten years after they ended their marriage, Reynolds will reportedly be a part of Johansson's solo Marvel film Black Widow, which is scheduled to hit theaters May 1, 2020. According to We Got This Covered, Marvel will be introducing their newly-acquired Deadpool character into the MCU in a Black Widow post-credits scene.
Tim Vo from Lords of the Long Box tweeted the rumor, which he says comes from an extremely reliable source, and he reports that the clip will feature Deadpool meeting Taskmaster in a bar. This could possibly be a parody of the scene at the end of The Incredible Hulk where Tony Stark met Thaddeus Ross.
Of course, this is all just speculation at this point. And, even if Deadpool does make his first MCU appearance in Black Widow, it doesn't mean that he and Johansson will be working together.
Still, it's fun to think about these two superheroes being husband and wife, even if it was for just a brief moment in time.