Has Jaden Smith Ever Worked on Music With His 'Boyfriend' Tyler, The Creator?
Jaden Smith and Tyler, The Creator, seemingly have a professional and personal relationship. 
The two musicians have experienced rumors regarding their relationship for several years. While they've appeared to be friends, Smith has suggested that there's something more between them. Although neither of them clarified their relationship, they have no trouble supporting each other's career.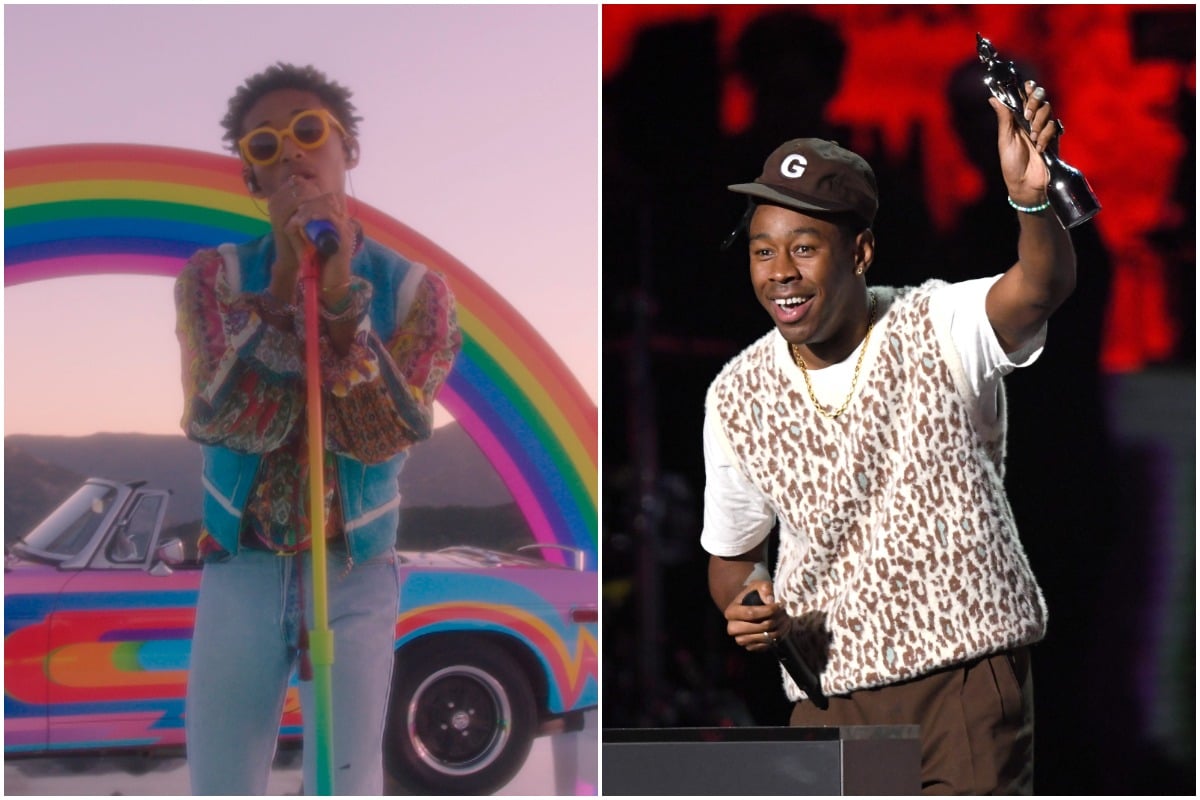 Jaden Smith has called Tyler, The Creator his 'boyfriend'
Smith and Tyler's relationship became a topic of discussion in 2018. The buzz began when the actor declared his admiration for Tyler at a performance at Camp Flog Gnaw. The event was created and hosted by Tyler, and Smith took a moment as an opportunity to confirm the rumors about their relationship are true. 
"And I want to tell you guys something," Smith said to the crowd. "I want to tell you. Tyler doesn't want to say, but Tyler's my mother f*king boyfriend, and he's been my mother f*king boyfriend my whole f*king life. Tyler, The Creator, is my f*king boyfriend. It's true."
While Tyler laughed Smith's announcement off, Smith later said he was serious about his statement. In January 2020, Smith referred to Tyler as his "boyfriend" again via Twitter. The tweet came minutes after Tyler won a Grammy for Best Rap Album. 
"My Boyfriend Just Won A Grammy," Smith tweeted to his millions of followers. 
Jaden Smith and Tyler, The Creator, have worked together on two songs
Although they've been friends since 2013, Smith and Tyler didn't work on music together until 2019. Smith was the first to give Tyler a feature when he appeared on Tyler's song, "Pothole." The song is on Tyler's 2017 album, Flower Boy, where he opened up about several topics, including his sexuality. While he didn't talk about his relationship with Smith in a documentary about the album called FLOWER BOY: a conversation, Tyler said the song's inspiration came from his mother's words of wisdom. 
"She told me 'some people just are not really as loyal or close to you as you think,"' Tyler recalled. "Sometimes moms know best, and I had to find that out on my own." 
In 2019, Smith and Tyler announced that they worked on another song together. This time, they collaborated on Smith's album, Erys. Tyler shared a verse on Smith's song, "Noize," which Smith told Apple Beats 1 Radio was a "dream" of his. Smith said he talked to Tyler about creating a piece for his project, and he was glad it finally happened. 
"Man, I'm so happy to have this feature from him," Smith said of Tyler. "It's the first time. It might be the most talked-about song of the album. You have to hear Tyler's verse. People are going to listen to Tyler's verse, and they're going to come back and look at this, and they're going to think it's really funny. Listen to Tyler's verse. It's probably like. It's insane. I'm not going to ruin it, but it's literally insane, people are not ready. And that's a fact. This is so far off guard. It's going to be hilarious."