Has Lisa Rinna from 'RHOBH' Seen Kim Richards Since They Made Up?
After a lengthy estrangement, Lisa Rinna and Kim Richards from The Real Housewives of Beverly Hills finally mended fences.
The two had a friendship-ending falling out after Rinna casually questioned Richards' sobriety, but then forgot she discussed it publicly. The final blow came when Rinna tried to make amends by giving Richards a gift for her new grandson. The iconic blue bunny gift was rejected by Richards and now sits in the Bravo Clubhouse.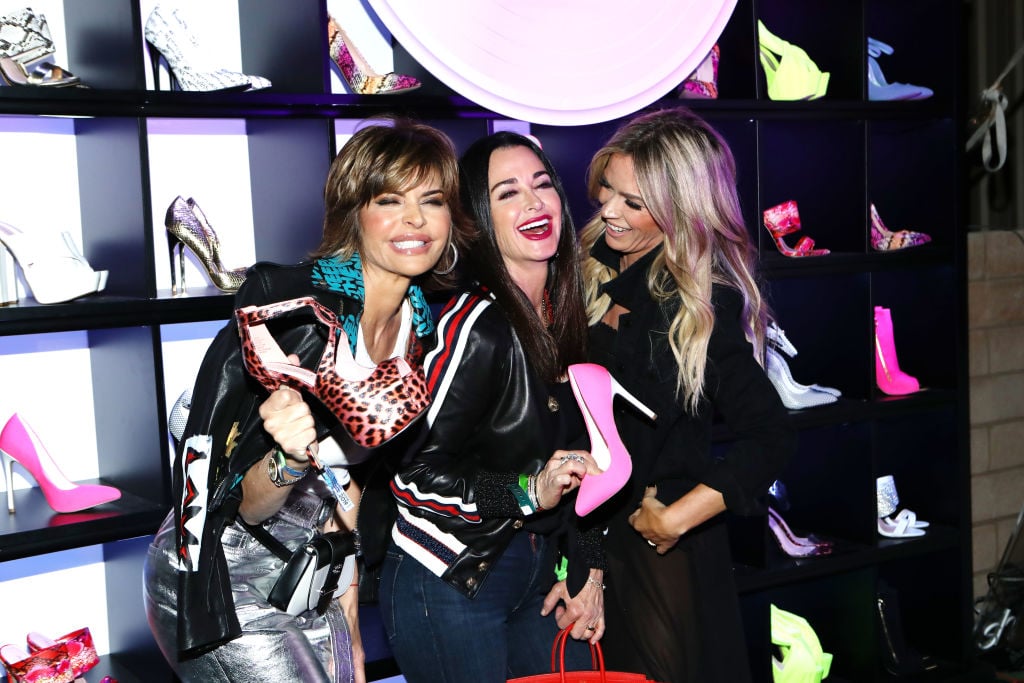 Since the blue bunny incident, Richards and Rinna hadn't crossed paths until this season. They had a near run-in at dinner but finally came face to face during Richards' niece's birthday party. What ultimately happened and has Rinna seen Richards since the Halloween birthday party?
This is how they finally connected
Rinna admitted on theReal Housewives of Beverly Hills After Show that she knew she'd run into Richards eventually. "I knew I'd run into her sooner than later but I didn't quite expect it to be here," Rinna said.
The run-in came when Rinna was dressed as cast member Erika Girardi's pop alter ego, Erika Jayne. Erika Jayne is a flashy, no holds barred singer, who has strong opinions. So when Rinna saw Richards she remained in character. "That's when my Erika Jayne really kicked in and I was like f**k no, I'm not taking a picture with you," she recalled as she was flipping off the cast and standing off to the side.
But once the cast photo op is over, Rinna takes a moment to try to reconnect with Richards."I'm not looking for a fight, Lisa. First of all, I think you look beautiful," Richards said, People recounts. "I have definitely been over-the-top and in character tonight. I will say that," Rinna replied. Then Richards says, "Let's just forgive each other, all right?" Kim answered. "Let's see how long we can do this." They even hug it out.
Success but they wouldn't let it go
Even though Rinna and Richards made up, Richards's sister, Kyle Richards and Teddi Mellencamp seemed fixated on making sure Girardi wasn't offended by Rinna's impression. Even though Girardi insists she was totally fine with Rinna's take on Erika Jayne, the ladies won't seem to let it go.
The true issue probably started when Girardi woke up one morning with a migraine. She told the women she was in pain and couldn't drink. Meanwhile, the ladies, especially Mellencamp and Richards, get pretty sloshed and silly at lunch and into dinner.
Since Girardi can't drink the ladies' drunken behavior is pretty annoying. They observe that Girardi seems annoyed with them, although they continue to needle her about how she really feels about Rinna's version of Erika Jayne. Ultimately, Girardi says she was getting annoyed because they were making something out of nothing.
After all of this, where do Rinna and Richards stand today?
Rinna appeared on the Watch What Happens Live After Show where she answered a few questions about her friendships on the show. One caller asked her why she pretends to like Mellencamp. The caller added she found Mellencamp to be "kind of annoying."
Rinna looked taken aback by the question. "I don't pretend to like Teddi," she said. "I actually like Teddi very much. Why do you think I'm pretending?"
And while she's fine with Mellencamp, she admitted she hasn't really seen or talked to Kim Richards since they made up. "I have not," she says. But host Andy Cohen says, "But it's all good." Rinna confirms things are still fine too.