Has Sarah Ferguson Dated Anyone Since Divorcing Prince Andrew?
Prince Andrew and Sarah Ferguson's marriage was riddled with a few scandals, particularly one in which the world saw photos of Fergie's toes in another man's mouth. However, since their divorce, the Duke and Duchess of York have had a very good relationship.
They have remained friends and are so close that they still live together today. Ferguson has even stated that she never wanted a divorce and still loves her ex-husband. So this got us thinking, has the duchess dated anyone else since they divorced in 1996 or has Andrew?
Who Sarah Ferguson has dated since Prince Andrew
Fergie said that she and Andrew both have dated other people since their marriage ended telling Harper's Bazaar, "he has girlfriends and I have boyfriends."
One man she was reportedly involved with for years was internet entrepreneur Manuel Fernandez. Although they were photographed together looking cozy many times, Ferguson denied that there was anything romantic going on between them.
"Manuel is a wonderful person, but we are just friends — friends and business partners," she said in 2016. "I'm the ambassador for his new lifestyle app, vVoosh, which is launching this year." Fernandez added that he and the duchess have been good friends for quite some time.
Who Prince Andrew has been linked to since Fergie
Prince Andrew, on the other hand, has earned quite the reputation for his dating life post-divorce. He's been called everything from "Air-Miles Andy" to the "Playboy Prince" to Randy Andy" and supposedly showed up at rocker Courtney Love's Los Angeles home one evening in 20o6 looking for ladies to party with.
"Prince Andrew turns up at my house at one in the morning and he wants to party," Love recalled. "He's come to Hollywood to look for chicks. I don't know what he expected at my house; I think he thought it was going to be like a party."
Andrew has been linked to a number of women over the years, including Australian singer Kylie Minogue, and the Express estimated that the royal has had as many as 15 girlfriends since his marriage to Ferguson ended.
Why everyone thinks they could get back together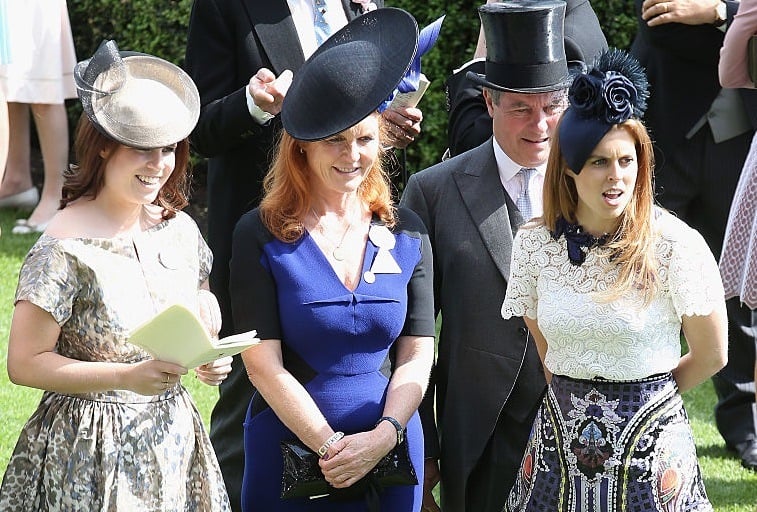 No matter who else they dated though because of how close the Duke and Duchess of York are they've never escaped reconciliation rumors. And thanks to their outings together, gestures, and unwavering support for one another many fans are hopeful that they will get back together one day.
Reports swirled recently that the two were considering remarrying one another after an interview resurfaced in which Ferguson gushed about her ex and admitted she still loved him.
"I think the love I had for him then, is the love I still have for him now," she said, adding, "I still married the best and he's the greatest gentleman that I know."
Read more: What Sarah Ferguson Got in Her Divorce Settlement from Prince Andrew
Check out The Cheat Sheet on Facebook!