Have 'Love It or List It' Stars David and Hilary Ever Dated?
It's certainly not uncommon for TV stars to date each other. They're around each other all the time what with the long hours spent filming. It seems only natural romantic relationships might develop between cast members. The same can be said for home renovation shows.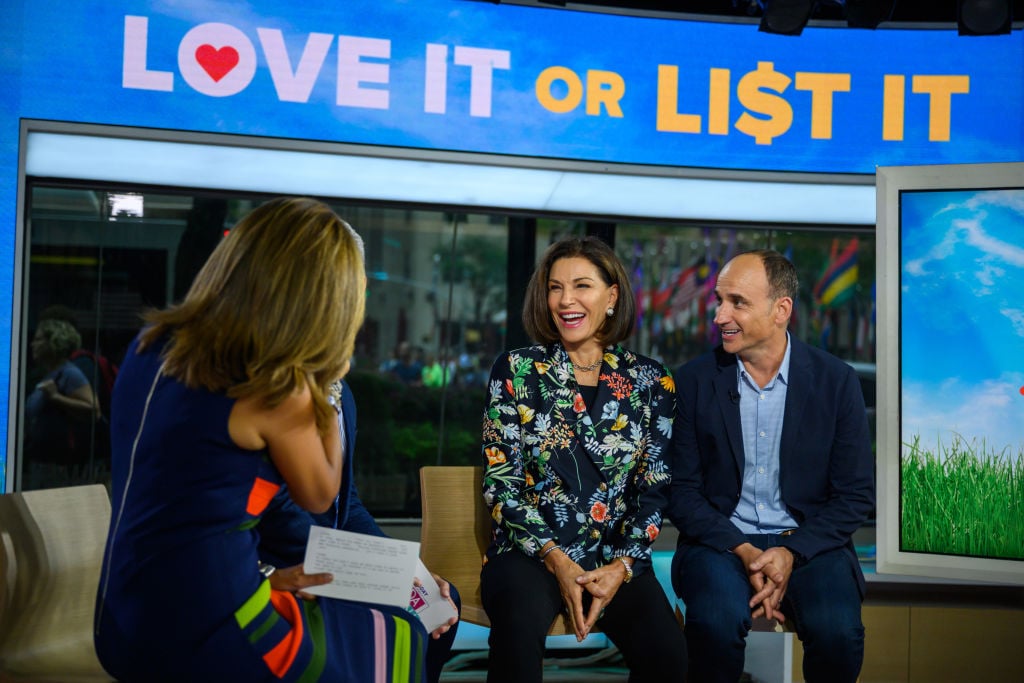 Watch just a few minutes of HGTV's Love It or List It and the chemistry between stars Hilary Farr and David Visentin is clear. But have the two TV personalities ever dated? Keep reading to learn more about Farr and Visentin's history, plus how they met. 
They've starred in 'Love It or List It' together since 2008
Love It or List It has been around on HGTV since 2008 when it first premiered. For those who don't regularly watch the series, Farr is an interior design tasked with overhauling a family's home to suit their needs.
Meanwhile, real estate expert Visentin shows the family homes to buy. In the end, people on the show have to decide whether they will "love it" and stick with their redesigned home courtesy of Farr, or if they will "list it" and move to a new space.
Over the course of an episode, it's typical for Farr and Visentin to get competitive with each other and engage in banter back and forth. In fact, their chemistry is so palpable fans regularly wonder if they've ever dated in real life. 
David and Hilary have never dated 
Despite their on-screen chemistry, the Love It or List It stars have never been romantically involved with each other. They're just that good at their jobs.
When he's not trying to convince homeowners to move to new digs, Visentin spends time with his wife, Krista Visentin, whom he married in 2006. They welcomed a son, Logan, in 2011. As for Farr, according to Country Living, she shares a son with her ex-husband, TV producer Gordon Farr. 
They first met auditioning for 'Love It or List It'
Believe it or not, Farr and Visentin didn't know each other before starring in Love It or List It. In a joint interview with PopSugar Living in 2020, the co-hosts reflected on the audition process for the HGTV series. 
When it came to casting the show, producers selected Farr first. Then came the task of finding a real estate agent who would work well with Farr on camera.
Visentin made the cut after being picked from a group of potential agents. He recalled getting a call from the show's producers telling him he landed the part: "They called up and said, 'You're brilliant. We want you. We think you're going to make Hilary look good.'"
And thus Visentin and Farr became the stars of Love It or List It. 
The co-hosts are friends off-screen 
The chemistry they have on Love It or List It extends off-camera in the form of a close friendship between Farr and Visentin. They even have the same thing for breakfast. David shared a smoothie recipe with Farr and now they both drink it every morning. "It's quite sweet," Farr said of their identical breakfast menu.
And on top of that, Farr will only watch Love It or List It if her co-host is around otherwise she feels "awkward." Clearly, their chemistry in front of the camera has led to a great friendship off-camera.