'Hawkeye': Does Lucky the Pizza Dog Only Have One Eye in Real Life?
While fans love the addition of Hailee Steinfeld's Kate Bishop in the Disney+ Marvel series Hawkeye, someone else stole the show. The one-eyed Lucky, the Pizza Dog, charmed her way into audiences' hearts right away. However, is Lucky the Pizza Dog really missing an eye in real life, or did the Hawkeye cast and crew remove it in post-production?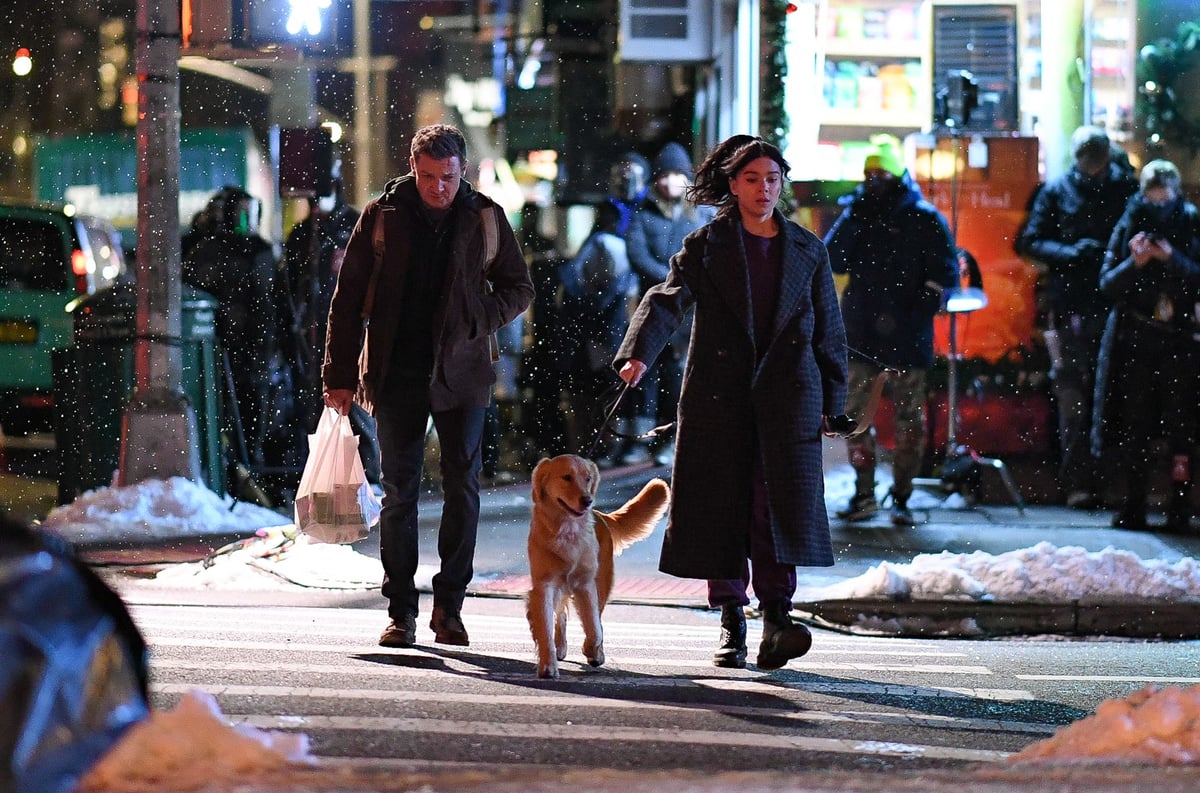 'Hawkeye's Lucky the Pizza Dog's furry actor, Jolt, has both eyes
Director Rhys Thomas considered using CGI for the dog, but then cast the animal actor golden retriever Jolt. However, Lucky the Pizza Dog's actor Jolt does have both eyes in real life.
"With Jolt, we had an audition process with our dogs. Jolt did an amazing job," Thomas told Hollywood Reporter. "There are very specific things the dog needs to do. She was great."
As the furry companion of Jeremy Renner's Clint Barton, aka Hawkeye, and Steinfeld's Kate Bishop, Lucky the Pizza Dog joins the two archers on their adventure.
However, editors digitally added one of the key aspects to Lucky's appearance. 
'Hawkeye' director Rhys Thomas said they had to digitally remove one of the dog's eyes
However, working with animals can prove challenging. Some filmmakers opt to skip using a real animal entirely and add in CGI.
"I was definitely dubious, and I had images of a CG dog," Thomas then admitted. "Genuinely, I can't think of a moment we lost time because of Jolt. She was on it."
However, Marvel's Avengers movies and shows have featured real animals, such as Goose the cat/Flerken in Captain Marvel or Wally the Alligator inspiring 'Alligator Loki' in Loki. Thomas said he considered it when asked if Jolt wore a green eyepatch to play Lucky the Pizza Dog in Hawkeye.
"No, I asked that same question," he then revealed. "I was informed she would probably walk around in circles if we obscured her eye."
Instead, Hawkeye's editors took everything in stride to give the illusion of Jolt only having one eye. And the Marvel director could not stand more impressed.
"Those wizards — we would shoot a scene with Jolt," Thomas said. "And the visual effects team would come in and take all of the lighting references and everything they needed from each camera setup and go in and track this different eye after the fact. It's a painstaking process where you have to track this thing, frame by frame."
Lucky the Pizza Dog's actor works as a two-eyed animal actor outside of 'Hawkeye'
While Jolt had some digital surgery to give her Lucky the Pizza Dog's signature look in Hawkeye, the fluffy actor has appeared in other roles with both eyes.
In a commercial for Good Sam (a Travel Assist company, not the CBS medical drama), Jolt appeared as Buster, a friendly pet of an injured customer. Fans can see that the dog sports both eyes wide open.
For even more looks at the animal actor, she has her own Instagram account.
While Hawkeye has only released two episodes so far, fans of the Marvel archers cannot wait to see more of Kate Bishop, Clint Barton, and of course, Lucky the Pizza Dog.