'Hawkeye': Jeremy Renner 'Wanted to Protect' Hailee Steinfeld: 'She's a Wonderful Human'
The first-look image for Hawkeye, Jeremy Renner's upcoming Disney+ series, debuted in July 2021. The Marvel Cinematic Universe show may be named after his Avengers character. But while filming, his focus was on his co-star Hailee Steinfeld. Why did he want to protect her on set?
In 'Hawkeye,' Jeremy Renner returns to his Marvel character
RELATED: Jeremy Renner's Net Worth & What's Next For Hawkeye After 'Avengers: Endgame'
Renner began portraying Clint Barton, aka Hawkeye, with an uncredited cameo in Thor. He made his official MCU debut in The Avengers, joining the team to help take down Loki. He reprised the role in Avengers: Age of Ultron, Captain America: Civil War, and Avengers: Endgame.
At San Diego Comic-Con in 2019, Marvel President Kevin Feige announced Hawkeye, a Disney+ miniseries featuring Renner. However, the show will also introduce a new sharpshooter: Kate Bishop, who made her comics debut in a 2005 issue of Young Avengers.
"[Kate is] a 22-year-old kid, and she's a big Hawkeye fan," Renner told Entertainment Weekly of the new character. "She has a wonderfully annoying and equally charming manner about her, because she's such a fangirl of Hawkeye. The relationship grows from that, but the biggest problem for Clint is Kate Bishop and the onslaught of problems that she brings into his life."
He 'wanted to protect' his 'Hawkeye' co-star Hailee Steinfeld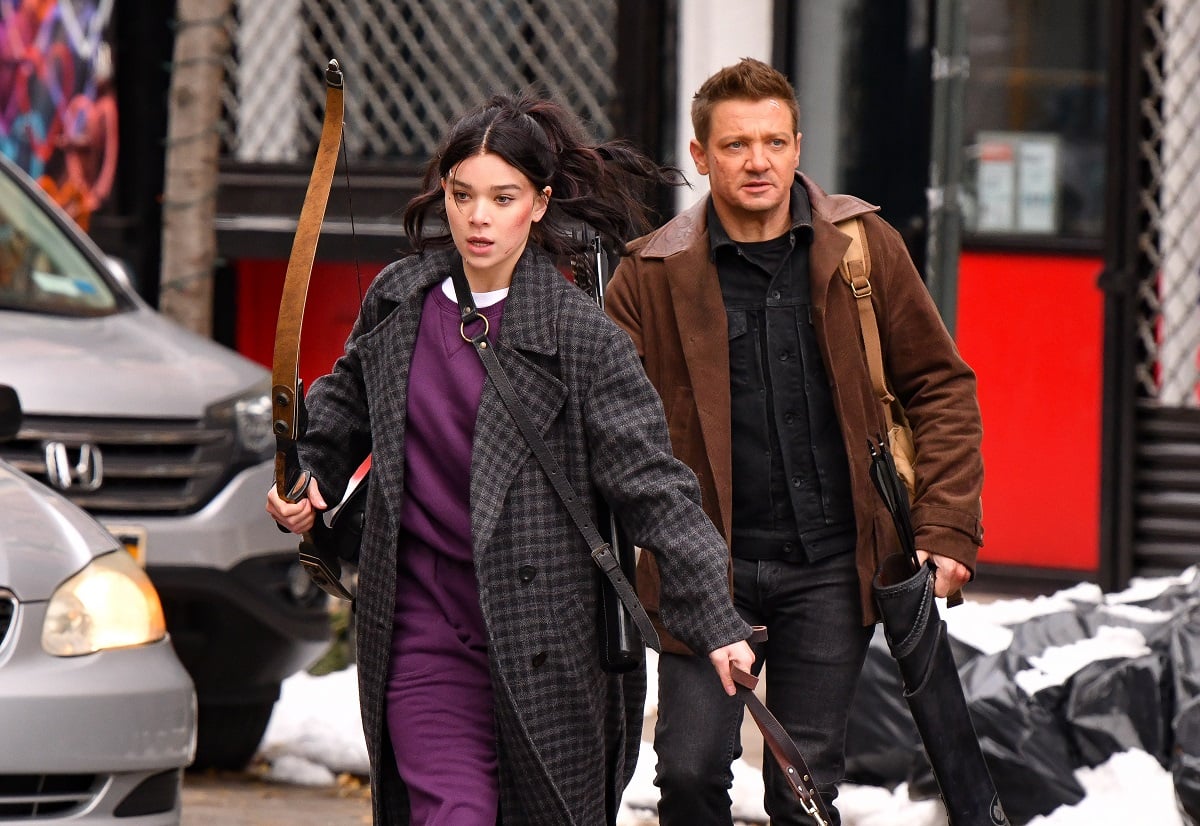 Steinfeld, best known for films like True Grit and the Apple TV+ series Dickinson, isn't a stranger to action. She starred in the Transformers franchise entry Bumblebee. However, as an experience MCU star, Renner felt compelled to take her under his wing.
"That was always my role. Outside of acting in the thing, I was protecting her and giving her the CliffsNotes on how it goes with this kind of filmmaking: Green screen, superhero life, all that stuff," he said. "I just wanted to protect her, because there's a lot of physical stuff."
Hawkeye filming began in late 2020 and continued into Spring 2021. During that time, Renner got to know his young co-star, who he called "a wonderful actress" and "a wonderful human." "I can't wait to see all the cool stuff that she's able to do," he added.
Will Steinfeld continue to play Kate Bishop in the MCU?
RELATED: Breaking Down The 6 Heroes Likely to Become the Young Avengers in the MCU
Marvel fans eagerly await the Hawkeye premiere on Nov. 24, 2021. While billed as a miniseries and likely the last venture for Renner in the MCU, all signs point to Steinfeld continuing to play Kate Bishop after the show. Most of these theories come from suspicions of a future Young Avengers team-up.
Other recently introduced characters include WandaVision's Billy and Tommy, Loki's Kid Loki, and Black Widow's Yelena Belova. And given the post-credits scene involving the latter indicates Florence Pugh will appear in Hawkeye, there's a good chance this sets up a dynamic that will continue in another project.