HBO's 'Run': Who Plays Fiona, Billy's Assistant?
HBO's comedy-thriller, Run, is slowly unraveling the real story behind Billy's (Domhnall Gleeson) emotional breakdown. In the April 26 episode, viewers finally get to meet Fiona, Billy's so-called assistant. Archie Panjabi plays Fiona, and if the actress looks familiar, it's because she's been in a number of popular film and TV projects over the years.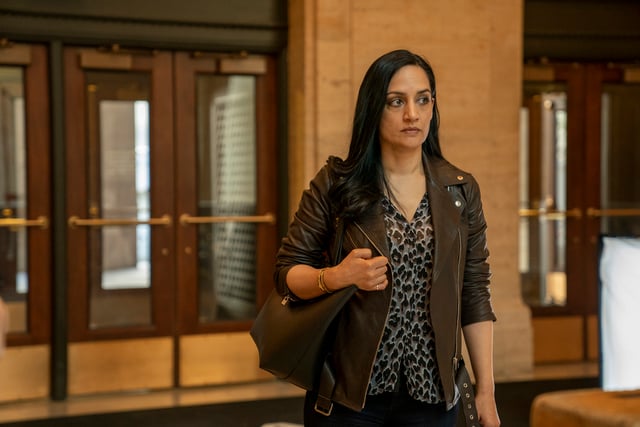 Who is Archie Panjabi and what else has she been in?
Panjabi is an English actress who was born and raised in suburban London. She's been acting since 1995, and one of her first notable roles was playing Meenah Khan in the 1999 British comedy, East is East.  
In 2002, Panjabi appeared in the hit film Bend It Like Beckham. And in 2005, she was cast in the Academy Award-winning drama, The Constant Gardener. Since then, the actress has been featured in a number of popular films, including A Good Year, A Mighty Heart, and San Andreas.
But Panjabi's most notable role was playing the sharp private investigator, Kalinda Sharma, on the CBS drama The Good Wife. For her performance on the series, Panjabi was nominated for three Primetime Emmy Awards for Best Supporting Actress in a Drama Series, one of which she won in 2010. 
For two seasons, Panjabi played Nas Kamal on NBC's Blindspot. She has also appeared on episodes of Brooklyn Nine-Nine, The Fall, and Bull.  The actress will be featured in Mark Ruffalo's upcoming HBO drama, I Know This Much Is True, which premieres May 10. 
What is Panjabi's role in 'Run'? 
In Run, Panjabi plays a woman named Fiona. Not much is known about her yet, but in the first two episodes, Billy, a successful self-help guru, gets continuous calls from her. Fiona mentions something about a video Billy was in and tells him he must come back and face some people he apparently wronged. When Ruby (Merritt Wever) questions if Fiona is his girlfriend, Billy tells her she's just his assistant. 
Somehow, Fiona tracks Billy down and meets him in Chicago. From the looks of it, Billy is involved in some shady business, and Fiona might be connected to whatever he's running away from.
'Run' comes from 'Fleabag' creator and star Phoebe Waller-Bridge
The HBO series was created by award-winning actress, writer, and producer Phoebe Waller-Bridge and her longtime collaborator, Vicky Jones. In an interview with Variety, the showrunners revealed that their inspiration for the series came from a pact they once made to each other. 
"It wasn't something we really did — that would have been embarrassing," Jones said. "But it was an idea that we nurtured, that made us feel safe. There was always someone you could run away with, someone you would rather be with than anyone else in the world."
Similarly, Run follows Billy and Ruby as they abruptly leave their mundane lives to fulfill the pact they made to each other 15 years prior.  So far, their journey has been about reconnection and evasion. But as the series ramps up their stories, and brings in exciting new characters like Fiona, it will be interesting to see where their "RUN" pact takes them.
New episodes of Run air Sundays at 10:30 p.m.ET on HBO.