Health Officials Released a Statement After Seth Rogen's Emmy Awards Speech Raised Concerns
Seth Rogen was at the 2021 Emmy Awards to present an award, but he stole the opportunity to tell the crowd the even was not what he had anticipated. His comments, including a joke about the value of Eugene Levy's life, prompted response from health officials and the show's producers. Find out what they all said.
Event organizers did not seem to expect funnyman Seth Rogen's Emmy Awards Speech. It was packed with the honest humor fans love from him, but some wonder if he was joking.
While presenting, he apparently chose to veer from the plan and instead take the opportunity to share his belief that the event had inadequate health and safety implementations. Rogen peppered the riff with his signature chuckle, but his concerns seemed at least a little serious.
"They said this was outdoors," he stated emphatically to laughs from the crowd. "They lied to us!" Rogen even used the value of Eugene Levy to guess at what the event's organizers were thinking while planning the night.
In the days following, L.A. County health officials released a statement and the show's producers reacted to Rogen's unscripted remarks. See what they had to say.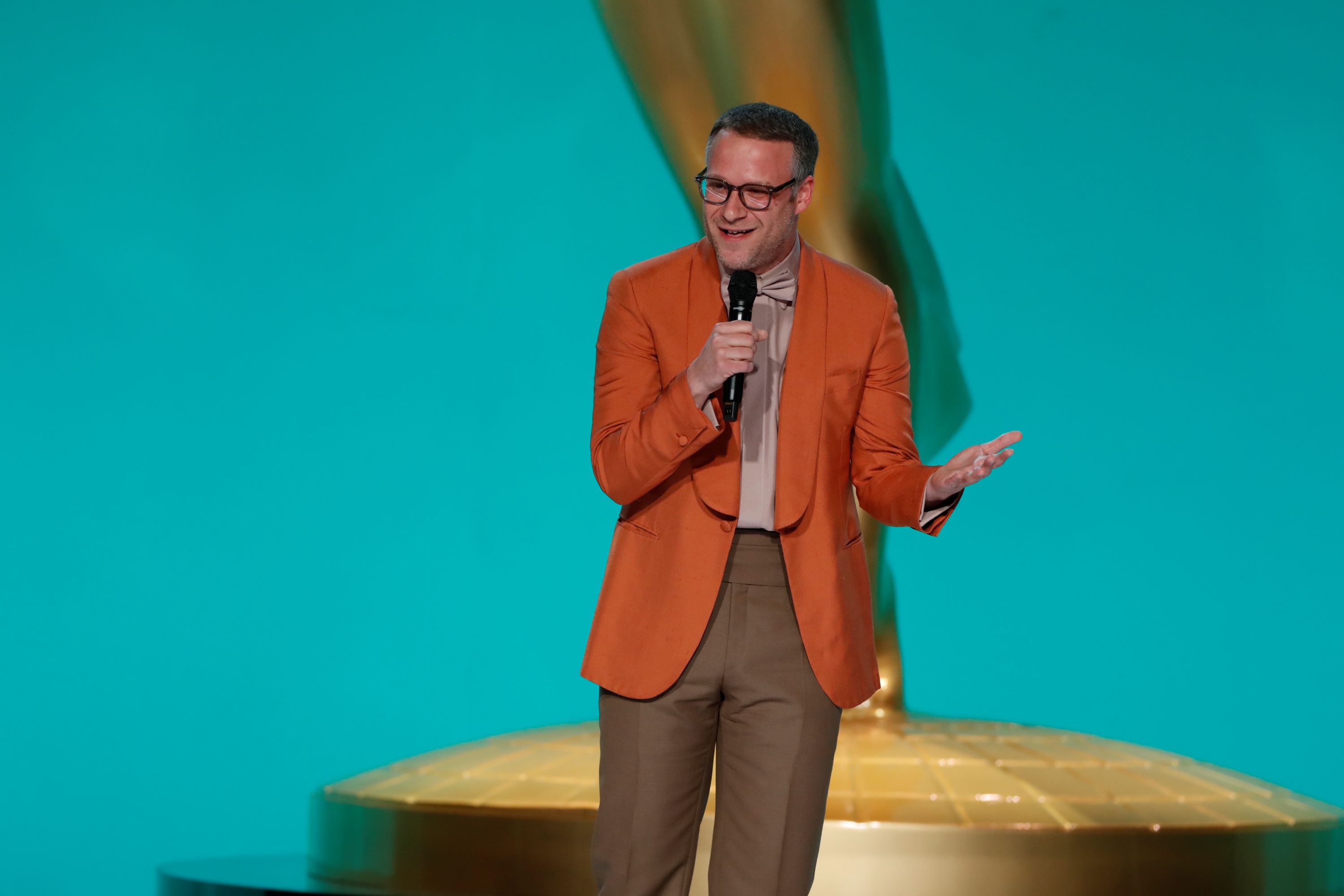 Seth Rogen joked chandeliers were more important than Eugene Levy at 2021 Emmy Awards
Once Rogen had the crowd's attention, he shared his panic about being in a "hermetically sealed tent" with other people. After noting that he believed the event would be held outdoors, he added, "I would not have come to this. Why is there a roof?"  
Rogen joked that event organizers achieved the desired aesthetic at the risk of Levy, who is a treasure to friends and fans. "It's more important that we have three chandeliers than to make sure we don't kill Eugene Levy tonight," he quipped.
Of course, Rogen received laughs from the crowd, but he also provoked a response from health officials, and even producers of the awards show.
L.A. County health officials cleared the event
Viewers at home also wondered how those in attendance got around protocols. Online commenters started a conversation about how mask mandates seem to be guided by income.
The L.A. County Department of Public Health came into the conversation and released a statement on behalf of the Emmys. The officials reiterated that, yes, protocols say even vaccinated people should be wearing masks and practicing social distancing indoors. But they claimed "exceptions are made for film, television, and music productions, as additional safety modifications are made for these controlled interactions."
To clarify, by controlled, they mean: "All persons appearing on or in the audience of the Emmy Award Show were fully vaccinated against COVID-19. Also, Public Health was informed that each of these persons had a verified negative PCR test 48 hours prior to the show."
Fans support Rogen but show's producer called comments 'deeply frustrating'
Fans loved Rogen's look for the show, but they also found what he had to say impressive. Apparently many people had the same concerns as him. That may be why his comments seemingly prompted responses from health officials, as well as the show's organizers.
In an interview with Variety, Emmy producer Ian Stewart did not seem to find any humor in Rogen's unscripted speech. He called the comments "deeply frustrating" while defending the decision for an indoor event.
Stewart cited months of measures that he and organizers supposedly took to make sure to strictly follow safety protocols. He said he felt that Rogen's comments diminished a lot of hard work. "I just felt it was an unfortunate misdirect from him," he said and added that health authorities approved plans prior to the show.
Still, he admitted that producers asked host Cedric the Entertainer and DJ Reggie Watts to do some damage control following Rogen's comments. Stewart said, "We wanted the audience to know how safe it was in there." However, it's unclear whether the event was switched from outdoor to indoor without letting guests know, as Rogen suggested.
Of course, the hope at this point is just that no one got sick while attending the Emmys. And that Rogen isn't on a "do not invite" list for the years to come.