Were Heath Ledger And Joaquin Phoenix Friends? The 'Joker' Star Mentioned the Late Actor In His SAG Awards Acceptance Speech
It's been an exciting start to the 2020 awards season. As the Academy Awards draw closer, Joaquin Phoenix's eponymous role in Joker is revealing itself to be a favorite. At the SAG Awards on Jan. 19, 2020, the actor took home the award for Outstanding Performance by a Male Actor In A Leading Role. And during his speech, he paid tribute to the late Heath Ledger. How close were the two actors? Let's find out.
Both Heath Ledger and Joaquin Phoenix have played the Joker
There have been plenty of different film interpretations of Batman and the DC villains who challenge him over the years. Legendary film and radio star Cesar Romero did so back in 1966, Jack Nicholson took on the role in the 1989 movie Batman, and, more recently, Jared Leto played the character in Suicide Squad.
But only two actors are hailed for their more *ahem* serious takes on the mysterious foe. First, in 2008's The Dark Knight, Ledger brought an entirely new perspective to Joker. Now, over a decade later, critics and audiences are hailing Phoenix for doing something similar.
They were once nominated alongside one another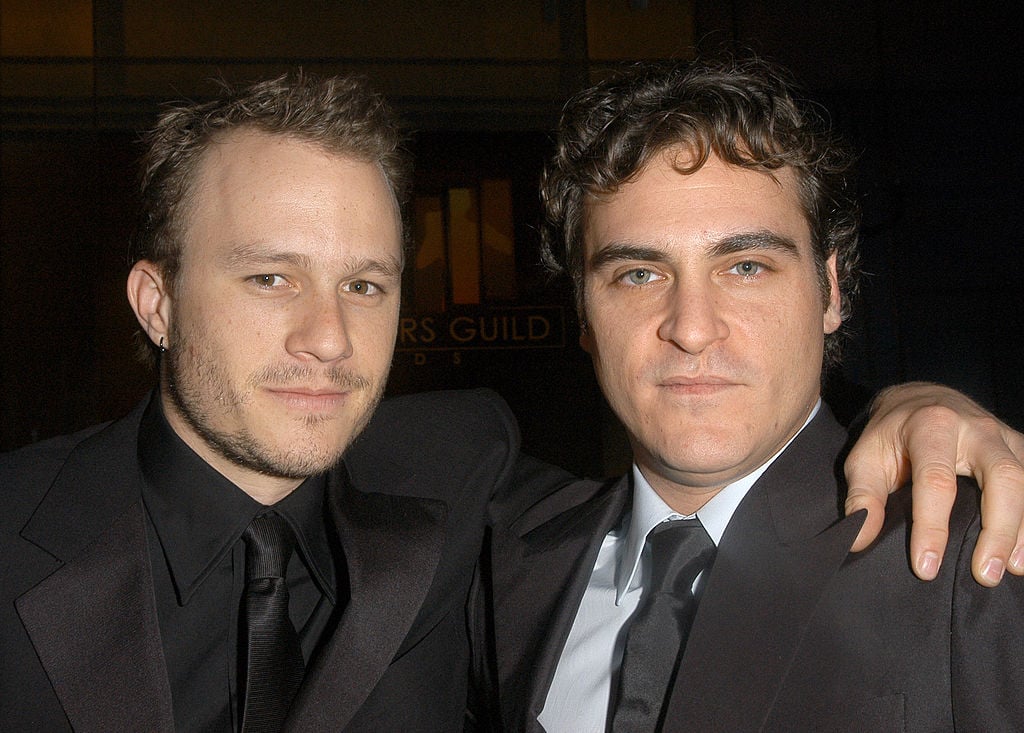 Backing up a bit, during the 2006 awards season, the two actors were both nominated for Best Performance by an Actor in a Leading Role. Ledger was up for his role in Brokeback Mountain, while Phoenix was nominated for portraying Johnny Cash in Walk the Line. They were seen spending time together at the SAG Awards and the Oscars.
Both lost out to the late Philip Seymour Hoffman at the awards shows, but it looks like they took the opportunity to become friendly with one another. Ledger passed away just two years later, in Jan. 2008, from what was later determined to be an accidental lethal combination of prescription drugs.
Ledger won for 'The Dark Knight'
The Dark Knight came out just a few months after Ledger's death, the first of two posthumous releases. The film received rave reviews, but nothing measured up to the level of praise for Ledger's performance. In fact, he was nominated for Best Supporting Actor at many awards shows, including the SAG Awards and the Oscars.
Ledger's parents and sister attended the Academy Awards and accepted on his behalf. "This award tonight would have humbly validated Heath's quiet determination to be truly accepted by you all here — his peers within an industry he so loved," said his father.
Phoenix mentioned Ledger in his SAG Awards speech
Fast-forward eleven years. Phoenix is now similarly lauded for his performance as Arthur Fleck, a mentally ill comedian who becomes the titular villain in Joker. Though plenty of criticisms have been made, the actor was celebrated by his peers and, it would appear, the voters of various award shows, as he won at both the Golden Globes and the SAG Awards.
After saying very kind words about all of his fellow SAG Award nominees in the category, Phoenix added, "I'm standing here on the shoulders of my favorite actor, Heath Ledger. So thank you and goodnight." Despite being short, it was a heartfelt tribute to be sure.
Will Phoenix also win the Oscar?
Winning at either the Golden Globes or the SAG Awards is a big deal. But winning at both? This nearly guarantees the performer an Oscar. So it seems as though Phoenix has it in the bag.
Additionally, this is Phoenix's fourth time being nominated for an Academy Award, and a lot of people are pulling for him. We have a feeling he'll give us even more to talk about with his speech at the major awards show on Feb. 9, 2020.