Heather Dubrow From 'RHOC' Seems Unbothered by Kelly Dodd's Nonstop Verbal Assaults
Heather Dubrow from The Real Housewives from Orange County didn't miss a beat when producer Andy Cohen asked her about Kelly Dodd's latest tweet.
Cohen brought up Dodd's tweet about Dubrow being a "fashion victim," and all Dubrow could do was shake her head and laugh. "OK, look up the hashtag logomania and you'll see I don't think I'm actually alone here," she said during an appearance on Watch What Happens Live with Andy Cohen.
Heather Dubrow from 'RHOC' says Kelly Dodd needs to get new content
"It's so crazy," she continued. "I don't know if I should be flattered that Kelly's so obsessed that she talks about me all the time. Or honestly sad that she has no other content."
Later, Cohen asked Dubrow if she regretted calling Dodd "trash" in the sprinter van in Ireland. "No," Dubrow flatly replied.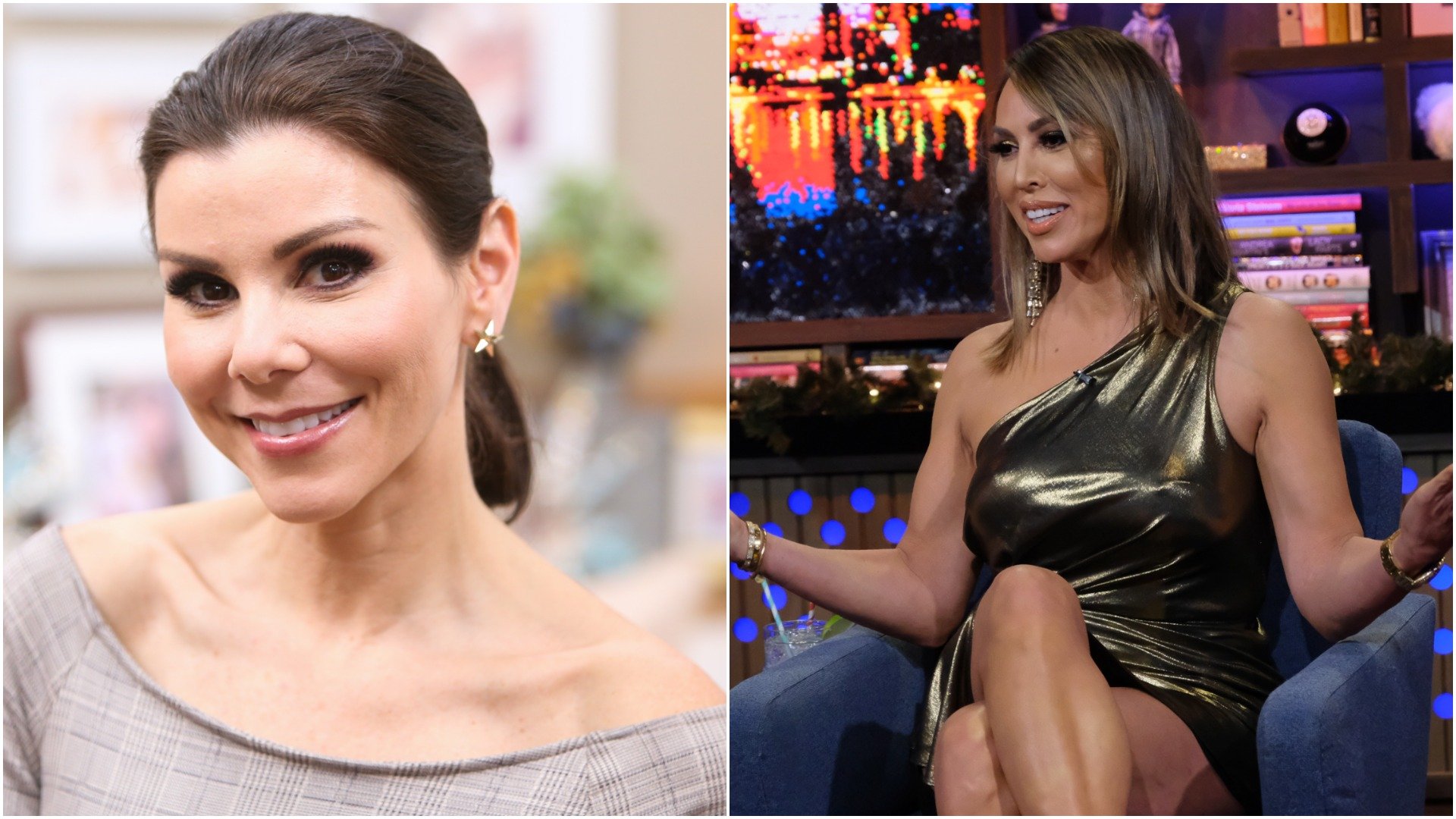 Of course, Dodd tweeted after Dubrow made the remark. "It's so sad @HeatherDubrow keeps using the same line about me," she wrote. "She apparently has no original thoughts or can't come up with anything better. She's used the same tired response three times in three places. Work harder b****."
Dodd was referring to Dubrow's comment she gave to Page Six. "It makes me laugh. Kelly seems to talk about me a lot, so at this point, I don't know whether to be really flattered that she's so obsessed with me or sad for her that she has no other content," Dubrow said about Dodd.
Kelly Dodd turned up attacks after she left 'RHOC'
Dubrow and Dodd always had a contentious relationship. But the animosity lowered to a simmer after Dubrow left the show. Dubrow returned to RHOC upon Dodd's exit. Subsequently, Dodd turned up the heat and seemed to lash out at Dubrow nonstop.
RELATED: 'RHOC': Jeana Keough Says Vicki Gunvalson Misses Ex-Husband Donn and Wants Him Back
Dodd claimed Dubrow's son Nick gave her coronavirus (COVID-19) at a New Year's Eve party where Dubrow's son and his friends were in attendance. She later issued an apology on social media, claiming it was a joke. "I got this letter from an attorney for the Dubrow family reminding me I made a statement that may sound like truth, when in fact it was a joke and for that, I am offering my sincere apology," she shared in an Instagram story (via Page Six).
Most recently, Dodd sat near Dubrow and her husband at a restaurant and then filmed them while disparaging the couple. "Dumb and dumber right there, f*** faces," she commented.
Heather Dubrow says Kelly Dodd burned 'RHOC' bridges
Dubrow said Dodd's nonstop attacks are doing her no favors. "No. 1: You don't burn bridges and No. 2 you have to figure out your next steps, and I don't think sitting at a restaurant filming former cast members is a viable employment opportunity, and it just seems sad, pathetic," Dubrow told Page Six.
Adding, "[You have to] extract yourself elegantly."
Dubrow told Showbiz Cheat Sheet she knew the series needed a change, which was when Dodd left. "I always say, like when you graduate college, you don't still follow your sorority Twitter feed, you know?" she said. "You move on."
"So I mean, I've heard, obviously, but I don't specifically know what happened," she said. "But when I was pitched to come back, it was like, 'Look, here's what we'd like to do with the show.' And I think Andy's [Cohen] been very vocal about this, you know, time for a reboot. We've lost some of the glory that was Orange County. And you know, these inspirational aspirational lifestyles. And these beautiful trips and the clothes and these friends. Where are these friends that have these relationships? Like, where is all that?"
RELATED: 'RHOC': Heather Dubrow Says Shannon Beador Clash Goes 'off the Rails' Quickly 'in a Way That's so Not OK' (Exclusive)