Heather Rae Young Sounds Ready to Walk Down the Aisle With Tarek El Moussa
HGTV's Tarek El Moussa is spending quarantine with girlfriend Heather Rae Young of Netflix's Selling Sunset. The two recently moved in together to take the next step in their relationship, which seems to be going quite well.
Despite divorcing Christina Anstead in 2018, El Moussa continues to co-host their popular HGTV show Flip or Flop with his ex and also amicably co-parent their two children Taylor and Brayden. Anstead remarried in December 2018 and has since given birth to a son with new husband Ant. Wedding bells may soon be in the future for El Moussa as well.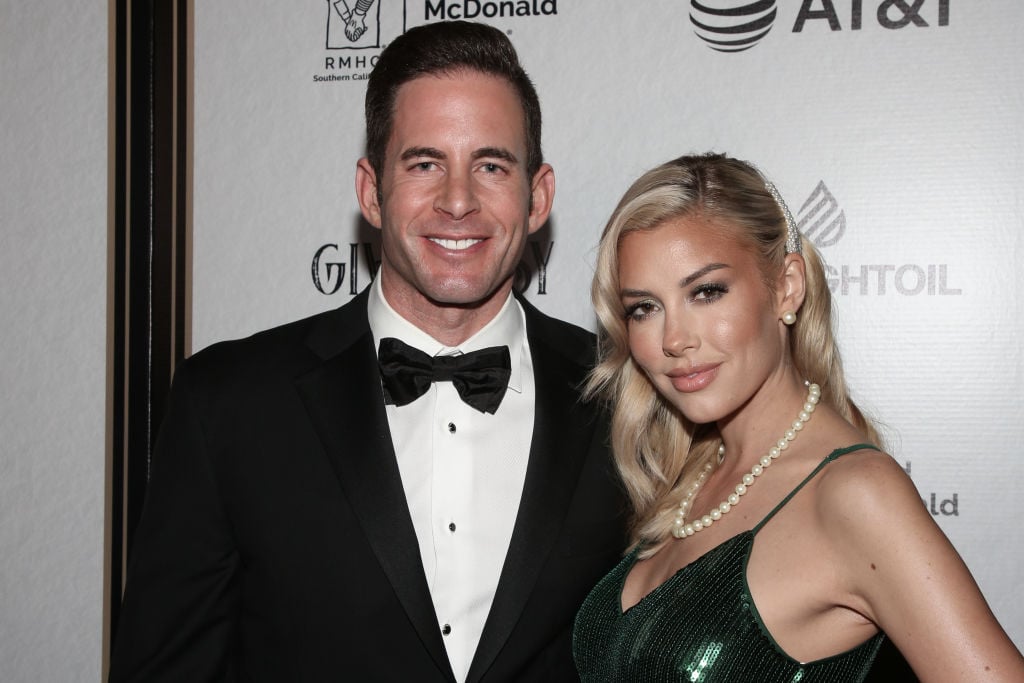 Tarek El Moussa makes relationship Instagram official
In August, El Moussa took to social media to introduce his new lady love. "it's official!!!! After more than 3 years on my own I'm so PROUD to say that this beautiful, sweet and talented young lady is my girlfriend!" he captioned the Instagram post. "It's early in the relationship and we're having a blast. She's just amazing and adorable and I'm just enjoying every second."
The reality star referenced the breakup of his marriage as well as the many health issues he's battled, commenting that his flourishing relationship with Young was like a new beginning.
"In life you can't predict the future! I couldn't predict divorce! I couldn't predict two cancers!" El Moussa wrote. "I couldn't predict my back injury! You just never know what tomorrow brings. I just want to let the world know I met someone special that makes me want to be a better man :)"
Heather Rae Young doesn't hold back on her feelings for HGTV star
Though the two are on lockdown along with most of the country due to the coronavirus crisis, Young is reveling in her quality time with El Moussa and is hoping to soon make it permanent.
"I can't wait to marry Tarek El Moussa. I can't wait to be engaged to him," she told E! News. "It's something that when we talk about it, it's real. I know that it's going to happen, but I don't like to push either and I don't like to bring it up all the time. I don't want to ruin any surprises but we definitely talk about it. I don't want to put pressure because he knows I'm 100% the one, but I think it'll happen. Hopefully sooner than later, but I just don't know when."
Though the COVID-19 pandemic hit early on in their new cohabitation setup, Young revealed the two are keeping the romance alive despite the stressful circumstances.
"We flirt with each other still. You know he'll walk by me and he'll just grab me and kiss me," the Selling Sunset star shared. "We'll joke with each other and we just always, you know, I'm still getting dressed up for him."
Young's relationship with ex Christina Anstead
Young is apparently getting in touch with her domestic side amid the quarantine, making sure their house is in order and spending quality time with El Moussa's children.
"For me, I've been really busy with the kids. I'm cleaning a lot more. I'm cooking a lot more," Young explained. "I'm going out for walks. I'm taking the kids on little bike rides so my shift has kind of been toward being a stay-at-home wife and step-mom and Tarek is still working a lot more than I am." 
Since El Moussa and Anstead maintain a close co-parenting and business relationship, Young wanted to immediately create a friendly rapport with his ex.
"I met her pretty quick into mine and Tarek's relationship," Young revealed. "We'll text each other about the kids. We'll text each other food recipes and drink recipes. We'll meet up and do walks with the kids."
The Netflix star raved over El Moussa's children with Anstead. "They've fulfilled my life so much more than I ever thought could be filled," Young said of Taylor and Brayden. "They've brought a joy that I haven't had before. I don't have my own kids and I don't know if I ever want to have my own kids, so this has kind of filled that void of not having children."
While no official engagement announcement has been made, Young sounds like she's ready for El Moussa to put a ring on it. "We're best friends and we just laugh and we have the best time together," she raved. "We're still in our honeymoon period and I hope to be forever in our honeymoon period."
Fans will be looking out for a potential wedding date!