Heavyweight Champion Anthony Joshua: What is His Net Worth?
He's a two-time world heavyweight champion and just won a rematch against his opponent during a highly anticipated bout in Saudi Arabia. Who are we talking about? Anthony Joshua, the British boxer who's been making a name for himself in the sports world as he stacks up titles.
While Joshua has his detractors, his camp has worked to set up an entire brand for him that goes beyond his boxing persona. With that in mind, the athlete has multiple streams of income that will likely set him and his family up for life. Fans may be familiar with how Joshua makes bank with his purse winnings, but how does he earn his money and what is his net worth?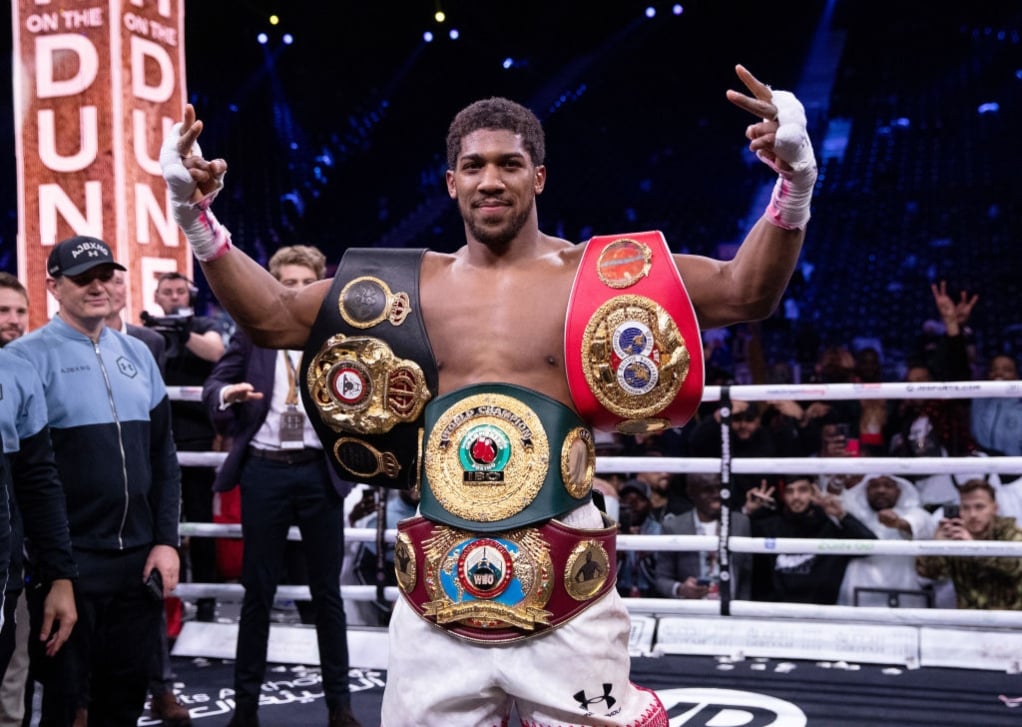 When did Joshua get his start in boxing?
Joshua, who was born in Britain, entered the world of boxing in 2010, but prior to that, he started trying his might at the amateur level at age 18. According to BBC, he'd won all of his amateur bouts—more than one dozen—and by 2012, headed for the London Olympics. Joshua won gold in the super heavyweight division, and not long after that decided to try his hand at professional boxing.
2016 saw him win the IBF heavyweight title, one of four championship belts available from the major professional boxing organizations. He's gone on to earn the titles for WBO and WBA too, but the remaining—WBC—eludes him at this time.
How Anthony Joshua makes money outside the ring
This list is fairly extensive, but Joshua's earnings are a combination of boxing winnings, sponsorship deals, and a few businesses. According to Business Insider, he and his team have set up an athlete management firm, a gym, a merchandising venture, and endorsement contracts that all contribute to his income. These businesses all fall under the umbrella of the AJ Boxing and Commercial company.
Major companies like Under Armour, Lynx, Beats by Dre, Jaguar Land Rover, and StubHub are all part of Joshua's robust group of sponsors that provide him with products and financial backing. In return, he promotes their goods.
How Joshua scores high earnings through fighting
In addition to winning purses worth millions of dollars no matter if he wins or loses a match, Joshua also has business arrangements in place with broadcasting networks for his fights. He famously left behind a $1 billion contract with Showtime to pursue a streaming deal with DAZN, Reuters reported. When networks bid on fights, the boxers and their promoters can earn well.
But the purse is where the big bucks are for most fighters, and after his rematch with Andy Ruiz on Dec. 7, Joshua is said to have a payday of $60 to $85 million. When Forbes reported on his 2019 earnings this past July, the number was $55 million. He's number 13 on their list of highest-paid athletes, and now, because of his new win, that amount will increase.
Joshua and his partners have their eyes on global dominance in terms of branding and revenue so that when he's ready to retire, he can do so comfortably, and perhaps as the billionaire that he aspires to be.
Although it remains to be seen if Joshua will seek out the opportunity win another title against WBC champion Deontay Wilder, he's continuing to build his nest egg. At this time, TalkSport estimates Joshua's net worth will be close to doubling his current $55 million after the Ruiz fight, giving him a net worth of more than $100 million.