Heidi Klum's Daughter Leni Klum Is a Lot Shorter Than Her Supermodel Mom
There's no denying that Heidi Klum and her daughter Leni Klum look alike, but there's one distinguishing feature: their heights. 
Iconic, successful, and beautiful are just a few words to describe Heidi Klum. Born in Germany, the supermodel's career has skyrocketed over the past two decades. And recently, she has been garnering plenty of attention alongside her daughter Leni Klum.
Heidi Klum has enjoyed a long-lasting modeling and TV career 
In the modeling industry, Heidi Klum is a legend. Her appearance in the 1998 Sports Illustrated Swimsuit Issue put her on the map. Breaking boundaries, Klum received recognition as the first German model to join Victoria's Secret Angels.
Over the years, the star has branched out into TV. Klum's fans have enjoyed watching the supermodel as a judge on NBC's America's Got Talent. In addition, she has appeared as a judge in Bravo's popular Project Runway. 
Vogue, Glamour, and Elle are only a few of the many well-known magazines whose covers Heidi Klum has graced. Recently, she grabbed attention once again on the cover of Harper's Bazaar Germany alongside her daughter Leni Klum. The mother-daughter photoshoot put the pair and their dynamic in the spotlight.
On Instagram, Heidi Klum posted one of the beautiful photos of Leni and wrote, "You have my mother's beautiful blue eyes."
Though Heidi Klum and her daughter Leni Klum share a striking resemblance, one trait sets them apart. 
Heidi Klum's daughter Leni Klum is much shorter than her supermodel mom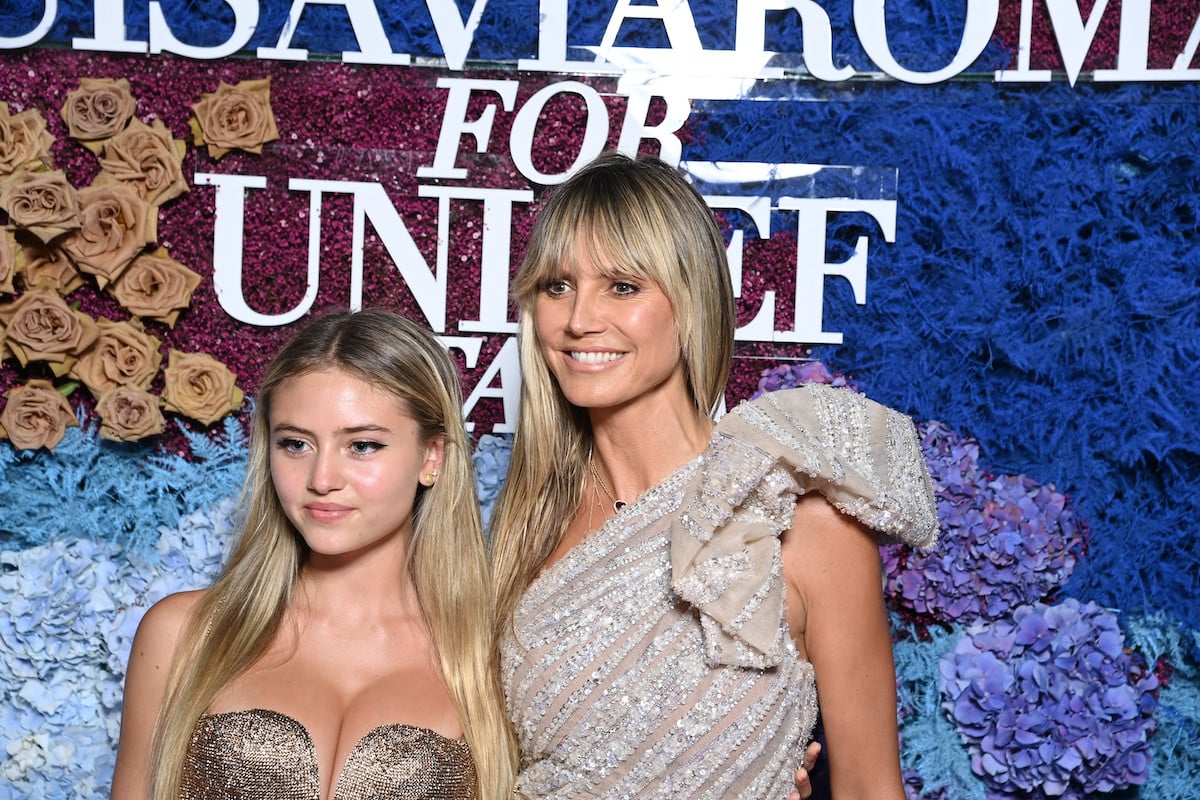 Heidi Klum has four children, but the star has been incredibly private regarding her kids. Perhaps that's why many people were shocked to see how much Heidi Klum's daughter Leni looks like her.
Leni Klum, born in May 2004, is Heidi Klum's first and oldest child. After a brief relationship with Leni's biological father, Italian businessman Flavio Briatore, Heidi Klum married renowned singer Seal in 2005. Seal eventually adopted Leni, and the tight-knit family appeared happy together. Despite the good times, Heidi Klum and Seal split in 2012. Plenty has happened since the couple's divorce. 
From Heidi Klum's remarriage to Leni Klum's emergence into the public eye, the supermodel's fans have enjoyed following her and her family's journey. There's no denying that the mother and daughter look alike, but there's one distinguishing feature: their heights. 
Heidi Klum is well known for her statuesque figure. However, Leni appears several inches shorter than her 5-foot-9 mother. Publications have put Leni Klum's height at anywhere from 5'4″ to 5'7″ (Biography Mask lists her as 5'7″). But the 18-year-old appears closer to 5'4″ in recent photos with her mother and the 6'4″ Seal. 
Leni Klum is also a model
Regardless of exactly how tall Leni Klum is, she's following in her mother's footsteps. In 2020, at the age of 16, she made her modeling debut on the cover of Vogue Germany.
Leni revealed to Vogue that she received her first modeling offer at 12 or 13, but her protective mother wouldn't let her model until she turned 16.
"Sixteen is a good age," Heidi added. "If you are allowed to drive a car, you can also have an official Instagram account and show your face. And to be allowed to start with a Vogue cover is an insane privilege."
The 18-year-old recently wore one of her mom's dresses to prom
Even though Heidi Klum and her daughter Leni Klum aren't the same height, they share the same sense of style. 
Leni recently took to Instagram to show off a vintage piece her mother wore in the 1990s during her modeling heyday. The 18-year-old captioned the stunning snaps "prom night in mamas dress." The strapless black dress fit Leni like a glove, just as it did her mother over two decades earlier.
Though Heidi Klum shielded Leni from the spotlight when she was younger, there's no stopping this rising star now.