Heidi Klum Was Rejected For Being 'Too Curvy' and Had a Bad Relationship With Food
Heidi Klum's teenage dreams of becoming a supermodel prompted her to move from Germany to New York at just 18 years old. It wasn't long before she rose to the heights of modeling success, posing for the cover of Sports Illustrated in 1998 and going on to become a Victoria's Secret Angel, joining the ranks of the world's top models.
Now, at 46, she's added TV personality to her resume and has hosted several shows including America's Got Talent, Germany's Next Top Model, and her new show that just aired this year, Making the Cut. As a model and public figure for decades now, Klum has gotten used to keeping a strict diet to keep her figure, which used to be a struggle for her, but she says now that she's used to it and happy with who she is.
'The Heidi Klum Diet'
Looking at Klum now, you'd never know that she's had four kids and is nearing the end of her 40s. She's not only stayed fit but maintained an enviable vibrancy and zest for life. So how does she do it?
In 2017, Women's Health magazine interviewed Klum's nutritionist, Oz Garcia, to find out just what Klum eats and how she stays so fit. What Garcia revealed was not a fad diet or anything complex, and is on par with a diet many health enthusiasts follow.
Some common items on the menu for Klum are eggs, salmon, chicken, vegetables, yogurt, rice, and other lean and healthy foods. Nothing remarkable. What is notable, however, is that he lists out the specific weights of the portions of said food items, a step only the most stringent dieters usually take.
As for Klum's exercise routine, at the time, the magazine reported that she didn't keep a steady training schedule. She instead opted to use her time with her dogs and kids to double as her exercise time through jogs and bike rides.
Heidi Klum had to be 'disciplined' about food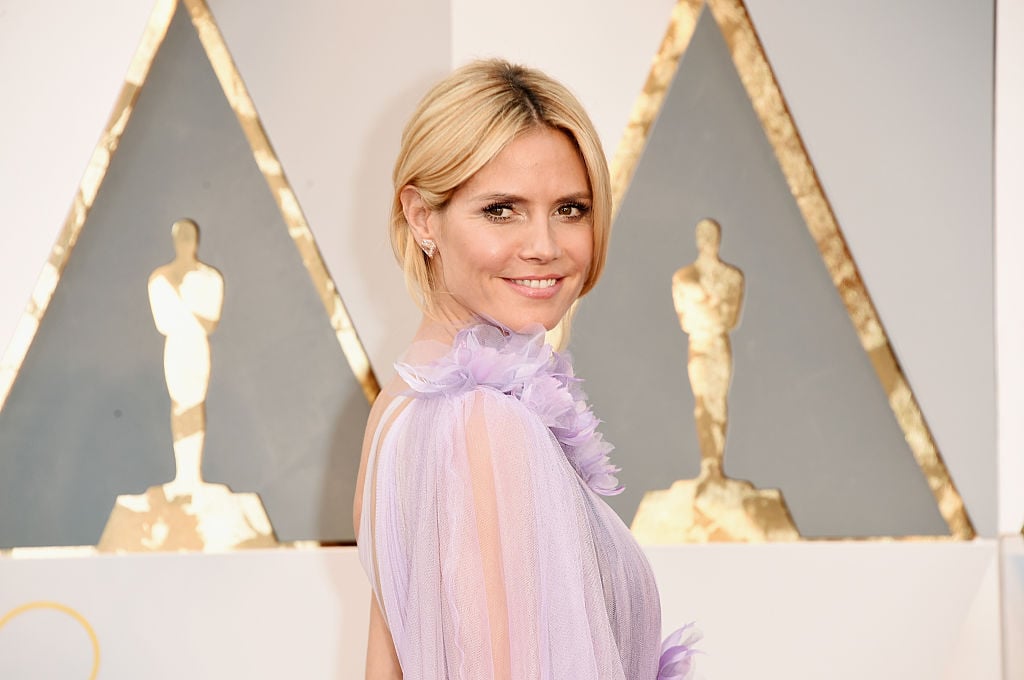 While her diet may not have changed much in the transition from model to host, Klum has gotten used to her eating habits at this point in her life. In a recent interview with Red magazine, Klum revealed: "In the beginning, I had to [be disciplined about food] and now I'm just so used to it. There are so many choices, just pick the right things. Because then you don't have the struggle."
She goes on to say that she's happy with who she is now. This seems to be not only because of her comfort in her own skin but also because of her relationship with her third husband, Tom Kaulitz.
But earlier on in her career, that was not the case. Klum, who is on the cover of Red magazine's May 2020 issue, told the publication she had to be strict about her diet earlier in her career. She also said she was turned down by high fashion labels for being "too curvy."
Heidi Klum says she shares the same values with her husband Tom Kaulitz
Klum was married to her first husband, celebrity hairstylist Ric Pipino, from 1997 to 2002, and singer Seal from 2005 to 2014. She has since married German guitarist Tom Kaulitz and says their marriage "just works."
Kaulitz is younger than Klum, a factor that seems to be part of his appeal.
"He's a 30-year-old man, so there's just a different life and spirit about him. He does music and his brother has neon-green hair. He has tattoos everywhere," she told Red magazine. She also said that they love spending time at home together and that he gets along well with her kids.
As for her co-parenting with her ex-husband, Seal, she says they do their best but things aren't "rosy rosy." Things aren't all bad either though.
"Sometimes it's hard, but then you have to all come together as a family and sometimes everything is just like hopping on clouds. It's just the way it is," she said.