Heidi Klum Kisses a Pig 'For Luck' During 'America's Got Talent' Season 15 Auditions
America's Got Talent Season 15 launched with dancers, singers, and many other unique varieties of performers. One act, called the Pork Chop Revue, featured four-legged friends led by earnest hopefuls, Les and Nina Kimes. The couple showcased their performing pigs and hogs, one of which received a sweet gesture from America's Got Talent judge, Heidi Klum.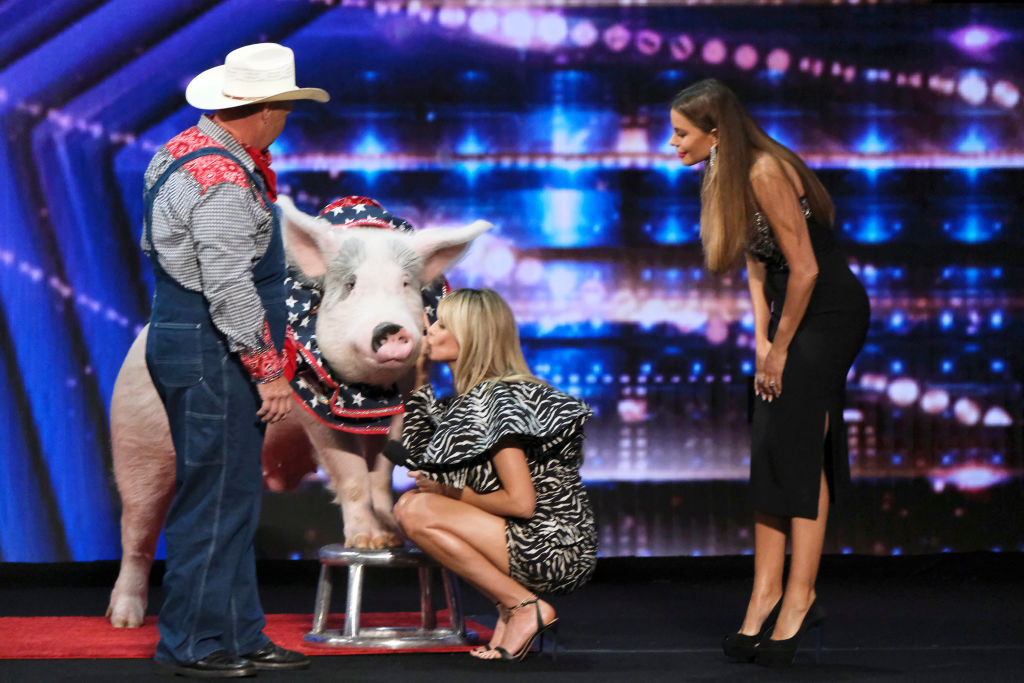 'America's Got Talent' Season 15 Episode 1 opened with the Pork Chop Revue
In a backstage interview, Les Kimes noted that ever since he was a toddler, pigs had been "a way of life for him." Now, he partners with Nina to adopt, nurture, and train the animals. What's more, the Kimes couple aims to create the first pig-centered show on the Las Vegas strip.
Les and Nina took the stage with their troop of pigs and hogs, including Mac, a 4-year-old hog, weighing in at over 700 pounds. They wowed the judges, leading the Pork Chop Revue through choreographed tricks that audiences would typically expect to be performed by dogs rather than pigs, as noted by judge Howie Mandel.
The judges loved the pigs, and Heidi Klum showed it
RELATED: One 'America's Got Talent' Contestant Became a Monster Movie Star After Being Eliminated
Each of the America's Got Talent judges shared warm words and positive feedback with the performers. Mandel called the act unique and exciting. Likewise, notoriously tough judge Simon Cowell complimented the originality, saying, "In all the years of judging this show, for me, this is a first."
Acknowledging the level of difficulty, the newest judge, Sofia Vergara, said, "I've never seen pigs do anything! I mean, I have one dog I rescued. Her name is Bubbles, but she completely ignores me. So, for me, it was super fun, and I want to see more."
Klum displayed the most passionate reaction, gushing, "In a weird way, I want to give the pig a kiss." Upon taking the stage to smooch Mac, she remarked, "When you kiss a pig, it's good luck."
"What pig told you that?" quipped Mandel.
After receiving glowing critiques from Mandel, Cowell, Vergara, and Klum, the Pork Chop Revue advanced in the competition with a unanimous "yes" vote from the panel. The audience can look forward to more tricks from the troupe later in America's Got Talent Season 15.
'America's Got Talent' Season 15 boasts many other standout performers
RELATED: 'Modern Family': Sofía Vergara 80s Throwback Pics Revealed on Instagram
While Klum's kiss with Mac held the spotlight for a moment, other high-level entertainers also amazed the audience and panel. Mentalist Ryan Tricks performed an eerie act, and later, twin powerhouses, Double Dragon, belted out "It's Raining Men."
Contestant, Malik DOPE Drummer created another one-of-a-kind act. The street performer brought his inimitable musical routine to the America's Got Talent stage and killed it.
Both Klum and Mandel expressed a desire to see what the drummer will do on the show next. "That was dope!" exclaimed Mandel.
"I wanted to get up and dance," Vergara confessed after watching Malik DOPE Drummer, who Cowell called "Super, super, super talented." It looks like the pigs may have some stiff competition during America's Got Talent Season 15 on NBC.