Who Is Henry Golding's Wife? Liv Lo Is a Fitness Entrepreneur Married to the 'Last Christmas' Star
It's 2019 and Henry Golding if the king of romantic comedies. Following his leading role as Nick Young in Crazy Rich Asians, the English actor nabbed Tom in Last Christmas, opposite Emilia Clarke. And while audiences have been captivated by Golding's charm in theaters, he's been living out his own fairy tale romance in real life. So who is Golding's wife, Liv Lo? Here's everything you need to know about the couple's relationship and marriage.
Who is Henry Golding's wife, Liv Lo?
According to Lo's Instagram page, the 34-year-old is a TV presenter, founder of FitSphere, and an "advocate for nature." Per The Cut, Lo also grew up in Taiwan and went to Tokyo for university, where she was scouted by a modeling agency. The publication also revealed Lo ended her modeling career and focused on the entertainment landscape. She then found passion in being a fitness instructor.
Now, Lo is the founder of FitSphere, a fitness program that combines yoga and high-intensity interval training. And according to the South China Morning Post, the Taiwanese-Italian entrepreneur hopes to encourage others to live out their fitness goals.
"My mission is just to help people find their fitness and to stick with it for life," Lo told the publication. "No matter what stage people are at, I want them to find a fitness that is meaningful to them."
How did Henry Golding and Liv Lo meet?
On Oct. 29, Golding shared the story of how he met Lo when stopping by Live with Kelly and Ryan. And it's basically the perfect meet-cute for Hollywood's next big rom-com.
"It was one of those old-fashioned stories," Golding said, noting there was no app or "swiping" involved. "We were in a club on New Year's Eve and I saw her from afar and she was like this wild cat. I was just getting over my hangover from the previous day… But halfway through the night, I was popping off to the loo, and she just steps in my way."
Golding continued: "She was like, 'Why haven't you said hello to me yet? I'm leaving tomorrow and you're never going to see me again. What are you going to do about it?' So I got her number and we went for brunch the next day. She lived in Tokyo, I lived in Singapore. So we did long distance."
The 32-year-old then gushed over his wife's forwardness. "But don't you just love it when a woman just punches you in the face?" he said. "It's hot when a girl takes you by the collar."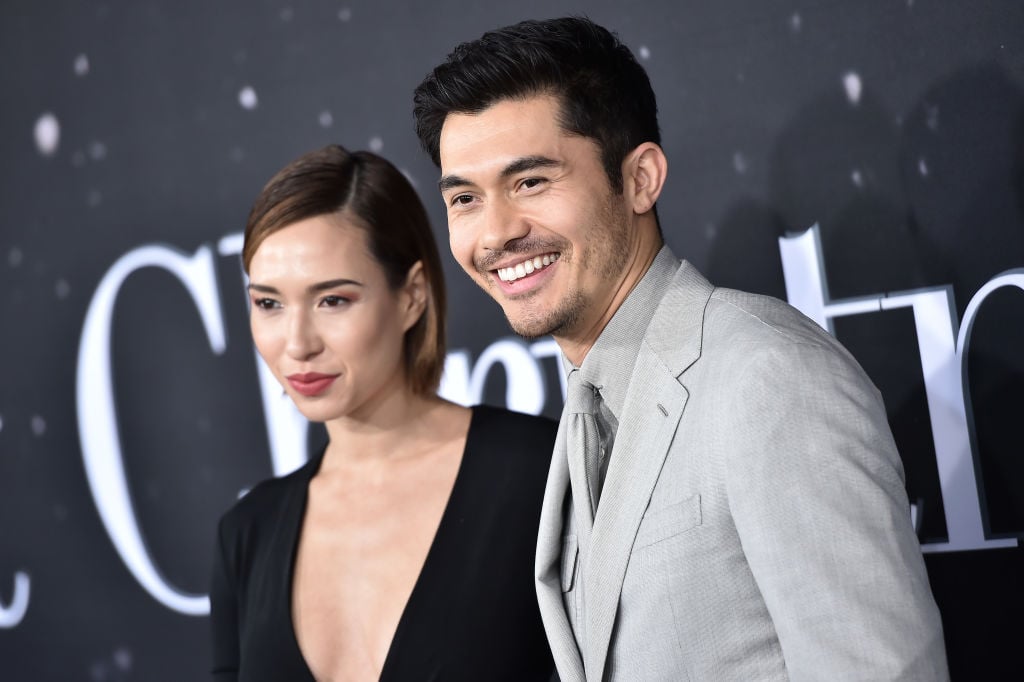 Back in 2018, Lo also shared her perspective from the night she met Golding. On Instagram, Lo wrote:
We met 1.1.11 in Singapore at a friend's birthday party. I knew you had noticed me but didn't introduce yourself. Disappointed, I tried all my craziest wildest efforts, including dancing on speakers, to grab your attention. If you weren't going to speak to me, I knew I would have to. As I was leaving you walked behind me. Here was my chance. I had nothing to lose. I turned around and said "Hi, I am leaving and you're never going to see me again". And so began our love story.
When did Henry Golding and Liv Lo get married?
When speaking with Her World in August 2018, Lo spilled the details on Golding's proposal. "It was on our fourth anniversary, and we were on holiday in Phuket," she said. "We had the best day riding on motorbikes to temples, finding secret beaches and eating spicy Thai food."
Lo then explained how an anniversary date turned into an unforgettable experience.
"He had booked a restaurant at sunset that 'just so happened' to have a string quartet playing and was serving champagne on arrival. But, I just thought he was being romantic as it was our anniversary," Lo said. "However, we took a stroll on the rocks and he proposed at the magic hour. Unforgettable."
The publication also revealed Golding and Lo got married at the Cove 55 resort in Sarawak, Malaysia, celebrating their wedding anniversary on Aug. 20. And now, three years later, it seems Golding is just as infatuated with his wife as ever.
"My wife is the best woman in the whole universe," Golding told People in February 2019. "She's so strong, she's extremely loyal, independent. I wouldn't be able to do it without her, so it's wonderful to be able to have this success, but also, it's wonderful to be able to share it with her."
Check out Showbiz Cheat Sheet on Facebook!