Here's All the Drama You Forgot About From Travis Barker's Short-Lived Reality Show
Back in MTV's heydey, Blink-182 drummer Travis Barker and his ex-wife Playboy playmate Shanna Moakler became reality TV royalty. The couple's raunchy show, Meet the Barkers, aired from 2005-2006 with just over a dozen episodes. Through the course of two short seasons, Barker and Moakler put their lives up for public consumption. Here's some of the drama you probably forgot about.
Travis Barker and Shanna Moakler had a rocky relationship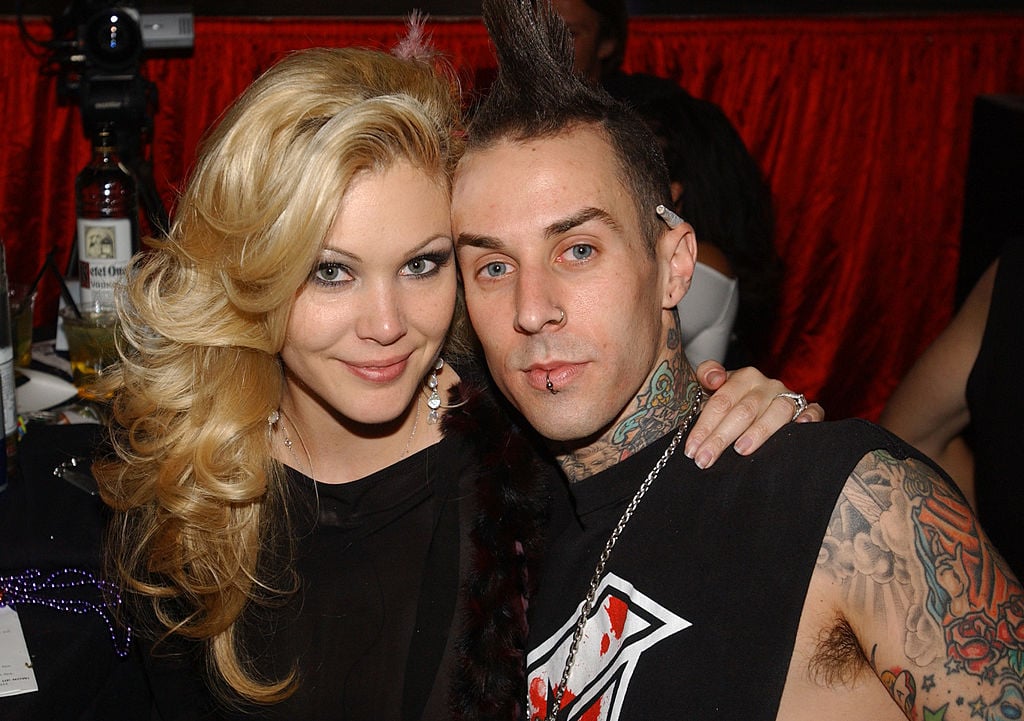 It's been 13 years since Barker and Moakler officially split but their relationship remains one of the most-watched on TV. Due to the sheer number of foul language, deeply inappropriate groping, and other visuals that should've come with an NC-17 warning, Meet the Barkers had no lack of censorship bleeps.
Though the two kept things spicy on camera, their romance was up and down throughout their six years together which included police calls and cheating accusations The parents of son Landon and daughter Alabama divorced in 2006 but continued the on-again-off-again romance for two more years. Barker revealed in his 2015 autobiography Can I Say that Moakler wanted to do the show to get a jump start on her acting career.
Much of this could've begun with the reality show. Moakler claimed Barker distanced himself when cameras weren't rolling but that's only one of the former couple's problems.
The two also had their fair share of steamy scenes and explicit conversations leading some to wonder if things remained so loving off-camera.
Did the two divorce because of 'Meet the Barkers'?
Barker and Moakler both admitted in Barker's book that the show contributed to their problems.
"I think the show destroyed our relationship," Moakler wrote. "I think he was afraid he was going to be looked on as a reality star. So when the cameras stopped rolling, he distanced himself from me in every way that he possibly could."
"I felt like having the reality show changed Shanna's character," Barker wrote. "Shanna wanted to be an actress, and I felt she started doing things just for the cameras — for attention, or maybe it was just her dramatic personality. It was turning into a variety show instead of a reality show — and in my mind, she was behaving out of character on camera, which was carrying over to her not being genuine with me."
But, there are numerous digs from one or the other that allude to how damning that period in time had been. According to Barker's autobiography, Meet the Barkers allowed for "toxic energy," which led to his decision to quit the show. In an interview with Khloé Kardashian on Kocktails With Khloé, Barker spoke about the time spent filming.
"It was so real that I didn't feel any type of way. It was like what was really going down," he said. "There were just cameras documenting it."
Between the on-air disputes and all of those not shown, we can only imagine how the added stress of cameras could come between the already struggling couple. Since then, they've moved on — sort of.
Barker is in a relationship with Kourtney Kardashian
RELATED: Travis Barker Had to Learn to Walk Again After Horrific Plane Crash That Killed 4
2021 has been a year of firsts — such as Barker finding love in a pandemic with Keeping Up With the Kardashians reality star Kourtney Kardashian. After months of denying rumors, they finally made it social media official with plenty of PDA-filled posts. And, while the two are still going strong, Moakler's taken it upon herself to weigh in about it all.
"I'm very much over my ex. It's been a long time. However, do I think some of the PDA that he's doing with her is weird? [Yes]," she told People. "The movie, True Romance, that I feel like they've been bonding over was the theme of our wedding. Our daughter's named after the character in the movie. Flying banners overhead like we did on Meet the Barkers. Stuff like that … I just think it's weird."
She continued: "If anything, my only issue with this whole sort of craziness that's been going on is her fan base … it's really almost to the point of being bullied," she said about the internet trolls. "I look at social media as a place to have fun. It should be positive."
Barker doesn't comment on his private life much anymore which we can likely attribute to learning the hard way on Meet the Barkers.