Here's How Much Daytime Soap Stars Really Make (It's Not As Much As You Think)
Soap opera stars put in a lot of time on the job. So you might think they're all taking home the big bucks. However, the pay difference between the top earners and newcomers is pretty drastic. Here's a look at the cold, hard numbers.
Newcomers to daytime soaps don't make much, but the experience is gold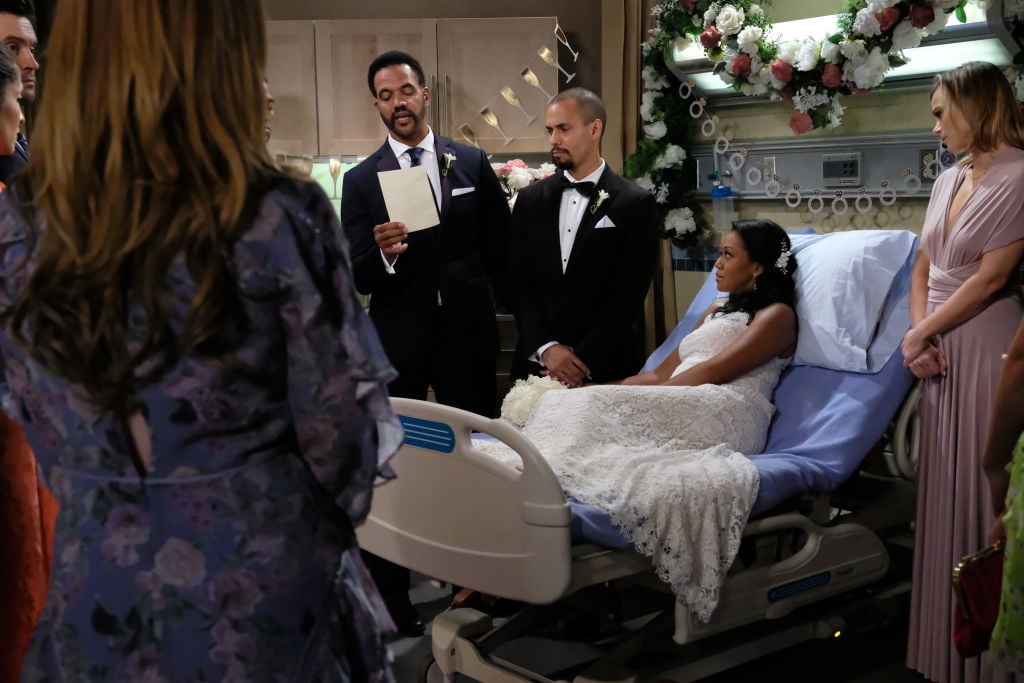 It takes a bit of experience to bring home a solid paycheck in Hollywood. This is especially true of working in daytime soaps as an "unknown." According to previous SAG-AFTRA rate sheets, anything fewer than five lines will earn an actor $450 to $500, and more than that could earn a $1,000 paycheck. Background actors can expect around $200 per episode.
That isn't bad for a day of work, but the work isn't consistent. Acting isn't always a full-time job, meaning a $1,000 paycheck might have to last weeks before another one is earned.
Established soap opera actors might earn a standard, reliable amount per episode. And if you've become a familiar name on the show, you'll likely be on the higher end of the pay scale.
There are several factors that go into calculating a paycheck. The storyline, how many lines the actor has, and the number of days they work all go into the final total.
While established actors often are guaranteed one to three days (or more) of work per week, newbies might land just one or two days. Or they might not be needed at all for certain episodes. This fluctuation means finding steady income is difficult, especially for those just starting out.
Veteran actors take home a decent paycheck, but it's still not that steady
Those who have been in the business for five years or more have a higher chance of making $1,500 to $3,000 per episode — still typically for just one to three days of work per week.
Fan favorites might get a bump in pay, especially if they're part of bigger storylines. Veterans who've been around for over 10 years might make $2,000 to $5,000 per episode. However, only a small percentage of daytime soap actors earn $5,000 or more for every episode they film.
The top earners in the industry have net worths in the millions. For instance, General Hospital's Tony Geary, who played Luke Spencer, has a reported net worth of $9 million. Susan Lucci, who played Erica Kane for decades on All My Children, is worth an estimated $60 million.
Here are the daytime soap stars with the highest net worths in 2019
In 2019, the wealthiest daytime soap stars had net worths ranging from $8 million to a whopping $200 million, according to Fame10. Finola Hughes from General Hospital and Stephen Nichols from Days of Our Lives hit the $8 million net worth mark.
The $9 million to $12 million net worths included Alison Sweeney from Days of Our Lives, Kristina Wagner from General Hospital, Peter Bergman from The Young and the Restless, and Deidre Hall from Days of Our Lives.
Fellow The Young and the Restless stars, Joshua Morrow and Michelle Stafford, have net worths of $12 million and $15 million, respectively. And co-star Daniel Goddard is worth an estimated $16.7 million. Christel Khalil, who plays Goddard's wife, Lily, on The Young and the Restless, had a $17 million net worth.
And finally, Victor Newman himself, Eric Braeden is worth around $25 million. The Young and the Restless star just celebrated his 40th year on the show. The only soap star with a higher net worth for 2019 was Lauralee Bell — daughter of The Young and the Restless creators, Will and Lee Bell — who stars as Christine Blair on the show.