Here's How Things Went From Bad to Worse in Jenni 'JWoww' Farley's Marriage to Roger Mathews
Jenni Farley, one of the starts of MTV's Jersey Shore and Jersey Shore: Family Vacation recently filed a restraining order against her estranged husband, Roger Mathews. But the couple was once happily married, and things seemed to go south unbeknownst to the public. Here's what happened.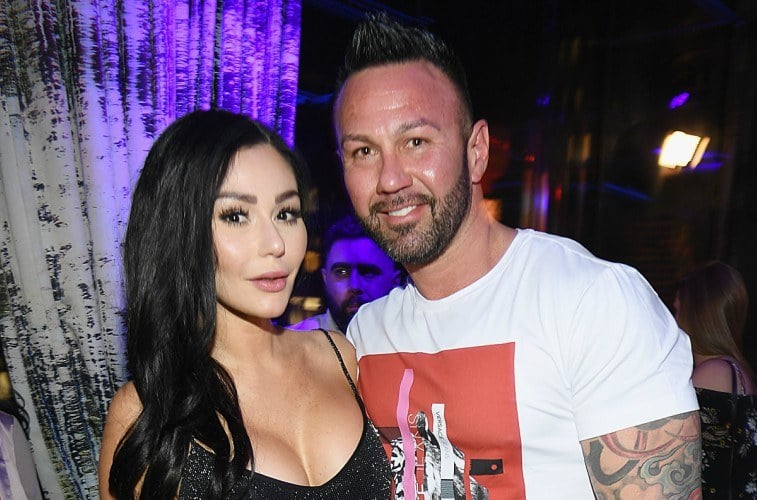 Farley and Mathews rekindled an old romance back in the days of 'Jersey Shore'
Farley and Mathews reportedly dated a very long time ago, but only briefly. Then, when the cast was filming Jersey Shore back in 2012, Farley and Mathews rekindled their romance after she ran into him in one of the episodes. The romance blossomed into a full-fledged relationship, and the couple was still going strong by the end of the show. In 2013, Farley announced she was pregnant with the couple's first child. And in 2015, the couple wed, and not long after, Farley gave birth to their second child.
The couple began having marriage problems after having kids
Although their romance seemed blissful in the beginning, and the couple had two adorable kids together, it was not always smooth sailing. Farley hinted to Us Magazine that taking care of two children did take a toll on their marriage. She said that she would go to bed, but Roger would wake up early for work, and things got difficult for them trying to take care of both kids while keeping their busy schedules on track. She said Roger worked long hours during the day, then went to the gym after work, and the two weren't spending much time together.
Farley filed for divorce in September 2018, but Mathews vowed to win her back
After a while of dealing with the same problems, Farley filed for divorce from her husband in September 2018. Although the two were only married for three years, they'd been together since before Jersey Shore stopped filming in 2012. The divorce took everyone by surprise, but according to Us Magazine, Mathews understood why Farley filed. He said she had become upset over the pattern the two had fallen into. But he vowed to win her back. Mathews took to social media to say he'd do anything to make sure the two didn't actually divorce. Everyone was rooting for him at the time.
Now, Farley has filed a restraining order as things seem to be getting worse in their marriage
Although things seemed like they might not end in a divorce, Farley recently filed a restraining order against Mathews. Her team released a statement saying that certain events had transpired on December 13 that resulted in Farley calling the police. The judge ruled in Farley's favor, and a temporary restraining order was filed. It appeared the two had been in a major argument and Farley was concerned about her safety and the safety of her children. For now, Mathews is not allowed to see her.
When the couple began dating, everything was perfect. After a long engagement, they wed in a blissful ceremony. But having two children (and a young son who was recently diagnosed with autism) took a toll on the couple. What began has an amicable separation has turned into an ugly situation.
Check out The Cheat Sheet on Facebook!