Here's Why Ariana Grande Reunited With Her Estranged Father After 'Falling Out'
Ariana Grande and her iconic ponytail spent the Thanksgiving holiday surrounded by loved ones. As captured via Instagram, Grande celebrated with both parents: her mom, Joan Grande, and her once estranged dad, Edward Butera. The singer mended fences for an important reason.
Grande and Butera had a 'falling out' in 2013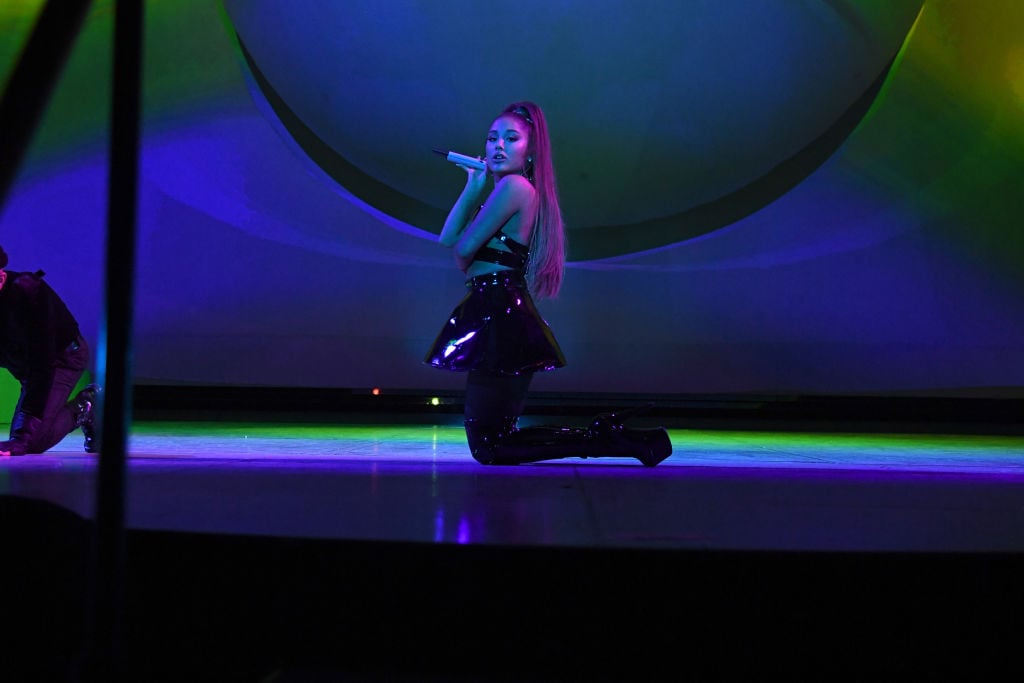 Grande's parents divorced when Grande was a young girl. She hasn't mentioned much of her father, or their relationship, over the years because of a near two-decade strain.
The Victorious actress previously told Seventeen their falling out was one of the "toughest things" she's ever had to deal with.
 "It's private, but it happened last year," she said in 2014. The details of their estrangement haven't been exposed, but Grande referenced her father in her 2018 single, "thank u, next:"
"One day I'll walk down the aisle / Holding hands with my mama / I'll be thanking my dad / 'Cause she grew from the drama / Only wanna do it once, real bad / Gon' make that shit last / God forbid something happens / Least this song is a smash"
The graphic designer, artist, and photographer from Boca Raton, Florida, doesn't appear much on Grande's social media pages, but their relationship appears to have improved over the years.
Grande wished him a Happy Father's Day in 2017. He even joined along for her European tour, as captured via an Instagram story."
"Jet setter dad. His first time in Europe," Grande said on Oct. 14, 2019. "Tried to show him as many things as possible in such a short about of time. So happy and grateful for this trip I can't fully express. My heart is screaming."
Here's why Grande wanted to fix the 'strained' relationship with her father
Thanksgiving marked the first time in nearly two decades Grande celebrated a holiday with both parents. Grande posted black and white snaps from the day, which included dancing and face painting, according to E! News. She captioned the family photo, "First Thanksgiving with both of my parents in 18 years!"
Grande and Butera have mended fences after Grande did a little self-reflection. She told Seventeen it took her a long time to be OK with whatever happened between she and Butera.
"The thing that got me there was embracing the fact that that I am made up of half my dad, and a lot of my traits come from him. So much of me comes from my father, and for so long, I didn't like that about myself," she said.
"I had to accept that it's okay not to get along with somebody and still love them."
Grande has other big supporters in her family growing up
Grande's biggest fan club comes from those in her family. Her mom is almost always right by Grande's side for tours, promotional events, and photoshoots.
Marjorie Grande is a star in her own right. Aptly referred to as Nonna, this granny is mentioned often by Grande, both in inspiration and gratitude. She often posts about her grandmother, who she refers to as Nonna, who is in her 90s, and brings along whenever possible.
 In 2014, Grande appeared on the Today Show with her grandmother. Nonna took credit for knowing of Grande's talent from a young age.
"When she was about six or seven years old, I made her audition for Annie," she said. "She auditioned and became a star. She became Annie."
Grandparents are a common theme with Grande. She speaks of her grandfather, Frank, as much as Nonna. He passed in 2014 after a long battle with cancer.
She told Seventeen in the same interview about his influence in her life.
"He was like, 'you're a star, I know in my heart you're going to make this family so proud. You're a blessing.' And I was like, oh my god, and started crying, and I trusted it."
Clearly Grande has a lot of solid people in her circle. After all she's been through in the last year, family really is everything. We're happy to see old wounds healed, and new memories being made.