Here's Why Fans Think Kylie Jenner is Staging Paparazzi Photos While on Vacation
Kylie Jenner has debatably become the most talked-about Kardashian. Between running her billion-dollar business, being a mother, and simply being a part of the Kardashian-Jenner family, there is almost never a time when she isn't in the media. And anyone who has been following along with her life knows that she's been on vacation in Italy with her friends and family for what feels like forever. But some recently released photos have fans thinking she's purposely staging paparazzi shots.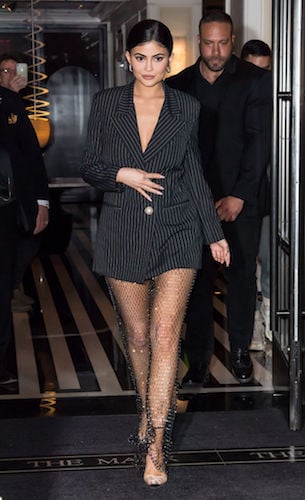 Jenner turned 22 last week and is celebrating in Italy
Jenner doesn't do anything these days on a small scale — especially birthdays. Who can forget the unbelievable first birthday party she threw her daughter, Stormi, earlier this year? The youngest Kardashian-Jenner daughter turned 22 last week, and she decided to take a ton of her friends, plus her family, to Italy to spend time on a million-dollar yacht. It seems like she's been in Europe for the last 10 years with all the photos she's posting, but it's clear that she deserves a break. She's constantly making new moves in her career, most recently with the launch of Kylie Skin, and everyone needs a vacation every now and then.
She's been keeping fans in the loop with plenty of photos
Jenner might be on a much-needed vacay, but she hasn't stopped posting to social media. She's kept fans well in the loop about what she's been doing during her trip, including posting plenty of photos with her daughter, Stormi. Jenner is a busy mother, so she's probably thrilled to have so much downtime with her daughter. She's also posted photos with her boyfriend, Travis Scott, as well as a video of her jumping 71 feet off the top of her yacht and into the water. Her family is with her, since Kris Jenner's boyfriend, Corey Gamble, commented on the photo, indicating he had made the jump, too.
But some think she has been staging paparazzi photos
Though Jenner has been posting plenty of photos to Instagram, some think she's actually started staging her own paparazzi photos. News outlets recently got their hands on photos of Jenner taken by the paparazzi, except on thing is interesting — Jenner appears to be on her own yacht when the photos were taken. The paparazzi would never be allowed to set foot on Jenner's yacht without her permission, so it's led some to conclude that she must have given them access to the yacht specifically to take photos of her.
Jenner doesn't need to stage photos in order for the paparazzi to follow her
Realistically, Jenner doesn't need to inform the paparazzi of where she is; she's so famous that they'll find her no matter what. But it's possible that since she always has photographers following her, she knew what to expect on her vacation and might have invited them to take photos of her with the idea that they wouldn't stick around as long to get the perfect shot if she just handed it to them. Either way, she seems to be having an amazing time on vacation, and if she's bold enough to invite the paparazzi to take pictures, then more power to her.