Here's Why Whoopi Goldberg Hasn't Left 'The View,' and If She Sees More Movie Gigs in Her Future
From Jumpin' Jack Flash to The Color Purple to Sister Act, Whoopi Goldberg has starred in an impressive number of blockbusters. Now, she drops knowledge on the socio-political talk show, The View. Recently, she opened up about why she primarily sticks to her daytime TV gig rather than making more movies.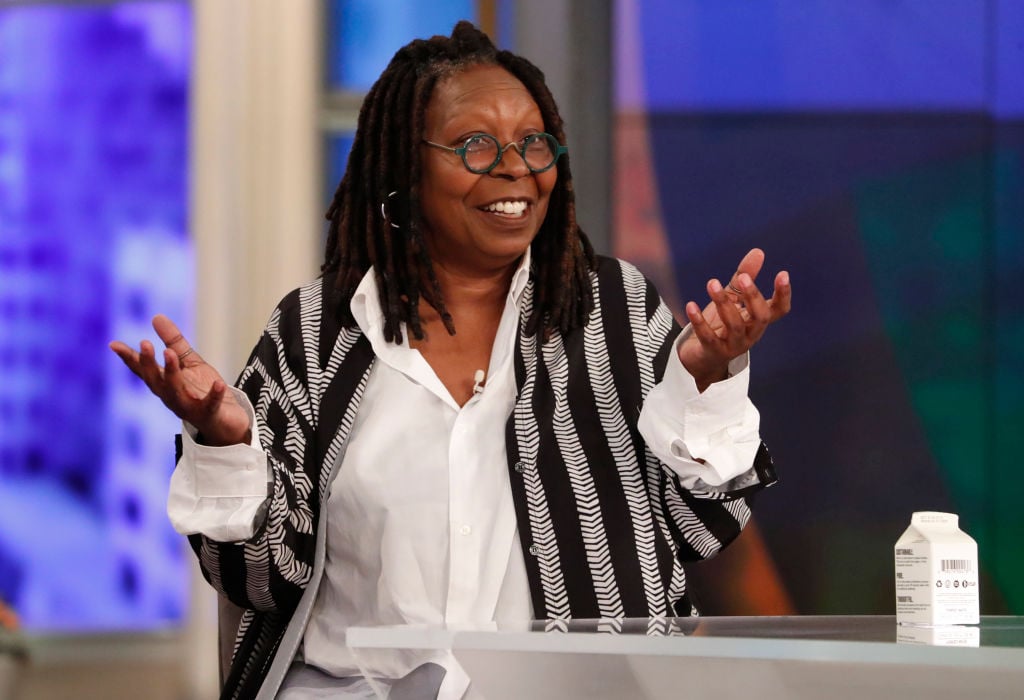 Howard Stern asked why Whoopi Goldberg works a day job on 'The View' instead of taking movie gigs
Radio veteran, Howard Stern, interviewed Goldberg on his long-running program, The Howard Stern Show. The radio jockey called Goldberg a "talented powerhouse actress," citing Ghost, The Color Purple, and her theater projects as "masterful" work.
Goldberg's command of the arts has been widely celebrated. She is one of few entertainers who have achieved EGOT status, meaning Goldberg has won an Emmy, a Grammy, an Oscar, and a Tony.
Stern questioned why Goldberg hadn't flexed her dramatic muscles as much in recent years. "When you're a master," he said, "you should be doing what you do so well." Goldberg answered Stern, saying this:
You have to have people asking you to master things. Listen, I have The Stand coming up, right. I did The Stand last year, and it's kind of fabulous. And I love Stephen King. And you know, things come up, and I think my time has been spread. You know, it's not that my time will come back. It's not gone anywhere. It's just still there.

Whoopi Goldberg on The Howard Stern Show
Goldberg sees more movies in her future
RELATED: Here's Why Michael Jackson Was at Whoopi Goldberg's Audition for 'The Color Purple'
Goldberg has nearly 180 acting credits under her belt, with at least two new projects in various stages of production. She explained to Stern why she has concentrated heavily on The View as of late and revealed her plans to take on more feature films. She told Stern this:
I guess I'm supposed to be doing this right now. I guess I'm supposed to be in this chair every day, saying, "Listen, we do not have to buy into fear or panic. We can master this if we do it together." I feel like I am better off saying…

Listen, somebody needs to stand up when the person in the White House says, "Hey, maybe we should inject some bleach." I'm the person that has to say, "Hey! Hey, you sitting there, you need to stand up and say you can't do [that]." So, I feel like there's stuff I'm supposed to be doing, but yeah, sure, I'd like to be making a movie, and I'm sure I will again.

Whoopi Goldberg on The Howard Stern Show
Fans can stream her classic blockbusters now
RELATED: Why Whoopi Goldberg Had No Problem With Spielberg Directing 'The Color Purple'
Viewers can catch Goldberg, alongside her fellow panelists, on The View weekdays on ABC. And fans of her movies can head over to streaming platforms to check out her earlier work. Ghost is currently available on Hulu, and For Colored Girls is on Netflix. Disney+ houses both Sister Act and Sister Act 2, while The Color Purple is available to rent from various services, including Amazon Prime Video.