'Heroes': A Big Reveal on the Show Basically Ruined Hayden Panettiere and Milo Ventimiglia's Relationship
Hayden Panettiere and Milo Ventimiglia's relationship was ruined because their 'Heroes' characters were related.
It's no secret — co-stars often meet on the set of many of our favorite TV shows, fall in love, and date for much of the time they're filming and sometimes longer. Most of the time, fans even enjoy it more because it brings more authenticity to the two characters falling in love on the show.
However, the opposite can happen when the two actors fall in love, date a while, and it comes out that the characters aren't supposed to have romantic chemistry. Much worse happened in Hayden Panettiere and Milo Ventimiglia's case — and it likely contributed to the end of their relationship. Fortunately, both stars were able to recover and go onto better things since!
Hayden Panettiere and Milo Ventimiglia dated for two years after meeting on the set of 'Heroes'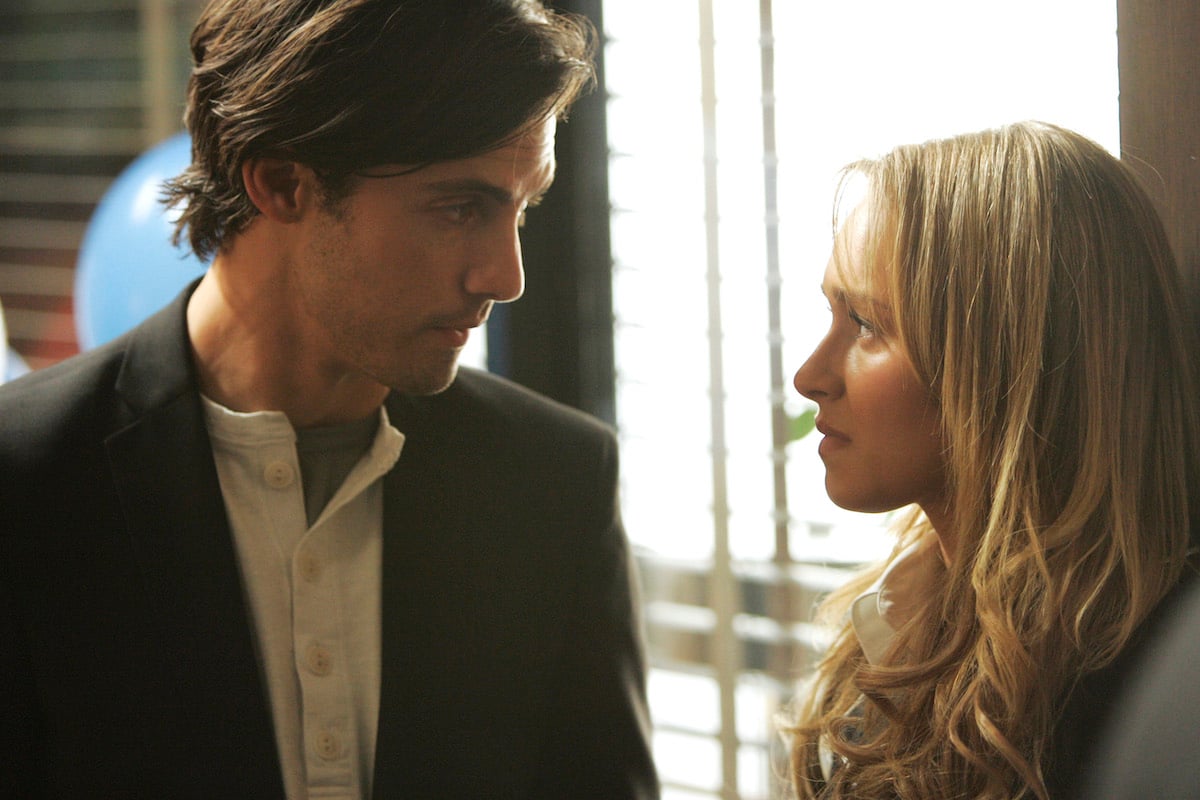 Panettiere and Ventimiglia were making a lot of noise on their new hit show Heroes, playing Claire Bennet and Peter Petrelli. The two actors instantly clicked and started dating in 2007, a year after the show's premiere. The relationship would make it two years before they would call it quits in 2009.
The reason for their split? Not only did they have a significant gap in their ages at the time — Panettiere was 18 and Ventimiglia was 29, which kept their entire relationship in the limelight and tabloids — but it may have gotten awkward when Heroes revealed their characters in the show were too close for romantic encounters to be appropriate …
The 'Heroes' big reveal brought the two characters together as uncle and niece
Heroes was not only known for having some great variations of characters and powers, but the show was also good at keeping viewers on their toes when it came to what would happen next. There were some incredible reveals that left fans speechless and begging for more — but nothing like the reveal about Panettiere and Ventimiglia's characters while their relationship in real life was getting romantically heated. 
In fact, in just Season 1 of Heroes, Peter told Claire's dad Nathan (and Peter's brother), "The girl I saved turns out to be your daughter." This means the two characters are related — uncle and niece. From there, Peter referred to Claire as his niece most times.
Meanwhile, the actors in real life were having a serious relationship that was rocking the tabloids. And although most fans adored the couple together, they just couldn't get past them playing two related characters in the hit show.
It hasn't been confirmed why the two stars actually broke. However, rumors at the time suggested their lifestyles were just different (likely due to their age gaps) and, more shockingly, that there was a pregnancy scare that caused the split. 
The two actors have since moved on to bigger and better things
Both actors have moved on since their Heroes fame and the relationship that started between them after meeting on the set. In fact, both actors have taken on at least one significant role since those days.
Ventimiglia's career, in particular, has only been on the rise since his days on Heroes — honestly, it goes back even further to his days on Gilmore Girls. Now he's not only starring in NBC's This Is Us but is directing it too. The show has received 57 awards, with several Primetime Emmys. Even more, Ventimiglia has received at least three of them.
As for Panettiere, her latest achievements have been as Juliette Barnes in Nashville — the country singing show on ABC made it from 2012 to 2018, earning three award wins and at least three Primetime Emmy nominations. Panettiere didn't receive any awards for her performance, but she did earn several notable nominations.
Now fans think she's quitting Hollywood, but that claim has not been supported by any real evidence.